KUNUNURRA TO KAKADU
Kununurra through to Kakadu is one of our favourite stretches across the Top End. The diversity of landscapes is incredible and you can go from red dust & waterfalls to coastline & crocodiles in no time.
An epic adventure!
WE LOVED OUR TIME IN DARWIN, YOU CAN WATCH THE QUICK VIDEO BELOW TO GET SOME HELPFUL INFO FOR YOUR VISIT….
LET'S GET STARTED
After a fantastic few days in Kununurra we make tracks over the border into the NT.  It's actually a bit sad as we leave WA as it has given us so many great experiences!! West is Best is definitely a saying that will stick with us!! Quarantine isn't an issue here at the border as they don't have any requirements. So we stop off for an obligatory border sign photo.
Gees we have got a few of these pics now – ??
INTO THE TERRITORY
After about 230km we stop in at Timber Creek for some lunch and then punch out another 95km to arrive at Victoria River Roadhouse. A great stopover to break up the trip and it has fuel, a restaurant, amenities and a large area to pull up on powered or unpowered sites. We set up under a tree in the unpowered area with plenty of room! Justin and Jack head down to the river to try some fishing with no luck.
After a lazy morning, we do the 200km to Katherine. This place surprised us as we arrive in July, It's full of activity and atmosphere. We park up at the Riverview Tourist Park which is the ideal location to walk to the Katherine Hot Springs. How amazing are the hot springs. Be sure to start in the upper pool and float down to the bottom pool. Crystal clear, beautifully warm water among trees. What a way to start the morning. We were there by 8am and had it all to ourselves.
Perfect! Be sure to check out the 'Barra Cafe' next door to the caravan park.
We check out the Katherine Outback Experience which is a fantastic show! Run by locals Annabel and Tom – an Australian Country Music Golden Guitar Winner, it's an informative and humorous show! The kids loved watching the working dogs, playing with puppies and watching Tom break in a horse.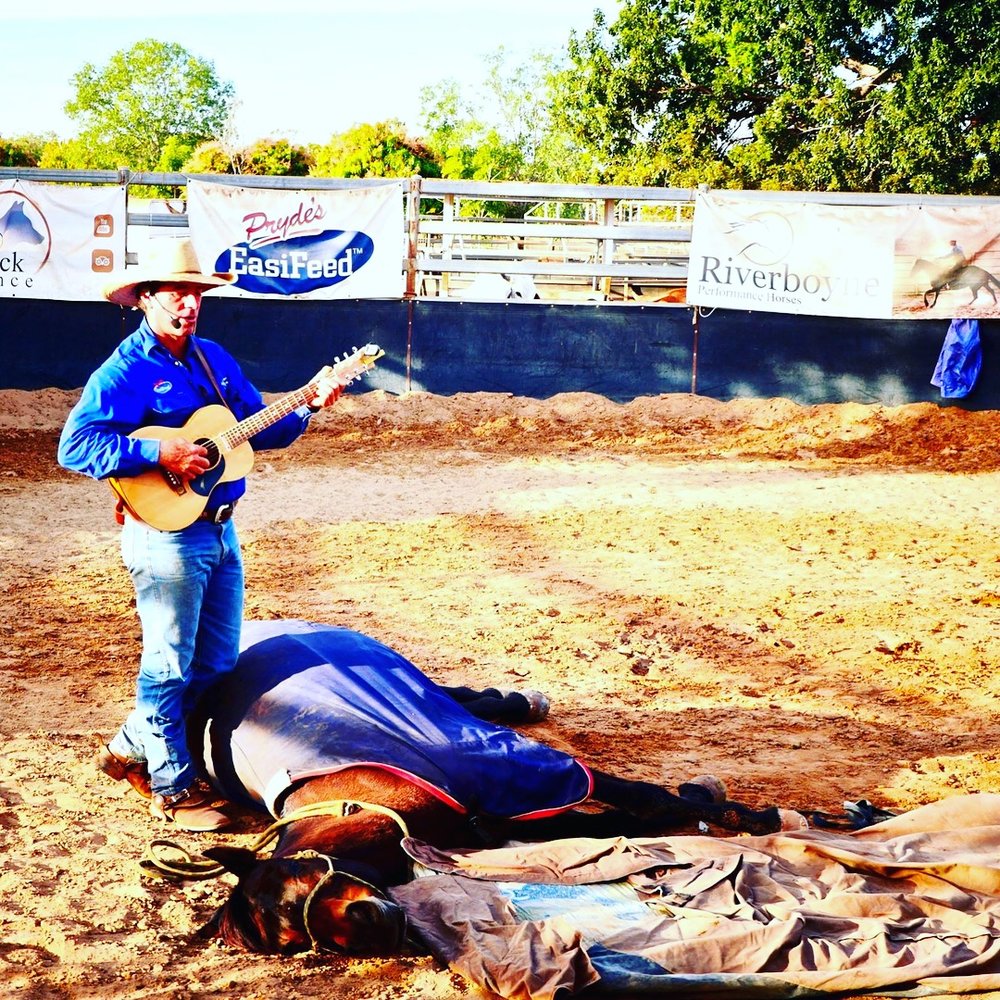 From Katherine we headed north to the stunning Edith Falls only a 45 minute drive. It was a very hot day so we decided to skip the 2km return trek to the top pools, but if you get the chance make sure you plan to head up there and check them out. The photo's we have seen look amazing!! Instead, we spent a few hours cooling off in the clear waters of the bottom pool.  We had lunch here and wished we were staying in the campground located right by the falls but we had already committed to a booking at Mount Bundy Station.
Edith Falls campground was spacious and grassy with a cafe on site.
A bit further up the road and we get to Adelaide River and Mount Bundy Station. A working cattle station, it has an awesome vibe and only located 3km from the township. It has some great history, offering a range of accomodation, it's pet friendly and has an abundance of farm animals and wildlife to check out. Nigel the Bull was a favourite with the kids.. 
We checked out the beautiful Robin Falls which is well worth the drive out and short walk in. A pristine little fall with a beaut swimming hole at the bottom, it also has a great free camp area right by the creek, big enough to get your caravan in as well!!
Mount Bundy is a peaceful place to relax by the pool or day trip into Litchfield National Park, definitely worth a look on your way past.
DUNDEE BEACH
This was our next stop. Justin was keen to stop in here and get in some fishing time. We had some friends and their tinny meet us here also & Justin is in his element!! While Justin's out fishing, the kids and I hit up the pool and play plenty of lego to pass the time.
There first day out on the boat they bring home Coral Trout, Golden Snapper and Longtail Tuna. So we all feast on fresh fish for dinner!
LITCHFIELD NATIONAL PARK
From Dundee Beach we head into one of the most amazing places – The Litchfield National Park. We drive into the Florence Falls Camground and are very impressed with it's upkeep and maintenance. Only $12.40 to stay the night. Large sites, only a short walk to Florence Falls, amenities and campfires permitted!
THE TERRITORY HAS REALLY GOT THEIR NATIONAL PARK CAMPING SORTED!! ONLY $12.40 FOR A FAMILY!!!
We take a dip in Florence Falls and make our way to Buley Rockholes. One of our favourites! Be sure to visit this place. Ideal for young kids with it's cascading waterfalls and plunge pools. We had such a fabulous time here!
Try to avoid on the weekends as it is a very popular waterhole with visitors from Darwin day tripping out to Litchfield.
WELL HELLO DARWIN
We arrive at the Darwin Freespirit Resort and oh my what a fantastic place to park up. Large grassy sites, 3 resort style pools, jumping pillow, bar and a restaurant. It was hard not to grab a drink and relax by the pool while the kids swam for hours on end. Such a laid back atmosphere with the arvo tunes.
Only 20 minutes from the Darwin CBD and an easy drive in, we absolutely loved our time staying at Freespirit and we met lots of other travelling families.
We had a great time at the free water park at Leanyer, its seriously awesome! But, remember the water slides don't open til 2pm. There's a large pool and water playground that's fantastic for all aged kids! Palmerston also offer a free waterpark and it is just as awesome! Only 5 minutes from Darwin Freespirit.
Mindil Beach markets is a must when visiting Darwin. They're on every Thursday and Sunday evening. Live music, plenty of kids activities, loads of food, handmade goods and a stunning beach sunset. What's not to love about that!
Next was the WWII oil tunnels. We loved the history involved with the self guided tour and the kids loved it too surprisingly. Multiple questions from them about the planes and bombings etc. Love how much they learn while travelling!
Over the road from the tunnels is the Darwin Waterfront Precinct. Now there is some serious fun to be had here!! The wave pool is fantastic and costs $8 per adult, kids $5 and under 5 are free!! There's not only a wave pool but a smaller pool for the little ones, so our 3 had an absolute ball between the both of them.
After your swim, grab a beer and a bite to eat at the many bars and restaurants that surround the waterfront precinct. Plenty of parking too!
A FEW TIPS
If you're in need of some retail therapy or to grab the kids some new clothes. Casaurina Shopping Centre has everything you could possibly need.
While we were in Darwin we were lucky enough that the Darwin Cup fell on the dates we were there. Justin headed there with some mates who were visiting for the Cup and had a great day out!
We also signed up for the week at Snap Fitness, which was just a quick drive down the road from the Free Spirit resort. Nice to get back into some regular exercise, except we couldn't move our limbs for a couple of days.?
Our awesome 7 nights in Darwin had come to an end and it's time for Kakadu!
KAKADU is a place like none other we have visited on our travels. Cascading waterfalls, billabongs, aboriginal rock art, rugged escarpments and plenty of crocodiles make up the World Heritage-listed National Park called Kakadu. An iconic destination in Australia and well known for its amazing attractions.
Kaka-do or Kaka-don't? Read on and we'll let you know.
The wetlands and billabongs are thriving with wildlife and surrounded by beautiful scenery. It is quite expensive here though. Just to get in, you have to pay for a park pass which is $40 per adult which is pretty steep we think. We spend 2 nights at the Kakadu lodge caravan park, 1 night at Merle campground near Cahills crossing and then 2 nights at Cooinda Lodge caravan park.   From here we day trip out and about to explore some of the major attractions within the park.  
Our pick of the spots are definitely Gunlom Falls and Barramundi Gorge.
THE INFINITY POOL AT GUNLOM FALLS
Gunlom Falls does have a campground at the base of the walking trail up to the rock pools, but beware the road in was absolutely horrid when we visited and would not have taken our van in without some damage!! The walk up to the infinity pool is a pretty hectic climb up some steep and rocky terrain, but so worth it when you get to the top and get to float around in the rock pools – Bliss!!
Cahills Crossing is a must when you visit Kakadu!! If you get there on the tide change you will get to witness a crocodile feeding frenzy & it's CRAZY!! Heaps of crocs just line up on one side of the crossing and wait for the baitfish to come across with the tide!! We stayed at a low cost campground only a short walk away called Merles Campground. It's a great spot but make sure you have heaps off mozzie spray because they are viscous!!
A trip to Ubirr lookout is another Kakadu must!! Plan your visit to catch the sunset over the wetlands and you will be amazed at the colours that emerge as the light fades – WOW!
SO "KAKA – DO" OR "KAKA – DON'T"??
In our opinion it is absolutely KAKA-DO!! We had an unreal experience here and loved every minute of it!! Well worth the entry fees and the accommodation costs and we will definitely visit again next time round!!
We hope you find this useful when travelling to Kakadu. Loads to see and do. We would recommend allowing about 4 days there!
CHEERS – JUSTIN & BEC
Learn how much it will cost you to Travel Oz like us!
FUNDING OUR TRIP
How we funded our trip and tips for you to do the same
OFF-GRID BATTERY SET-UP
THE ULTIMATE IN FREE CAMPING POWER
Map of Australia Decal - 15% OFF TIAV15