THE RIG – 2017 MAZDA BT50 GT
As you scroll down, we'll run through the gear fitted to our Mazda and a few specs.
We have had a BT50 for 7 years now. Our first one a 2012 XTR and our current set-up is the 2017 GT. For touring Oz full time they are a great option. They are capable offroad, comfortable on road and have plenty of power to pull a caravan. We have had many years of trouble free touring from our BT50 setups.
THE BULLBAR – ARB SUMMIT WINCH BAR
For me, they are the best looking bar on the market, and let's be honest everyone wants the front of their rig looking schmick but….. They also include a lot of cool design features that you might not think of when researching a bulbar for your vehicle.
They are winch compatible & designed to take heavy recovery loads.

2 CB aerial brackets on the top bar allows you to run different accessories. Our bar has a UHF antenna and a Cel-Fi Go Mobile booster antenna fitted.

The split front design allows massive airflow through to the radiator and also allows easy access to the winch clutch.

Integrated fog lights, indicators, spotlight mounts and also High lift jacking points as standard.
THE WARN WINCH
There is a lot of choice in the winch market, especially with all the cheap import garbage thats out these days….. But if you want a reliable winch that you can use time and time again on your travels around Oz, it's worth looking into a more reputable brand.
As the saying goes," You Get What You Pay For"……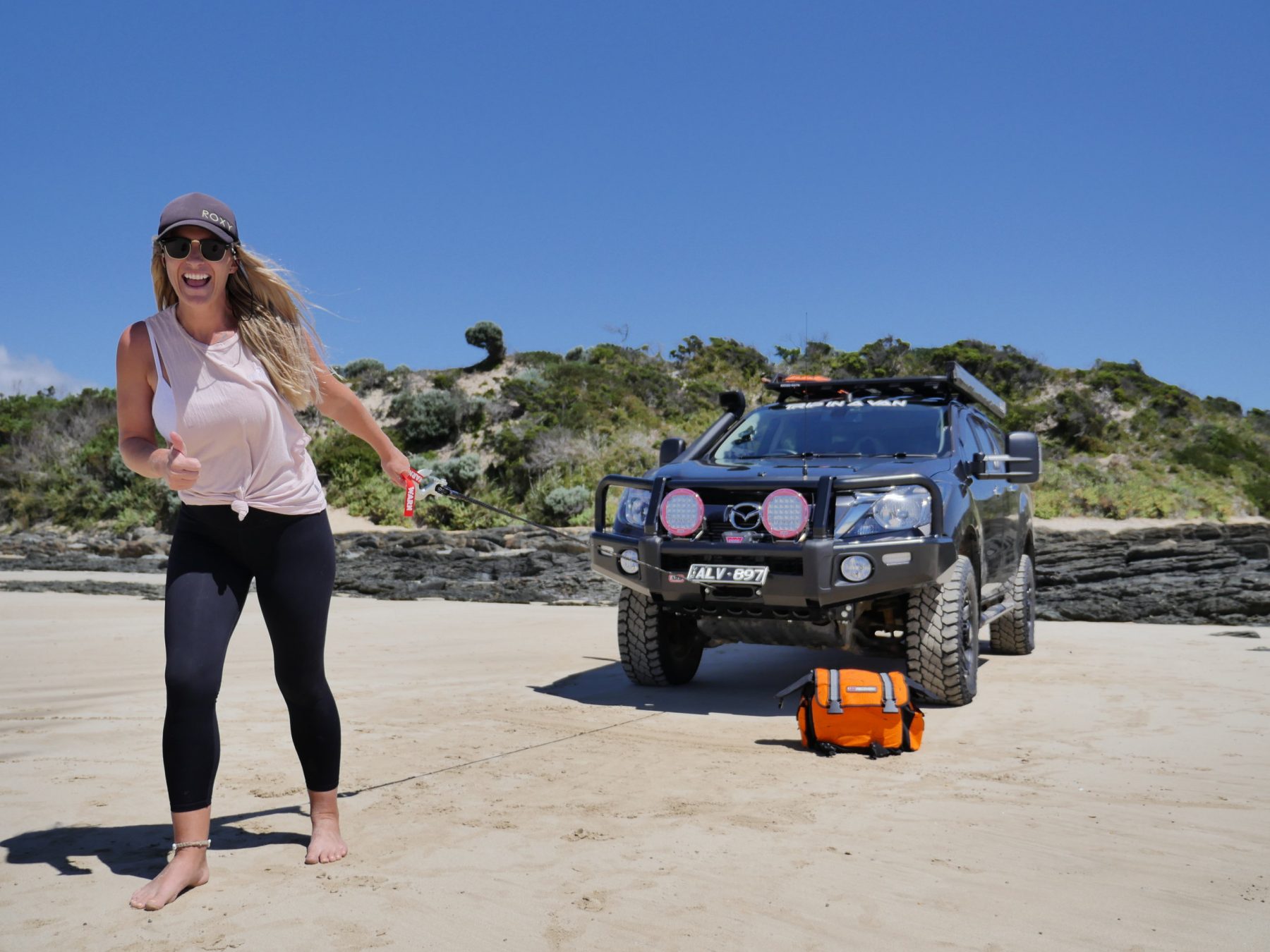 Teaching Bec how to run the winch out in Tasmania… Have you done the Bridport to Bellingham 4wd track?? It's a great day trip – YOU CAN WATCH HERE!!
GET 15% OFF CARAVAN STORAGE GEAR FOR YOUR TRAVELS!!
CHECK OUT THIS GEAR FROM NAVIGATOR & USE CODE TIAV15 TO SAVE 15%
SUSPENSION
We have always had Old Man Emu suspension in our vehicles until very recently. With the addition of the new canopy setup which adds a fair bit of weight, we had to install a GVM/GCM upgrade to the vehicle. The only approved and legal kit that can do this is from Lovells suspension. This kit is a 2" lift with heavy duty springs that increases the GVM to 3500kg and the GCM to 7000kg.
Check your own states regulations on GCM upgrades as they can be different…
UNDERBODY PROTECTION
We run the ARB under vehicle armour. We fitted it ourselves and it provides the vital organs of your vehicle a heap more protection than the standard gear from the factory.
You can check out the install video below…
We have just fitted up the ARB4x4 recovery point and under vehicle protection. Only a few hours work and it comes up SCHMICK!! Now we have a rated recovery point for winch recoveries and some extra protection for the sumps and transfer case. $321 for the recovery point & $635 for the UVP.
WHEELS & TYRES
We have CSA Raptor alloy wheels fitted. We have had them on both our vehicles whilst on our travels and we are very impressed.
We always fit COOPER TYRES to our vehicles. The performance and reliability we have had from these tyres is astounding.  We are running a set of ST/MAXX 285/70/17's. They are slightly bigger than standard and fit great with the 2 inch suspension lift.
TOWING ACCESSORIES
CLEAR VIEW TOWING MIRRORS – These are a great accessory for us while towing a caravan. The vision they give behind your vehicle is amazing. They are definitely the best product on the market for safe towing mirrors.
REDARC TOWPRO BRAKE CONTROLLER – A remote mounted head unit sits in behind our glove box with the user adjustable dial mounted in an easy to reach place on the dash. A brake controller is a must when towing a big van and the tow pro works a treat. It has a great setting for inertia controlled braking which means – The harder you pull up, the more braking your trailer will do.
THE HAYMAN REESE X-BAR – We swapped out the original tow bar when we fitted the new Norweld Canopy. The X-Bar is a serious bit of gear with some great features!!
The bar comes straight out of the chassis so it sits much higher which increases your departure angle when 4wding.

It has 3 forged and rated recovery points. The centre one rated to 8 tonne and the 2 outers are 4 tonne.

2 specific trailer plug installation points with a bash plate for protection. This means there's no chance of damaging your trailer wiring. 
THE NORWELD DELUXE PACKAGE
HERE SHE IS!! Our new setup ready to roll for 2019!! In this vid I'll walk you through our new Canopy and how we've decked her out!! What a freaking awesome way to finish the year!!!! 2018 has been unbloody real for us and it's looking like 2019 is gonna be even better!!
ROOF RACK AND AWNING
On top of the dual cab is the RhinoRack Tradie Platform. They are a lightweight alloy platform that allows us to mount a wide range of gear up there. Our rack mounts a shovel holder and TredPro recovery boards and also our ARB double Swags for when we go camping. The Norweld canopy also has a multirack which mounts a RhinoRack Batwing awning on the passenger side. These are a 270degree awning that swing right around the back of the vehicle providing a lot more shade and rain protection. Having a roof platform is a great addition for carrying extra accessories and gear without taking up valuable storage space inside your vehicle.
Storage is king when your full-time travelling
RECOVERY GEAR
We carry an ARB Premium Recovery Kit which has all the gear we need for winch recoveries and up on top we carry a set of ARB TredPro Recovery Boards.
In the Recovery Kit – Snatch strap, winch extension strap, winch block, tree trunk protector, 2x big bow shackles, 1 ARB soft shackle, Damper blanket, riggers gloves. All this lives in a tidy carry bag.
Our rig previous rig was a 2012 Mazda BT50 XTR dual cab ute.
 
It has a 2 inch Old Man Emu lift kit fitted from ARB and we run Cooper S/Tmaxx tyres 275/70/17. Its the second set of Cooper Tyres we have fitted. First set was the AT/3's and got 95000km of trouble free touring with not a single puncture, and can't speak highly enough of the quality and mileage you get from this brand. A few extras include a snorkel, a 3 inch performance exhaust and a high flow unifilter air filter. The Bullbar is factory fitted, as are the lightforce spotlights and 80 channel UHF radio. 
We have a Flexiglass canopy fitted on the back which has been great. We installed an internal frame to it, so the rhino rack could be mounted on top to handle some extra gear and to mount the awning for those trips up the beach.
A DIY custom set of drawers in the tub handles most of the storage and also houses the dual battery setup which consists of a CTEK dc-dc charger and a 120ah agm deep cycle battery. A good solid fridge slide and an Engel 60lt combi finishes off the setup.  
We love the setup and the Mazda! For a Great value Touring vehicle for the family we think its the best choice on the market. Its great on fuel, loves towing the big van, and is really great off road. Currently averaging 17L/100km towing the van over 40,000km. Any questions send them through, we are happy to pass on any knowledge.
Cheers!
FUNDING OUR TRIP
How we funded our trip and tips for you to do the same
OFF-GRID BATTERY SET-UP
THE ULTIMATE IN FREE CAMPING POWER
Map of Australia Decal - 15% OFF TIAV15