THE DUAL CAB 200
2019 TOYOTA LANDCRUISER 200 SERIES GXL
ALL THE INFO ON HOW WE BUILT THIS CAR AND THE GEAR WE HAVE USED!!
THE DUAL CAB 200 BUILD SERIES VIDEOS
We have just finished building this absolute weapon of a 200 series and followed it through to create a series of vids to show you all how it's done….
In this vid the 200 series Landcruiser gets some performance upgrades done by Cookie at Diesel Power Unlimited in Mackay!!
CHOP CHOP!! In Part 2 the 200 goes to AEV for the conversion process into a dual cab!!
In this video the 200 transforms from a dual cab chassis into a decked out touring machine.
ARB 4X4 ACCESSORIES
SUMMIT BULLBAR & SIDESTEPS | INTENSITY DRIVING LIGHTS AND LIGHT BARS | RECOVERY POINTS | DIFF BREATHER KIT | TWIN AIR COMPRESSOR | SAFARI SNORKEL | RHINO RACK | CLEARVIEW MIRRORS | SEAT COVERS
LONG RANGE AUTOMOTIVE
180 LITRE LONG RANGE FUEL TANK
REMOTE TOURING CAPABILITY
KING OFFROAD WHEELS
17 X 9" LOAD RATED ALLOYS
PRO TOURING CONCEPTS
VEHICLE BUILD MANAGEMENT
FULL ELECTRICAL PACKAGE
AUSTRALIAN EXPEDITION VEHICLES
DUAL CAB CONVERSIOON
JMACX CHASSIS
4495KG GVM & 4500KG BRAKED TOWING CAPACITY
DIESEL POWER UNLIMITED
ENIGINE PERFORMANCE UPGRADES & DYNO TUNING
INTERCOOLER | DIESEL PRE FILTER | CATCH CAN | TORQUE CONVERTER LOCKUP KIT | CUBE TOUCH
A247 OFFROAD GEAR
FACTOR 55 ULTRAHOOK & ROPE GUARD
BAHCO TOOLS
QUALITY OFFROAD & CAMPING GEAR
ALMAC BOAT LOADER
BOAT LOADER
FOLDING TRAILER
OUTBOARD MOTOR SLIDE
GULL WING AWINING
THE 270XT FROM THE BUSH COMPANY
AAA EXHAUSTS & FABRICATION
STAINLESS EXHAUST
CUSTOM ALLOY AIRBOX
ROOF CONSOLE
THE OVERHEAD ROOF CONSOLE IN OUR 200 SERIES GXL LANDCRUISER
ORICOM UHF RADIO'S
DTX4000 UHF AND ANU1100 ANTENNA
ULTRA 550 HANDHELD RADIO
(USE COUPON TIAV15 FOR 15% OFF ALL UHF RADIO GEAR)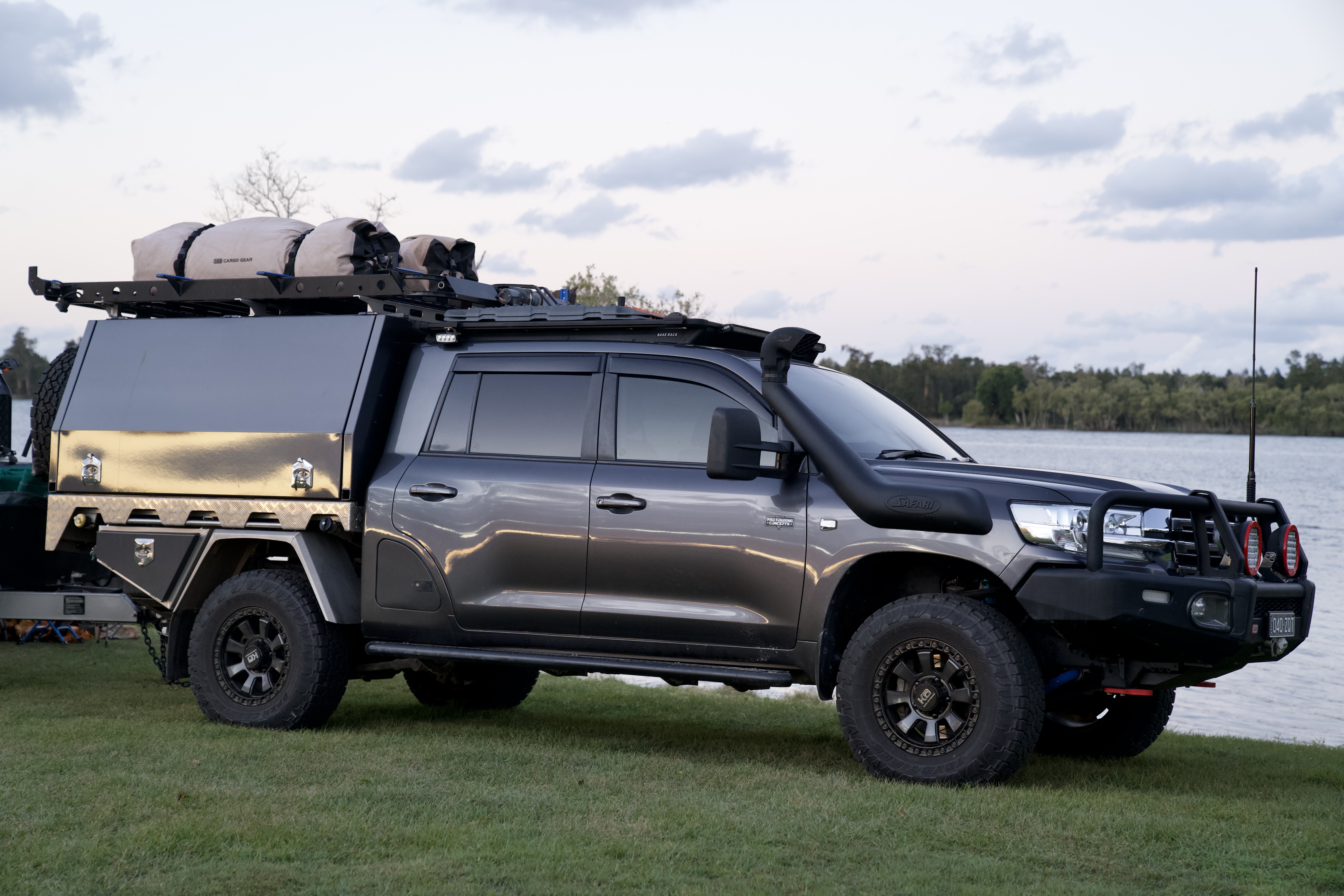 TOYO TIRES
WE USE TOYO TYRES ON THE CAR AND CARAVAN. WE HIGHLY RECOMMEND THEM FOR YOUR TOURING NEEDS.
FOR A FULL LIST OF PRODUCTS AND DISCOUNTS WE CAN OFFER THROUGH THE BRANDS WE WORK WITH, CHECK OUT THE LINK BELOW……..
FUNDING OUR TRIP
How we funded our trip and tips for you to do the same
OFF-GRID BATTERY SET-UP
THE ULTIMATE IN FREE CAMPING POWER
Map of Australia Decal - 15% OFF TIAV15