BYRON BAY
Byron Bay has some serious vibe and atmosphere.
The sign entering Byron Bay, what a great town motto!
Byron Bay wasn't as we expected! We had a family member take a ride in an ambulance and was then in hospital for a few days, but more on that later!
Now, Byron Bay has some serious vibe and atmosphere. Before the hub of Byron you hit the beautiful 'The Farm Byron Bay'. What a great way to start our stay here. We pull up our van and check out this fantastic place. Kid and adult friendly, amazing meals and great coffee. The best part, you can enjoy your beverage while the kids play on 'The Farm Playground'. Plenty of farm animals to to keep the kids entertained and again, a great atmosphere and a must see when in the area.
We decided to park our van up at BIG4 Byron Holiday Park. Only 3km from town and a beautifully manicured caravan park. Great pool, playground, games room and only a short stroll to the beach. They house a chicken pen and you can pick up their eggs from reception for FREE! 
FREE eggs from reception!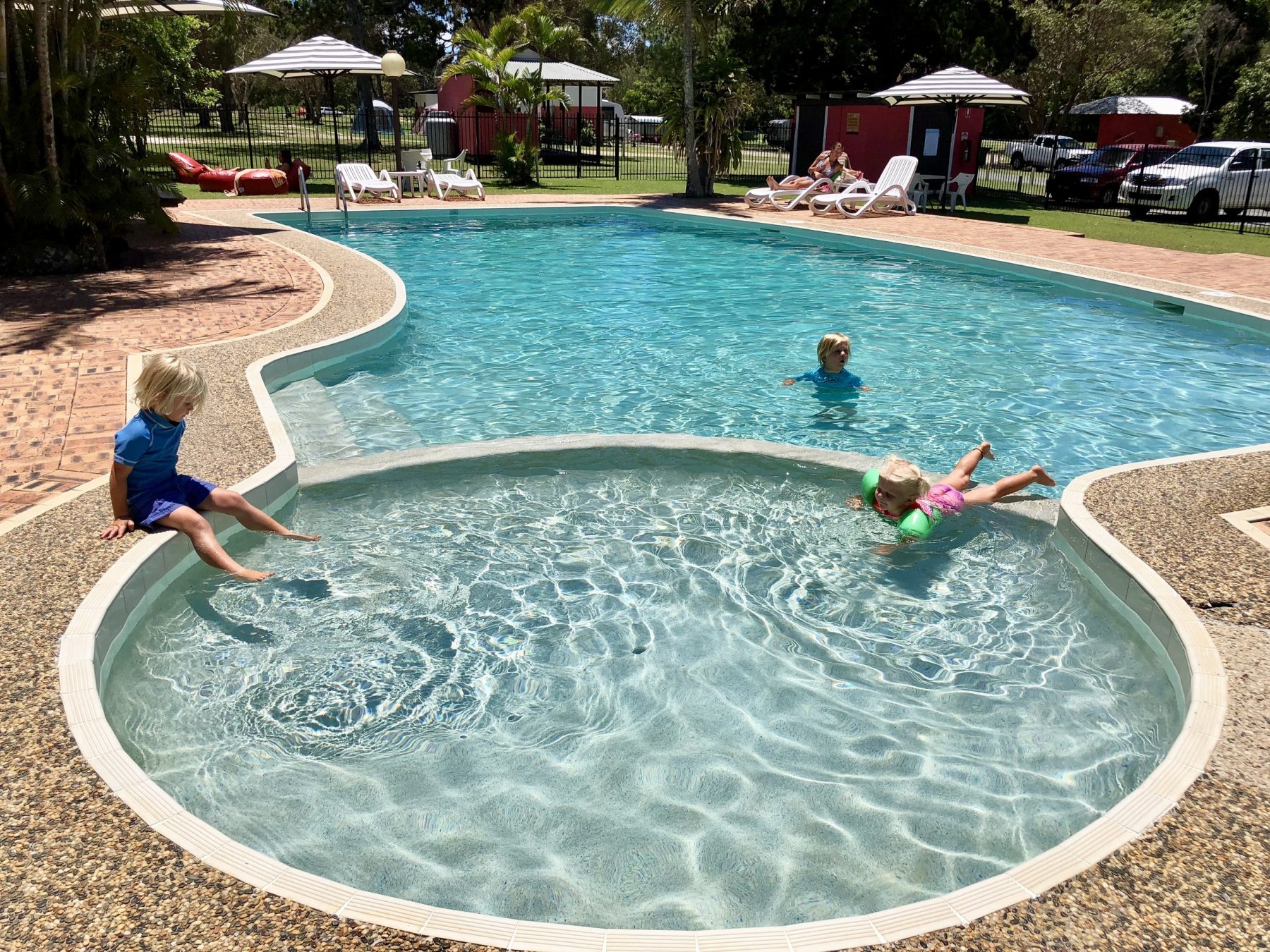 As I mentioned before, we were one man down and on our first night here Justin managed to get an appendicitis! Although not an ideal expereince, I was very grateful to be in Byron and near a hospital. It also meant I could keep the kids entertained in the park while solo parenting. The poor bugger was in a lot of pain, so I called an ambulance. They took him up to Byron Bay hospital where they diagnosed him with a suspected appendicitis. So he was then transferred and hour north to Tweed Hospital, where he had surgery and removal of his rotten appendix the next morning. After meeting with the surgeon they told him that his appendix had perforated, hence the intense pain. He had 3 nights in Surgical Ward and was on IV antibiotics. Thankfully, he's on the mend now. No heavy lifting for 6 weeks!!
So, while Justin was cooped up in hospital, the kids and I managed some grocery shopping (why dont they make trolley's for 3 kids)! We took a stroll around the stunning Cape Byron Lighthouse. WOW! Spectacular! Great place to take a few pictures and enjoy a coffee and one of their delicious muffins at the cafe. Only a short walk is the iconic sign 'Most Easterly Point of the Australian Mainland' and scenic views. We saw a pod of dolphins and plenty of surfers. If you're up for some exercise, the 3.7km return walk up to Cape Byron is well worth it. Even the drive is stunning. We had planned on doing this, but being by myself with 3 kids and a long walk on a hot day… Well you get my gist! Watego's Beach and The Pass are well worth a look ad some of the most beautiful beaches we've seen on our travels. Get there early as there is little parking!
Four nights in this fabulous location wasn't enough. Three of them with Justin in hospital. Unfortunately we didn't get to do all that Byron offers as we have to get moving south and check out the stunning coast of northern NSW. An arvo in one of the funky bars would have been pretty awesome!
Safe travels legends!
FUNDING OUR TRIP
How we funded our trip and tips for you to do the same
OFF-GRID BATTERY SET-UP
THE ULTIMATE IN FREE CAMPING POWER
Map of Australia Decal - 15% OFF TIAV15