Mount Gambier to Adelaide, South Australia
THE LAKES – THE SINKHOLES- THE CAVES – THE COAST & THE COORONG!!
This stretch of Limestone Coast in South Australia is often surpassed and now we can tell you that it definitely shouldn't be! Our first stop is the cute town of Mount Gambier & it sure did surprise us. There really is so much to see and do and it's a travellers paradise due to the array of scenery and outdoor activities. It is a popular destination and offers a mid-way point between Melbourne and Adelaide to stop, rest & explore on the journey.
South Australia has so many amazing places to travel! In this vid we park up the caravan in Mt Gambier and head off inn the ute and swags to explore a few different regions on the way to Adelaide!! From Caves & wineries to epic 4wd tracks along the coast, this itinerary is a deadset ripper..!
Mount Gambier has a population of around 30,000 and is known for it's volcanic landscape and sinkholes surrounded by various pine plantations. It is the second most populated city in South Australia. This region not only has ancient volcanic action but holds evidence of pre-historic animal remains within spectacular caves.
WHERE WE STAYED
The BIG4 Blue Lake Holiday Park is located on top of the world famous and mysterious Blue Lake. Not quite with water views but only a short stroll over to check out this stunning blue lake. By stunning, I mean the most gorgeous blue colour. The best time of the year to view the lake at it's bluest is between November and late February, after then it gradually changes to a different shade of blue and then grey. The Blue Lake has several viewing platforms and a 3.5km walking track around it.
This lake is also the towns water supply!
It is here at the BIG4 Blue Lake that we store our caravan for our trip to Adelaide. We will be doing some off-road tracks and beach drives along the way so we park up our van here for the week.
After a pool swim and a play on the jumping pillow, we stay in the new cabins at BIG4 Blue Lake, (which by the way are fantastic and super modern). The next morning it was time to check out and head for the Umpherston Sinkhole.
Our lakeside villa at the BIG4 Blue Lake was amazing! So modern and comfy.
THE UMPHERSTON SINKHOLE
Holy moly, now this is incredible! An absolute must see when stopping in or passing through Mount Gambier. It is free entry, with a short walk from the carpark down into the sink hole. Also known as the sunken garden, it really has to be seen to be believed.
The view from the bottom of the sinkhole is epic!! We were there early morning so we didn't get the best light. Try hitting it around midday we think it would look even better!!
Originally a cave that collapsed downward, the topsoil then made for the perfect environment for a garden. Open from dawn to dusk where possums come out to feed on fresh fruit.
The stairs leading down to the bottom of the sinkhole. This place is AMAZING!!
THE LITTLE BLUE LAKE
Only 15 minutes out of town you will find the "Little Blue Lake". A water filled sinkhole with a surprisingly warm water temperature. It is well known as a swimming hole and used as a cave diving site. If you're game, try a cliff jump or dive off the pontoon. There is plenty of room to pull up your caravan in the carpark up top as well. We had way to much fun here and we had to bribe the kids to leave!
That bribe was a milkshake that turned into a lunch outing.
We ate at Presto Eatery and can highly recommend this place. Our kids had the Nacho's and chicken nuggets & chips while Justin and I munched on an Acai Bowl. Oh my galoshes, so so so tasty! Give it a go!
The coffee was spot on and we enjoyed our meal here!
Can we fit one of these on the back of the van please???
CAPE BANKS LIGHTHOUSE CAMPING
A 50km drive from Mount Gambier is a cute little place called Cape Banks Lighthouse. It's dirt road access for the last few kilometres but a goOd road and easy access for the big rigs & caravans. Campsites are booked online through the National Parks website which cost $15 per night for a family. Only a short walk up the hill to the lighthouse and with views across the ocean. Cape Banks Lighthouse has an abundance of history and visible shipwrecks.
We had fun kicking the footy on the beach and don't forget to check out the sunsets there!
The Cape Banks Lighthouse camping area is a great low cost campground. About an hours drive south from Mt Gambier in South Oz and you can camp right on the coast!. Check out the vid for more info and hit us up if you've got any questions.
WE ARE HEADING TO NARACOORTE
Driving into wine region gets us excited haha. The Coonawarra region is plastered with Wineries from some well known names, but there is loads of great boutique producers that have good family friendly cellar doors & are a great place to stop for lunch. First up we get to Balnaves of Coonawarra. A small family maker of premium wine with a modern cellar door. Set on a pond full of rainbow trout and a deck overlooking the water with a grape vine above you. A really beautiful setting.
In winter, the couches come out and the fireplace is lit. Give me both any day!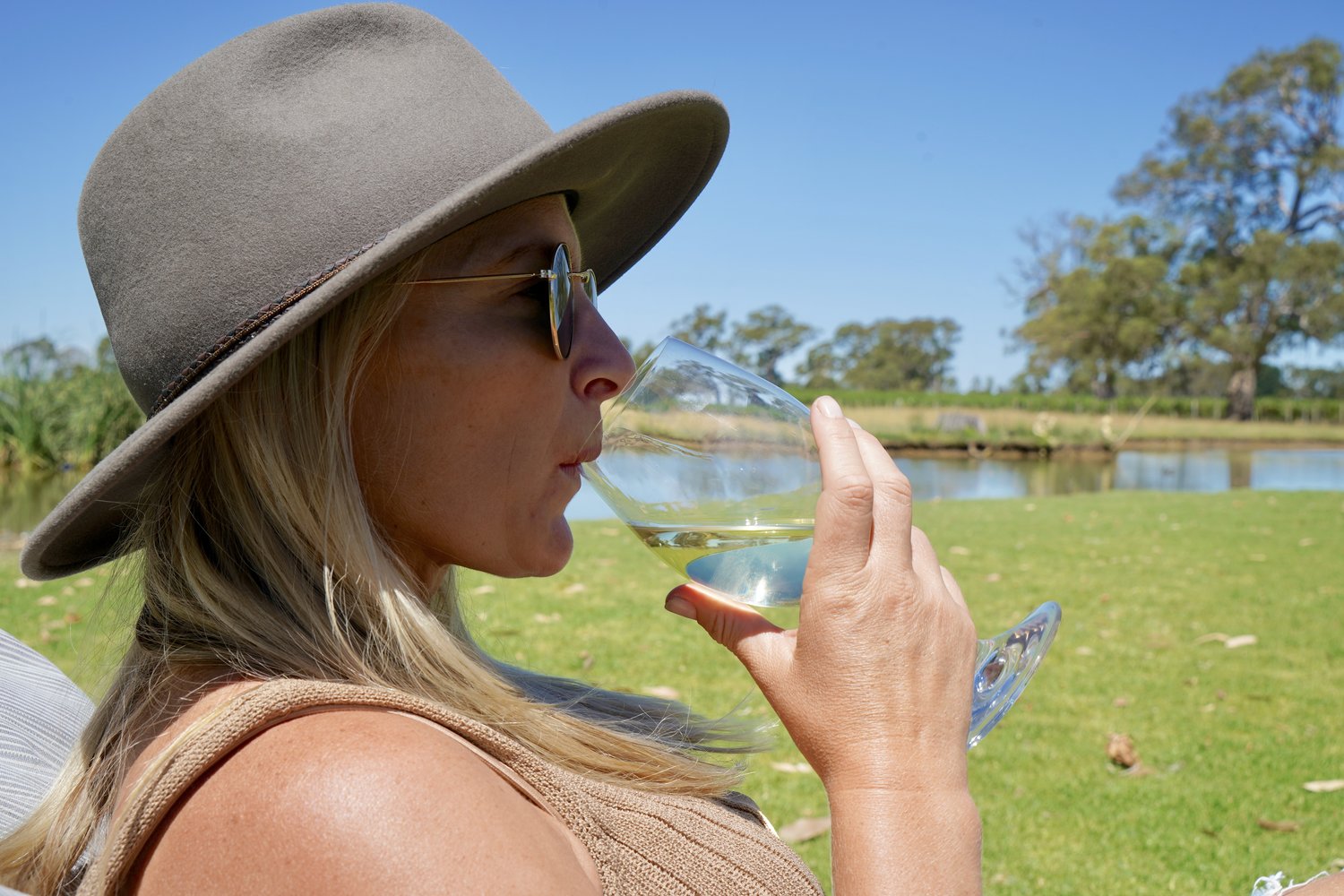 PENOLA
Petticoat Lane is a lane lined with historic timber and stone cottages that retain its 1800's charm. It was a cool experience walking through these cottages and seeing how families lived in these times. There are several cottages to view and some great history to read abut the buildings.
We stop in and grab a pic of this iconic old train station in Coonawarra! This old railway station was in working condition until 1999 and in the 1800's gave the area a real boost to the wine and farming region.
This track doesn't lead anywhere now but it's a great spot for a photo while your on a winery tour!!
THE NARACOORTE SWIMMING LAKE
It is a stinking hot day, about 35 degrees and we decide to head to the swimming lake in Naracoorte. It's a man made lake open to the public and free of charge. It was so refreshing and a great way to end the day. The kids spent most of the time flipping off the pontoon and we had such a great time. They have a little kiosk there as well as some change rooms and toilets.
The man who originally owned the property and built the lake, handed it over to the council on the proviso that they would never charge the public to use it. Love that!
BELLWETHER WINES GLAMPING
Only 15km away is Bellwether Wines. Not only a cellar door but they offer camping and Glamping tents too. It's a beautiful property with sheep roaming and a quirky camp kitchen. They have a cute treehouse, swing, sandpit and trampoline for the kids to enjoy and only a short walk to our glamping tent.
GLAMPING is not something we have done before so it was all pretty exciting and a thrill for the kids.
Travel Australia Packing List
Charli Bear on the swing at Bellweather Wines.
Sunrise out the door of our Glamping tent!! WOW
We had two tents and decided we would feel more comfortable with one of us sleeping with the kids. So Charli bunked in the big bed with Justin in one tent & the boys and I slept together in the other.
It got really cold overnight but we were all snug as a bug in a rug inside the tents!!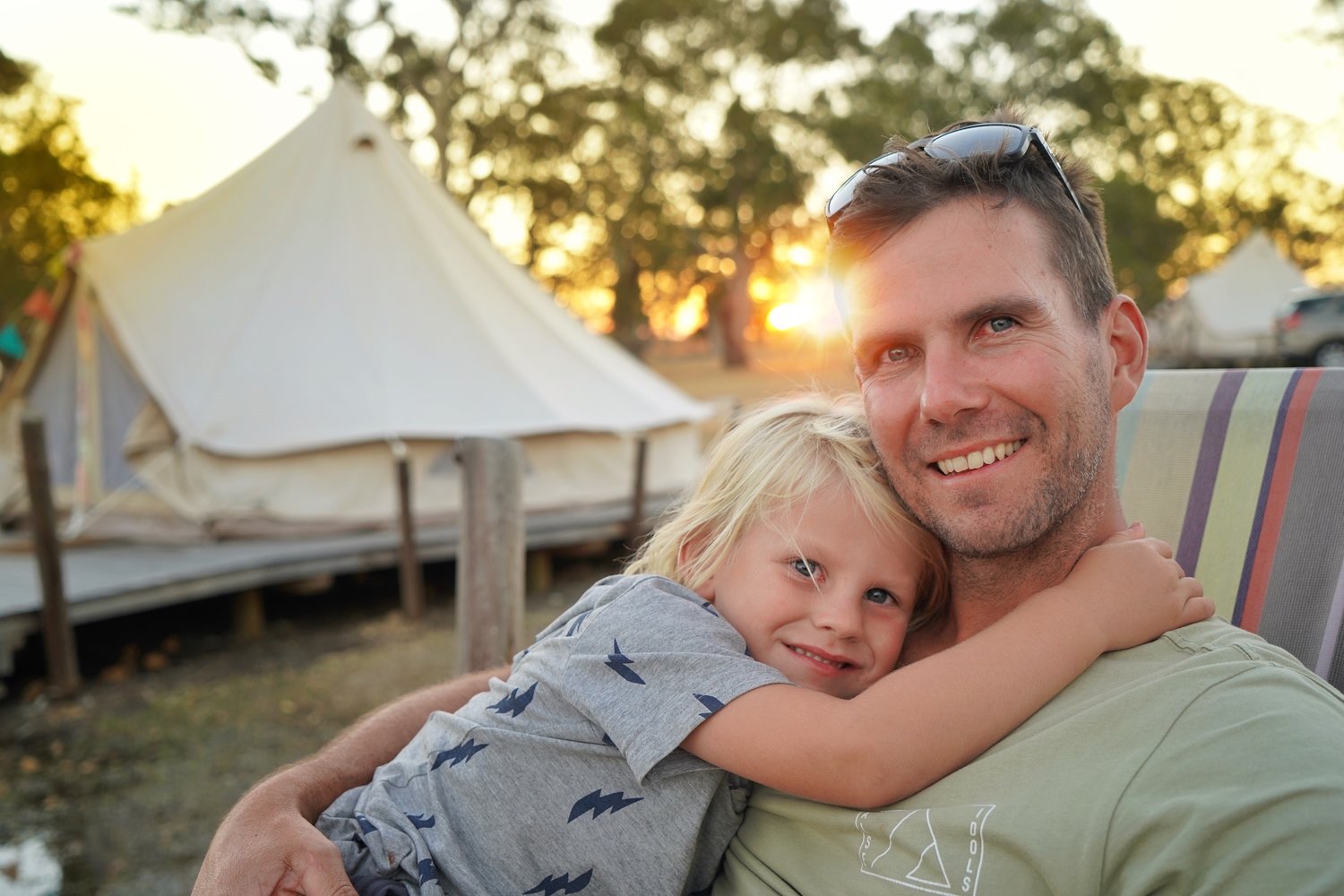 We were so cosy in the tents and had a beaut nights sleep (except for Billy waking). As the sun started to rise, Justin came into our tent and woke us to witness the most beautiful sunrise. I was not happy at the time- so early, but so grateful we could watch it together. For the most part, the kids watched it from their beds and Justin and I sat, coffee in hand in the chairs on our deck. The sun was soooo warm on our faces. Bliss.
We headed over to the camp kitchen to cook up some bacon and eggs and get set for a cave tour in Naracoorte.
What a lovely camp kitchen. So much detail and functionality.
THE NARACOORTE CAVES
Our kids are pumped to go cave exploring. They love to get on their head torches and head inside a cave for some fun. They often imagine themselves as pirates looking for treasure, it's so cute.
The hardest part is getting them to NOT shine the torches in the cranky tour guides eyes!! LOL
Exploring Alexandra Cave in Naracoorte.
We do our cave tour with a man named Tom. Don't shine a torch in his face he really doesn't like it! But kids will be kids. It was cool to find out about all the history of Alexandra Cave and the fossil relics they have found. Tom was very knowledgable and we found it all interesting.
Our tour was only supposed to go for half and hour but we ended up in their for an hour as we had so many questions!!!
WE ARE IN A WINE REGION, SO OF COURSE – WE HIT UP ANOTHER FANTASTIC CELLAR DOOR AT "KATNOOK ESTATE"
Katnook Estate  is one of the top wineries in this region and well known for it's red wine. We took a taste of several and I was very impressed. Along with their cheese platter, OMG so so tasty.
Definitely get a platter if you are heading here.
COCKATOO LAKE
We ducked out to Cocokatoo Lake (abut 30km) and decided it was the perfect place to pull up for the night. Wow, what a gorgeous setting, overlooking the lake with an amazing sunset and cockatoo's everywhere!!!
A large grassy area, toilets, bins and plenty of wildlife. Sunets to die for and a super fun rope swing. The kids spent HOURS on it! We had dinner on our picnic blanket in front of the van overlooking the lake as the sun set.
We loved this place and highly recommend it for free camping (well its actually by donation).
It is here that we hit a little milestone, Charli decided it was time for her training wheels to go. She was so persistent and had a few stacks but is now riding like a boss.
Go girl! This was her very first attempt at riding without training wheels. Lucky dad was there to catch her!
Check out our campside video of Cockatoo Lake below
This is a great campsite near Naracoorte in South Australia. You just make a small donation to stay here and you get to enjoy the big grassy sites and sunsets over the lake while the cockatoo's are screeching. There is a toilet here, bins, fire pits and a boat ramp to put your tinny in and go fishing.
Find out why we made the decision to travel Oz!
WE ARE BOUND FOR BEACHPORT
We make our way to beautiful Beachport and on arriving at this cute little town we are gobsmacked by the colour of the water. It's a beautiful turquoise colour, serenely calm and so inviting. We arrive at our accomodation which is a Villa at Beachport Southern Ocean Tourist Park.
We drive up the top of the hill to find we have water views from the deck of our cabin!!
The town of Beachport is just BEAUTIFUL!!
Like I said, that water looks inviting, so we decide to take a look at the Salmon Hole. Apparently at the right time year this little bay fills up with schools of Salmon and the fishing is EPIC!! It's a lovely beach about 5 minutes from our accomodation and the perfect place to take a dip.
Everyone swims and we play frisbee while the sun sets. Magic.
BEACHPORT TO ROBE 4X4 TRACK
Now this is a track we had heard all about and comes highly recommended. It's a two part track which consists of Beachport to Nora Creina (27km) and Little Dip Conservation Park (21km).We had planned to do it the last time we were in Robe but due to a broke CV joint on the ute we had to skip it!
This time though, we are pumped to check it out!!
The lads. Pretty sure they are going to be doing these camping trips together for years to come!
What a stunning drive and so many unreal spots to park up your rig and have a swim. Some great dune driving and we stop in at the calm bay of Nora Creina for some lunch. Plenty of boats moored up, lovely white sand and clear blue water. Heaven.
We continue on and complete the track in about 6 hours with plenty of stops along the way to check out the beach, swim and play some beach cricket!!
ONE OF THE BEST BEACH DRIVES WE HAVE DONE – LOVED IT!!
ROBE TIME
Gosh we LOVE Robe. It's such a quaint seaside town. Friendly people, boutique shops, cafes and great coffee (our fave was No.4 and Drift).
On this day, the beach was literally perfect.
We had promised the kids an ice cream, so our first stop after the 4×4 track had to be the "Robe Ice Cream and Lolly Shop". It didn't disappoint – I mean, does ice cream everrr…? It is a lovely nature setting there with plenty of seating. They have some awesome flavours too and not just the typical ones you will find.
We are staying at the Caledonian Inn and Holly the owner is awfully accomodating!!!!! What a fantastic person! We see our cute little cottage that we are staying in and I get some major house envy, it's just so lovely! Located just behind the pub and right beside the ocean. I tell ya, this is livin. We have a meal at the pub and everyone's stoked with what they are eating. Well done guys on the meals.
Justin and the boys kick on at the pub and it's not far to get home at all. There were some sore heads in the morning….
Thats our Beach Cottage in the background. So nice!!
The next morning I head next door to grab a coffee from Drift. Again, this place really is gorgeous, one of the nicest cafes I've seen (and I've seen A LOT). The coffee was spot on.
Over from our accomodation is No.4 Cafe. I stupidly order the granola with coconut yoghurt and fruit. It was DELICIOUS, but I look at everyone else and wish I had of got theirs. Anyone else do that? Justin had the Bacon and Egg Roll and raved about it, another winner was the Eggs Benedict.
With full and content tummies we move on to Long Beach. This is the 4WD beach in Robe and it's a pretty easy drive. You can access the beach near the discovery parks caravan park only a few minutes from the Robe town centre. It's highly unlikely you would get bogged here. Yet another awesome beach in this area and the perfect spot to set up and relax for the day.
But we head off for the delightful Cape Jaffa Wines approximately 30km away.
CAPE JAFFA WINES – We are one child down as Charli's asleep in the car..
As you drive into Cape Jaffa Wines it has a beautiful outlook. The rustic cellar door is the region's first fully certified biodynamic vineyard & it has some great views to go with it. We sat down and enjoyed a wine tasting and some seriously delicious platters. The cellar door manager Gabrielle was so lovely and a wealth of knowledge. She took us through the herb garden out the back and the kids picked flowers, mint and other herbs.
On our way to Coorong National Park we stop in at Kingston SE to view a very very large lobster. The Big Lobster is a tourist attraction in the area that is 17 metres high and weighs 4 tonne!! Of course we had to grab a selfie with The Big Lobster.
We arrive at the Coorong National Park at the Kingston entrance for an epic 4WD track. A great track and way to much fun on the dunes. It's a long and challenging beach drive with some supersoft sections so make sure your tyres are down to 12-15psi. There is some epic secluded campsites along the Coorong so be sure to check Wikicamps as you cruise through. The main access into the park is via the Princes Highway at Tailem Bend.
Be aware that beach driving should be done on low tide.
We cross an unreal dry Cooroong at Tea tree crossing to get over to our campground and bask in the scenery. We also take this opportunity to grab some snaps. It looks pretty vast doesn't it. Some unreal panoramic views.
Apparently when this crossing is full, you can still drive across as your guided by marker poles with red tops!!
We find our campsite and WOW it's a ripper. Full of grass, plenty of privacy with oodles of trees and a massive dune as a backdrop. I tell ya, watching that dune while the sun sets was pretty spectacular. We play some cricket, cook dinner and enjoy each others company.
It was a wicked experience and we love camping out.
We are very excited to set up our swags and really use our new Norweld Canopy. It's an awesome bit of kit and has most definitely made our camping trip much easier and more functional.
Everything has a place to live & access to all of our gear made for an easy trip.
Always the first one up! Sunrise at Teatree crossing campground – awesome!!
After a slow morning watching the sunrise, having brekky and packing up. We make our way to Adelaide.
It's a three hour drive and we stop in at Meningie, where the movie Stormbuoy was filmed. It has a playground and it's a great stop to have some lunch. There is a bit of history here with the film as well as an emu statue that you can sit on.(of course Justin had to ride it!)
Tailem Bend was an unexpected stop that had us stocking up at Foodland and grabbing a great coffee at Little Local Co. to get us through the trip.
A hilly drive into Adelaide and we arrive at the BIG4 West Beach Parks. Wow, this park is the bees knees and has everything. We park up at out Beach House and OMG it's amazing. Spacious (coming from our caravan), modern, clean and very inviting. It's a stinking hot day and our air con is cranking so our home for the night is very cool. After settling in, we head for the splash park and jumping pillow. It's a gorgeous afternoon and we are mad keen on a beach swim.
A lovely beach, crystal clear blue water and the temp is just perfect. Not sure if Adelaide beaches are always like this or we struck it on a nice day, but it was unreal. A quick pool swim and we head back for some dinner.
It's still really hot and we decide to head down to the beach and check the sunset. After strolling the beach the kids ask for a swim. It's the most perfect night and we all jump in for a dip. The dip turned into about an hour of fun. The sunset was incredible and so glad we waited for it to go down. What a beaut way to end the day!
POOR OLD DAD WAS THROWING KIDS AROUND FOR AN HOUR- HE COULD HARDLY MOVE THE NEXT DAY….LOL
BIG4 West Beach Parks really is a fantastic park and we cant recommend it enough. It has everything your family could possibly need and extremely kid friendly. We loved our time here again.
This concludes our trip from Mount Gambier to Adelaide.
There really is so much to see and do along the Limestone Coast and the 4WD tracks were fantastic. It's now time to head back to Mount Gambier and pick up our caravan so we can continue our travels around Australia.
CHEERS – JUSTIN & BEC
FUNDING OUR TRIP
How we funded our trip and tips for you to do the same
OFF-GRID BATTERY SET-UP
THE ULTIMATE IN FREE CAMPING POWER
Map of Australia Decal - 15% OFF TIAV15