Mackay + Surrounds. A 4 day Itinerary!
Day 1 of 5 around Mackay
Anyone who travels up and down the East Coast of Qld will go past the town of Mackay….. But how many actually go in and check out what's on offer?
For a town that has been built on Sugar & Mining, it's now really turning it up in the Tourism stakes!
So here is Day 1 of our visit. We hope you gain plenty of great ideas and info so you can check them out on your way through and Mackay, Queensland.
Coming from Airlie Beach, we drive south through Proserpine and into the little town of Calen, where a new Farmstay has opened up and in our opinion, you just cant drive past without stopping in. 
The Oh deere farm stay is not what you might think at first….. If your like us, we were thinking it would involve cute baby deer that you handfeed and pat and maybe a few other animals like ducks roaming around.. But, you'd be WRONG!! 
It's actually a working Cane Farm run by a lovely couple Dale and Karinda who have a slight obsession with John Deere machinery…. Get it? Oh Deere… Well, when you end up staying, ask to check out there collection and you will understand, and be sure to say hi from us!
The camping area is lush green grass overlooking the farm and the sunsets are amazing.
$23 per night for power and water or $16 a night unpowered.
There is amenities available and also a BBQ and laundry. They also offer a farm tour where Karinda shows you around the property and gives you an insight into how sugar cane is grown and harvested. You even get to feed some cheeky bulls. The tour is finished off with sugar cane juice that you crush yourself, home baked scones and nibbles. Yumm!!
Just down the road, is a little cafe that will delight your tastebuds. Zarby's Cafe is a retro cafe based on the style of a 50's diner. We had heard they do some great meals so before we parked up the van at Oh Deere we stopped in for lunch. The kids have declared it was the BEST milkshake they have ever had. And I tell ya what, the tucker was on point as well!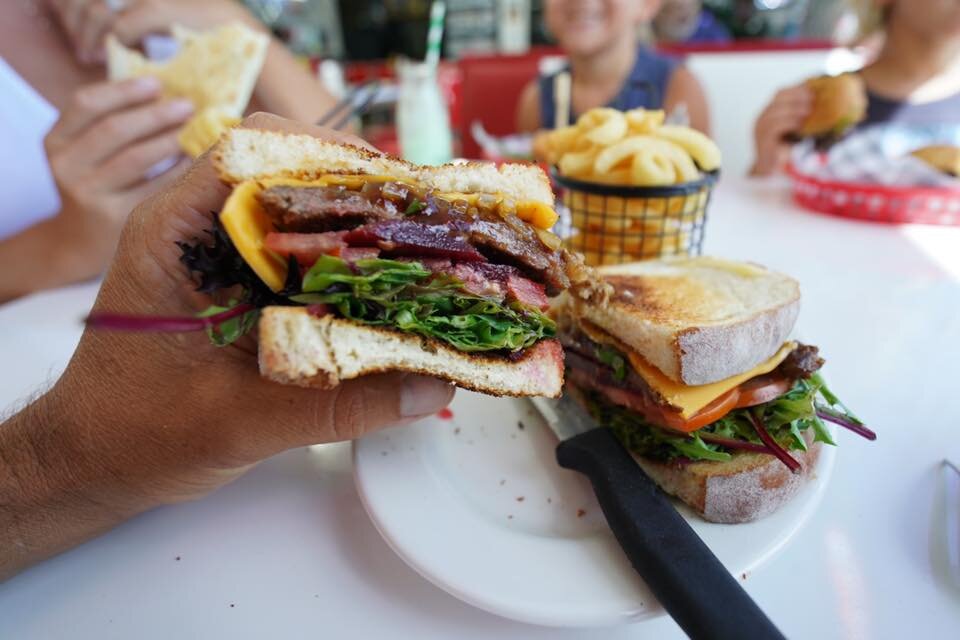 DAY 2 OF 5 AROUND MACKAY
We are up at the break of dawn to head to the beach. Why would you go to the beach at sunrise you say? 
Well, at a place called Cape Hillsborough you get to see Kangaroo's and Wallabies on the beach and to do it at sunrise makes it quite the experience. We walk down from the carpark as the sun is starting to break the horizon and there is at least 15 kangaroo's all feeding on special food that a park ranger puts out for them. We stroll the beach for an hour and get a few nice pics of these cuties on the beach. 
Then Breakfast is served at The Old Station Teahouse. A lovely little property that is actually an old railway station from the township of Marion that has been relocated into the rainforest near Cape Hillsborough. A huge deck out the back amongst the gardens is a great setting to enjoy a delicious breakfast.
Our next camp for the night is up the range in Eungella (pronounced young-galah) & on the way there we find a few great spots. One for a swim & one to fill the belly. Platypus beach as we have since learnt is quite famous amongst Mackay locals for a spot to cool off on the weekends. A big sandy section below the train bridge is a perfect safe swimming hole and plenty of room to park up the van as well. We spend a few hours here splashing around. 
Now we are no conniseurs of the culinary game, but the Meat pie we got at The Pinnacle Hotel on our way to Eungella would have to be up there with the best ever!! This pie is as big as your head & absolutely bursting at the seams with chunky filling. We also got the hot tip that the crumbed steak on the menu is something pretty special if you've got a big appetite.
We arrive at Broken River Bush Camp which is a few minutes past the township of Eungella. The road up here is probably the steepest 12km of range that we have encountered towing our caravan so if you have a seriously big rig, you might want to day trip up here. The campground is well laid out and right on the banks of the Broken River where we reckon you're guaranteed to see a Platypus in the wild. We took a walk along the waters edge and spotted THREE in just half an hour.
For dinner we splashed out and walked just across the road from the bush camp to the Possum's Table Restaurant which is part of the Broken River Mountain Resort. Spaghetti Bolognese for the kids and a Scotch Fillet and vegetables for the parents with a glass of red. It was the perfect way to end another day exploring Mackay.
DAY 3 OF 5 AROUND MACKAY
PLATYPUS WALKS & AUSTRALIA'S BEST WAFFLES
Waking up to the sound of birds and and fresh clean mountain air at Broken River Bush Camp is a perfect start to the day. We have another busy day of activities planned and first up is the walking trail along Broken River to spot Platypus. 
Within 30 seconds of getting to the first viewing area under the bridge, one pops up right in front of us. We couldn't believe it!! Now these guys are super easy to see and the kids love it but without a super telephoto lens they are very elusive to get a nice photo of.
Full faced mask, anti-fog and anti-leak! Makes snorkelling with kids easier.
USE CODE TIAV20 FOR 20% OFF
After 45 minutes minutes strolling through the rainforest and spotting a few Ornithorhynchus Anatinus (Platypus) we cross the road to meet Oskar who runs the Platypus Lodge Restaurant & Cafe and is famous for his Waffles, and I tell ya what, his coffee is strong and delicious as well.
The kids are super excited as they've had these waffles before about 18 months ago when we came through the region, and within minutes they were licking the plates clean with chocolate all over there faces..
Now i just have to tell you that the waffles aren't the only good thing here, Oskar does a Steak Eggs Benedict which I would rate as one of the best brekky's going round.
15% OFF ALL NAVIGATOR GEAR!
Quality caravan products with a purpose!
From chairs to storage and everything in between.
USE CODE TIAV15
SKY WINDOW WALKING TRAIL & DOWN THE RANGE..
We hook up the van and start heading back towards Mackay. Before you head down the the range though, be sure to check out the Sky Window lookout and walking trails. There is a big carpark here but it's probably a good idea to leave your van at the bush camp and drive the 5 minutes here to explore.
3 walks on offer here of different lengths and we opt for the Short Loop called the Sky Window trail, which only talk about 10 minutes, and Oh Man what a view!!! A huge scenic window with a view that extends down over the valley which really does take your breath away. Definitely worth a look!!
Back down the range we go, and like I said this road is seriously steep so double check your van brakes before you descend. Take your time in low gear and don't punish your brakes to much and you should be fine.
BLUE WATER LAGOON & GO KARTING AT SIDETRAX 
We drive back into Mackay for a fun day spent cooling off at the awesome free swimming complex in town called the Bluewater Lagoon. A huge swimming area, water slides and splash park. Such a good spot and there's even a cafe here as well for brekky and lunch. 
After cooling off we rev the kids up and let them know we are heading to the indoor Go-Karting race track where we can race each other in mini race cars. They are pumped to get there, Jack even more so as he is 7 and can drive his own cart. Charli and Billy have to ride in the double cart with Mum and Dad. We race flat out for 15 minutes and Dad of course comes out the winner!! The kids coming out with a new saying" Your as slow as a slug Mum!!"
CAMP AT BIG4 MACKAY MARINE
After Go karting it was late in the day, so we opted to pull up only a few km's away at the Big4 caravan park. We had a huge site on the grass and as it was still 35deg at 5pm. The kids spent the afternoon in the pool before we flaked early.
DAY 4 & 5 – THE END OF OUR VISIT TO MACKAY
THE AQUA PARK, CAPE PALMERSTON, SUGAR SHED AND BARRA CRAB
This morning we take it easy, we get some schoolwork done with the kids & then head to the wake boarding and aqua park in Mackay called "The Wakehouse Australia". A full cable ski circuit around the outside of the dam and a massive inflatable aqua fun park on the inside. We do the 10am session on the park and FAR OUT!!! We are definitely not as agile as we used to be.. It's a real workout on the inflatable aqua park with obstacles, slides and jumps. We spend the whole time trying to keep up with the kids as they belt around the dam having an absolute blast. 
There is a bar and restaurant here and they do LIVE music on certain days, so its a great family day out!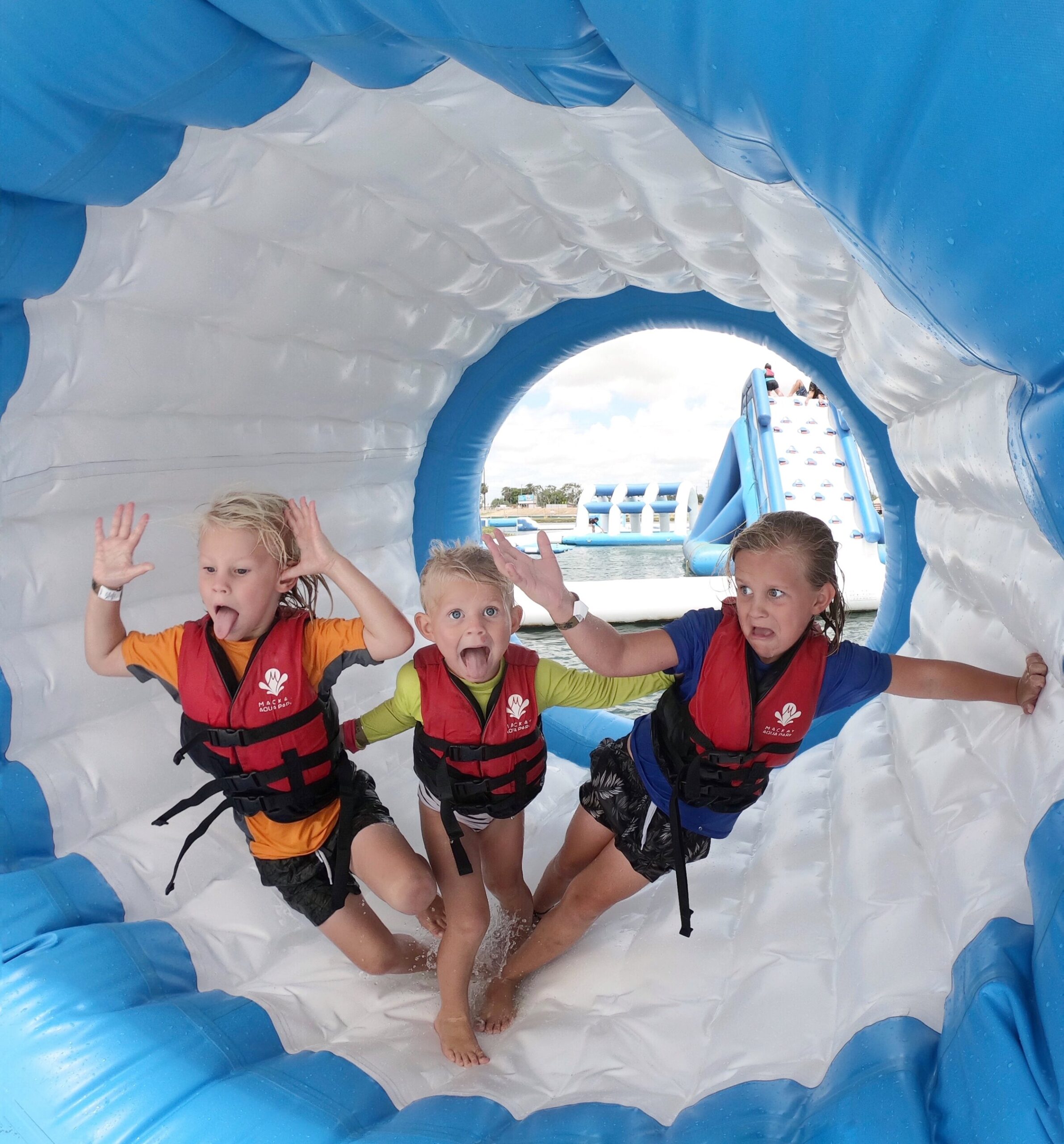 THE SUGAR SHED
A real insight into the history of sugar cane farming in the area and a few treats along the way as well!! We stop in at the Sarina Info Centre which has plenty of parking for caravans and it is right beside the Sugar Shed. They offer a guided tour that fills your head and your stomachs with sugar cane. From planters & Harvesters to molasses and spiced rum, you'll be walking out of here with a new appreciation of where sugar comes from and ready to pour a nip of something delicious into a glass of ice!! 
To top it off the kids were able to eat Fairy Floss at the end!
COMPACT, QUICK DRY, LIGHTWEIGHT, SANDFREE TOWEL!
Will & Wind towels are ideal for travelling and the best addition to your beach bag!
USE CODE TIAV15
CAPE PALMERSTON
An extra half hour down the road and you can turn off to Cape Palmerston & it's beautiful beaches. We are booked into the holiday park and take the 4×4 track to the beach for a sunset dinner. The next morning we set our sights on Cape Palmerston Loookout in the National Park. About an hours drive along some beautiful beaches and past Windmill Bay campground, you will scramble up a bit of a steep rocky section in the 4wd to enjoy the panoramic views of Cape Palmerston. We had some amazing weather and the colour of the water is insane!! Looks pretty fishy as well so we will be back next year to try our luck!!
CLAIRVIEW & BARRA CRAB
Did you know? That Clairview and it's coastline is actually a Dugong Sanctuary! We had no idea until recently so we stopped in to see if we could find some Dugong feeding offshore. Unfortunately the wind was up and the water clarity wasn't the best for dugong spotting but we did find an epic spot to camp next time we come past.. The unpowered section of the Barra Crab Caravan Park is absolute beach front and word on the street round here is that if you have a boat, the fishing is mental!! 
Travel Australia Packing List
And that concludes our time time exploring the Mackay region.
Working with local tourism is something we are really passionate about and we love being able to highlight some great people, places and businesses along the way. 
A big thank you to the Mackay area and to all the awesome locals we met along the way. Real, genuine, hospitable Australians.
FUNDING OUR TRIP
How we funded our trip and tips for you to do the same
OFF-GRID BATTERY SET-UP
THE ULTIMATE IN FREE CAMPING POWER
Map of Australia Decal - 15% OFF TIAV15