5 Days On Kangaroo Island!
We spent 5 nights on the island and had an amazing time exploring as much as we could. We would definitely recommend staying at least a week, this would allow you to take it down a notch and have a bit more time to relax and also a bit more time to explore the parts that we missed.
Kangaroo Island is a perfect place to explore from the comfort of your Caravan or motorhome.
The roads on KI are fantastic. With the majority of main roads being sealed and in great condition and even all the unsealed roads are graded and well maintained. We had no drama's at all towing our 23foot Jurgens family van around the Island. All the sightseeing destinations are easily accessible with the van on, which is great because it means you don't have to always day trip and return to the same campsite, you can move along every day and not miss out on anything. Its also a very safe place and we were comfortable locking our van up for the day and heading off to explore the rougher parts of the island and its unsealed roads. 
This is our 5 day itinerary of what we got up to while on the island. Although we didn't get to explore every inch of KI, we came away with a great knowledge and appreciation of what a unique place and part of Australia it is.
Day 1
We loaded up on the Sealink ferry from Cape Jervis, which is about an hour and a half from Adelaide. The ferries are a big catamaran style boat so they are very stable and smooth even in rough seas. The Crew from the ferry guide you on via uhf radio if you have one fitted. You then reverse down the ramp to load onto the boat so you're ready for an easy exit when you arrive in to Penneshaw on Kangaroo island. 
The trip across only takes around 45 minutes and you have plenty of seating options to choose from. You can be above deck in the fresh air with great views, or you can chill out inside with the onboard cafe and enjoy a brew on your way across. We had some pretty rough seas on our trip across so we decided to sit as far back as we could to make the ride a bit smoother. Thats a great tip for anyone who gets a bit sea sick, sitting on the lowest level possible and as far to the back of the boat. This is where you get the least amount of movement from the swell.
Our first stop off the ferry was the Kangaroo Island visitor centre which is not far up the road when you drive into town. The staff here are so helpful and they have all the information you need to see everything on the island. For us, our biggest concern was that we hadn't allowed enough time to experience all the island has to offer. With this in mind, we quizzed the info centre on possible itineraries and travel routes for our 5 days. Once our plan was mapped out for us we headed straight for the little town of American River.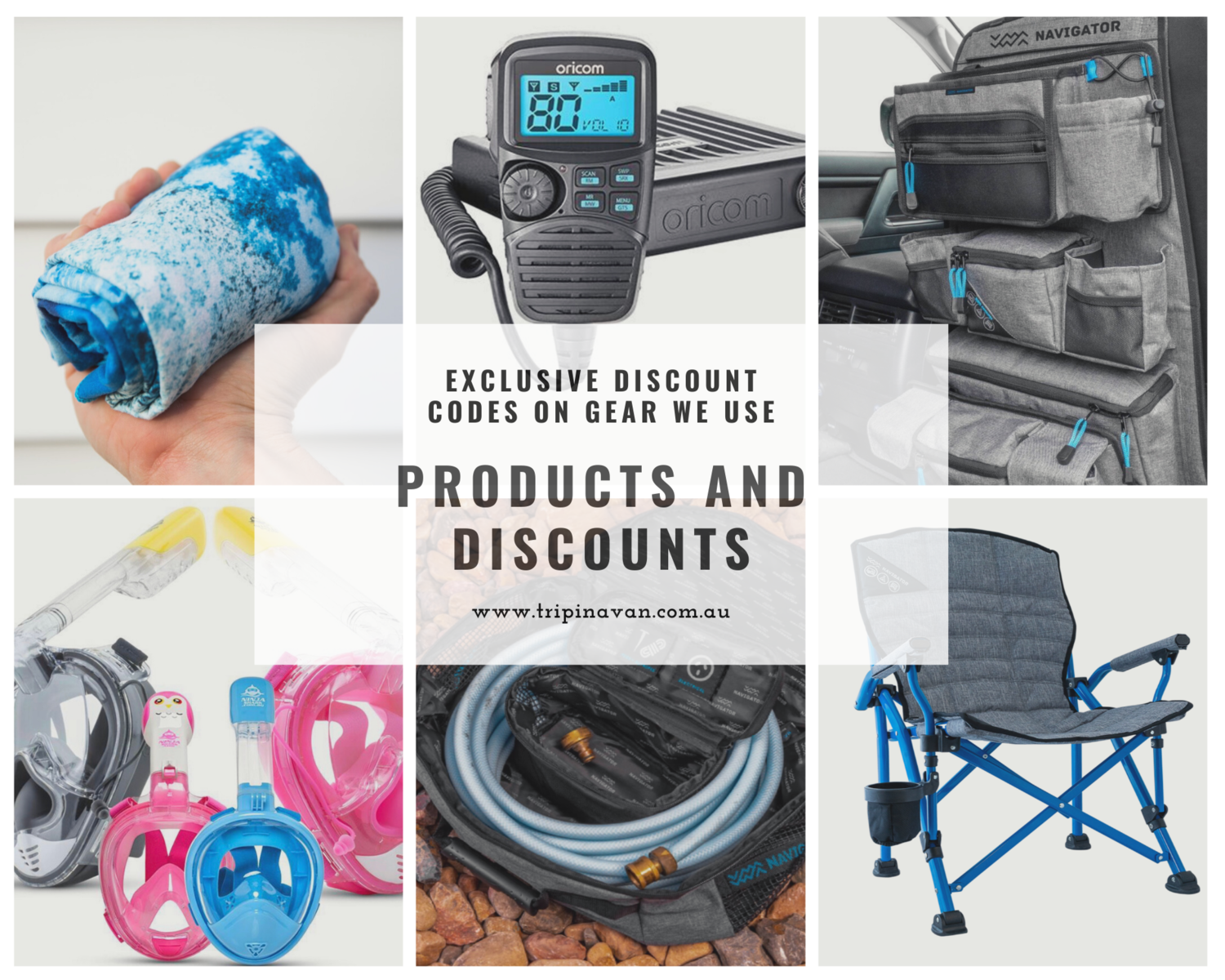 There are great options for accommodation when on Kangaroo island. For us, with our Jurgens Caravan in tow it was made easy. With so many great free camps, self registration council sites and caravan parks scattered across the island we were spoilt for choice. 
Our first night was spent at a fantastic council campground in a little town called American river. A beautiful spot beside the river and only $25 a night for a powered site. There are several of these campgrounds around the island. You can self register when you pick a site and there is a drop box for you to deposit your fees in the envelopes provided. The little marina in American River serves as a mooring for commercial fishing boats and if you love fresh oysters, you can pick up a dozen or 2 of the best in Australia right here.
Day 2
Even though we had so much to see and do on KI, we got sucked into what we called "KI TIME". Everything here seems to be slowed down a notch and it has a very relaxing atmosphere that is easy to slide into.
So with a late start, we head off to explore some more with our first stop today being Kingscote. This is the largest town on the island and also South Australia's oldest european settlement. If you love pelicans, this is the place for you. There is Pelican feeding most afternoons down at the Kingscote wharf.
From Kingscote, we cruise to Emu Bay which is a magical blue bay with super white sand. You can camp right across the road at another great self registration campground as well. The beach here is 4wd accessible and good fun to go for a spin and have a swim in the surf.
A bit of lunch up the beach and we move on, taking the unsealed north coast road to Stokes Bay. Its a well maintained gravel road and we have no dramas with our van behind us. Its quite a scenic drive through some bushland and rolling hills. It drops you straight down into Stokes Bay, another of KI's amazing beaches. The rockpool cafe is right next to the beach and serves up some great tucker and does a tops coffee as well. Head down the beach and look to your right and you will spot a small sign directing you through the rock crevices. Definitely take the time to explore this little trail, it will take you to a secret beach that is a hidden wonder.
Travel Australia Cost Calculation/Budget Spreadsheet
The Emu Bay Lavender farm is also a great stop on your travels around Kangaroo Island.
It's getting on into the afternoon now, so we head for our second campsite on the other side of the island, Vivonne Bay. Another immaculate campground and again only $25 a night.
Day 3 
Vivonne Bay is probably one of the prettiest places we found on our visit to KI. The colour of the water is unbelievable with the contrast of the red cliffs that surround the jetty which is renowned for great fishing. There is a great walking trail from the campsite here up to the beach and Jetty and is a perfect way to spend the morning before heading off again.
We head to Seal Bay Conservation Park and take the self guided boardwalk tour which is great to see the seals in their natural habitat, playing and fighting with each other. You can also opt for a guided tour called the Seal Bay experience where you can get really get up close and personal with the seals down on the beach.
Back tracking past Vivonne Bay on our way to the Western end of Ki, there is an amazing dune system called Little Sahara. Its a must to drop in here and hire a sand board or toboggan. They are the fastest boards and dunes we have been on in our travels and so much fun spending a few hours here screaming down the the sandy slopes. 
Some lunch in the carpark at Little Sahara and we head straight to the Western KI caravan park for a relaxing afternoon.  
This is a fantastic caravan park in a peaceful bush setting. It even has its own koala spotting walking trail and a great lagoon walk to spot even more wildlife.
We stay here for 2 nights to allow us to leave the van and day trip out to some of the iconic landmarks that are in the Flinders Chase National Park. It also gives us a chance to hit some of the rougher unsealed roads in our Mazda BT50 . 
Our day trip to the National Park starts with the short drive out to Admirals Arch, a natural rock formation that is beautiful and makes for a great photo opportunity. 
From here , its a short drive to the next landmark which is Remarkable Rocks. A stroll up the footpath from the carpark reveals these truly one of a kind rocks that are dated to be 500 million years old. These coloured giants are perched on the rocky headland like they've been placed there by something out of this world. We spent an hour or so here just in awe of the formations. Some fantastic photos to be had as well. Be sure to keep a close eye on your kids if you have them as the rocky headland tapers off into a cliff. 
A good tip for those seeing the sights, are to get there early if you can, they can get quite crowded with tourists which makes it hard for a sweet snapshot of your travels. 
Next up is West Bay. About an hours drive from Remarkable Rocks on an unsealed road that was pretty rough in sections. There is a great camping area out here, but unfortunately not quite suitable for our van. We picnic here before heading back to the caravan park, lucky for us the kids slept all the way home.
15% OFF BELOW PRODUCTS
Day 4
Another sleepy start as we wake to the sounds of birds in the trees surrounding our van and we then make our way back towards Penneshaw to be ready for our 11am ferry the next day. On our way we drop into a great place called Cliffords Honey Farm, the home of the Famous Honey Ice Cream! Its also a great learning experience to see how they farm the honey from the unique Ligurian Bees that only live on Kangaroo island. The kids had a blast in the playroom and playground and were amazed at how many bees can fit in one hive.  Be sure to grab some of the tasty local produce from the store. We loaded up with Honey Ice cream, chocolate honeycomb, a few different flavours of their amazing honey and a cold six pack of the drunken drone honey wheat lager. 
The Penneshaw Caravan Park is a great location and the perfect place to stay if your arriving on a late ferry or leaving on an early ferry like us. It only takes about 2 minutes to drive from the park to the ferry and you can relax with peace of mind knowing you wont miss the boat as you can see it coming from the comfort of your deck chair. 
After we check in here, and with a few hours left to kill in the afternoon, we head out to Dudley Wines and WOW WOW WOW. If there is a winery in Australia, that has a better view than this from their cellar door we would love to know!! We were lucky enough to be there on a Sunday afternoon and there was live music on and quite a crowd. It has real atmosphere and the food and wine is outstanding.
The view at Dudley Wines.
Day 5
We chill out in the van for the morning  and watch the 10am ferry rolls in before we load back on and head for Cape Jervis, exhausted from exploring, yet stoked that we have ticked KI off our travel bucket list!
Travel Australia Packing List
FUNDING OUR TRIP
How we funded our trip and tips for you to do the same
OFF-GRID BATTERY SET-UP
THE ULTIMATE IN FREE CAMPING POWER
Map of Australia Decal - 15% OFF TIAV15