NRMA – PORT MACQUARIE BREAKWALL HOLIDAY PARK
PORT MACQUARIE – NSW
One of our favourite destinations on the NSW coastline!  It has Incredible views and lookouts, amazing beaches and a sensational year round climate! Because of where it's located on the Nsw Coast, it never gets to hot and it never gets to cold. It's family friendly with plenty of attractions,  shops and cafes and we've had a beaut time!
An Amazing place to live!
We based ourselves at the NRMA Port Macquarie Breakwall Holiday Park and what a spot! Right on the water and only a short stroll to anything and everything. There is playgrounds, a skate park, cafe's, restaurants and shops only meters away! We even managed to get in a couple of runs along the breakwall and enjoyed watching the boats coming in and the dolphins frolicking in the Hastings River! The kids loved riding and scooting along the Breakwall footpath. 
The Park has a fantastic swimming pool complimented by a kiddie pool that's great for the little ones. The NRMA Port Macquarie Breakwall Holiday Park is a very well maintained park with brand new amenities, a playground and camp kitchens throughout the park. An ideal location to base yourself when stopping in Port Macquarie, close to all the beaches, shops and town centre.
A FEW THINGS TO DO WHILE YOUR HERE!
Take a drive to Lake Cathie, check out Ricardo's Tomatoes to pick some strawberries.
Visit Billabong Zoo or the Koala Hospital
They have a food market in the park next door to the caravan park on Saturday night's, a great place to chill out, have a feed and listen to some tunes.
Do a Coastal drive to Lighthouse Beach, it's beautiful.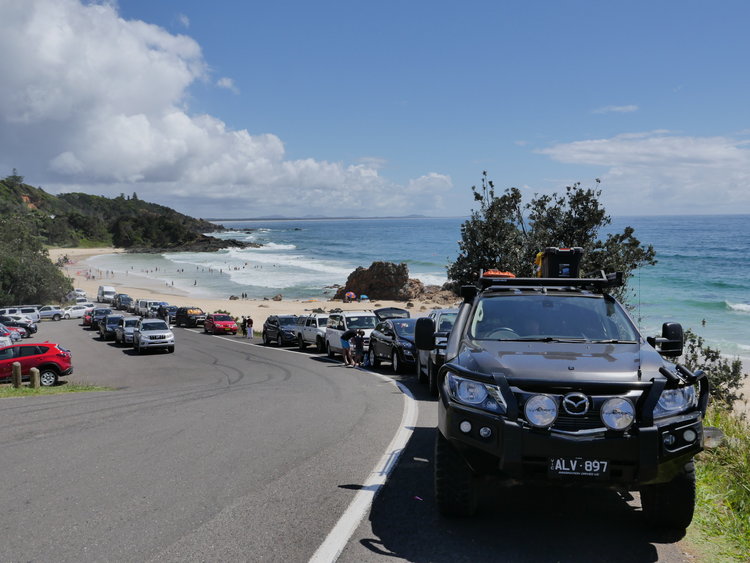 Our 3 nights here has been an amazing taste test of what Port Macquarie has to offer. It is definitely up there with one of the most liveable towns we have visited on our travels around the country.
If we end up moving to NSW, Port Mac will be made our home base! We loved it that much!
Justin & Bec Lorrimer – Trip In A Van
READ ALL OUR TRAVEL STORIES AND REVIEWS BELOW.
FUNDING OUR TRIP
How we funded our trip and tips for you to do the same
OFF-GRID BATTERY SET-UP
THE ULTIMATE IN FREE CAMPING POWER
Map of Australia Decal - 15% OFF TIAV15