FREYCINET NATIONAL PARK & WINEGLASS BAY
We made it to the Epic East Coast of Tasmania and the Freycinet National Park. What an Amazing location with so much to do and explore. The coastline here is laced with flame red rocks that dip into some of the most stunning blue water you will see anywhere in the world! 
The Wineglass Bay Lookout walk is a must do while your here!
We pulled into the BIG4 Iluka Holiday Centre in Coles Bay for 2 nights while we explored the National Park. Great facilities here, with plenty of powered sites, cabins and camping available. A playground for the kids & Muirs Beach directly over the road make this park the perfect base camp while you get out and see all that Freycinet has to offer.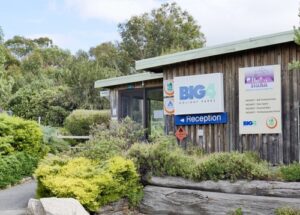 On our first day here, we head out and have a look around the town of Coles Bay. There is a great little town centre with convenience store and a wicked little cafe called Geographe Restaurant & Espresso Bar. They have lovely staff and make a great coffee with views over the water to the National Park. 
We then venture into Freycinet and check out The Cape Tourville lighthouse & Sleepy Bay. The Lighthouse walk only takes about 15 minutes and provides some epic views of the area. Sleepy Bay is also only a short stroll down some stairs to a picturesque bay of red cliffs and turquoise waters. 
An early start the next day and we head to the Wineglass Bay lookout walk only a 5 minute drive from the Caravan Park. The walk up is fairly tough with about a 40 minute walk uphill with a lot of stairs. The kids managed no worries though and the views at the top are very much worth the effort. It takes another half hour to walk down before you an head to Honeymoon Bay for a swim!
This little bay is just so crazy!! So beautiful, with it's sheltered waters and smooth sloping rocks as beaches instead of white sand. A great place to spend a few hours after hiking to the Wineglass Bay lookout. Bring your Snorkelling gear as the water here is just PERFECT!
That brings us to the end of our visit. So many happy memories and great pictures from our stay here. We highly recommend visiting the Freycinet National Park and come say Hi to the team at the BIG4 Iluka Holiday Centre.
CHEERS  – JUSTIN & BEC
FUNDING OUR TRIP
How we funded our trip and tips for you to do the same
OFF-GRID BATTERY SET-UP
THE ULTIMATE IN FREE CAMPING POWER
Map of Australia Decal - 15% OFF TIAV15