FIRST TIMERS TIPS FOR TASSIE!!
HERE'S A FEW TIPS THAT WILL MAKE YOUR TRIP TO TASMANIA THAT LITTLE BIT EASIER!!
Tassie is one of the most picturesque places we've seen on our travels around Australia. This isolated Island has you indulging in history, hiking amazing trails, relaxing on pristine beaches & enjoying the spectacular wilderness and fresh produce.
TIPS FOR THE SPIRIT OF TASMANIA
BEFORE YOU GET ON THE SPIRIT OF TASMANIA
Navigating through Melbourne isn't for the faint hearted! The narrow roads, freeways, unpredictability of traffic PLUS  towing a caravan can present a very stressful situation. 
As we were leaving on a day sail we needed to be in Melbourne the night before, so we needed to seek out accomodation.
After plenty of research we found a caravan park only 13km from the Port of Melbourne and where the Spirit of Tasmania was to depart from. 
BIG4 Melbourne was an easy 20 minute drive and a fantastic park & a great place to start and finish our Tassie travels. It's a resort style caravan park situated in Coburg, it has everything for the kids (and big kids). A large swimming pool and spa, games room, playground & indoor playground and if you're keen, a gym! 
DON'T DO A BIG GROCERY SHOP BEFORE YOU LEAVE
The Spirit of Tasmania is big on quarantine and it's a huge operation when boarding. The staff that work for quarantine will take all of your fresh produce so please check the current quarantine restrictions. Once you arrive in Devonport there is a Woolworths and Coles to stock up with all your the fresh produce and supplies you will need. 
CARGO DECK REMINDER CARD
Remember to get your deck reminder card. These are located right next to the doorways as you leave the cargo deck. This will ensure you know exactly where on the Spirit of Tasmania your car and van are parked. That way you wont be in a panic to find it once disembarking commences.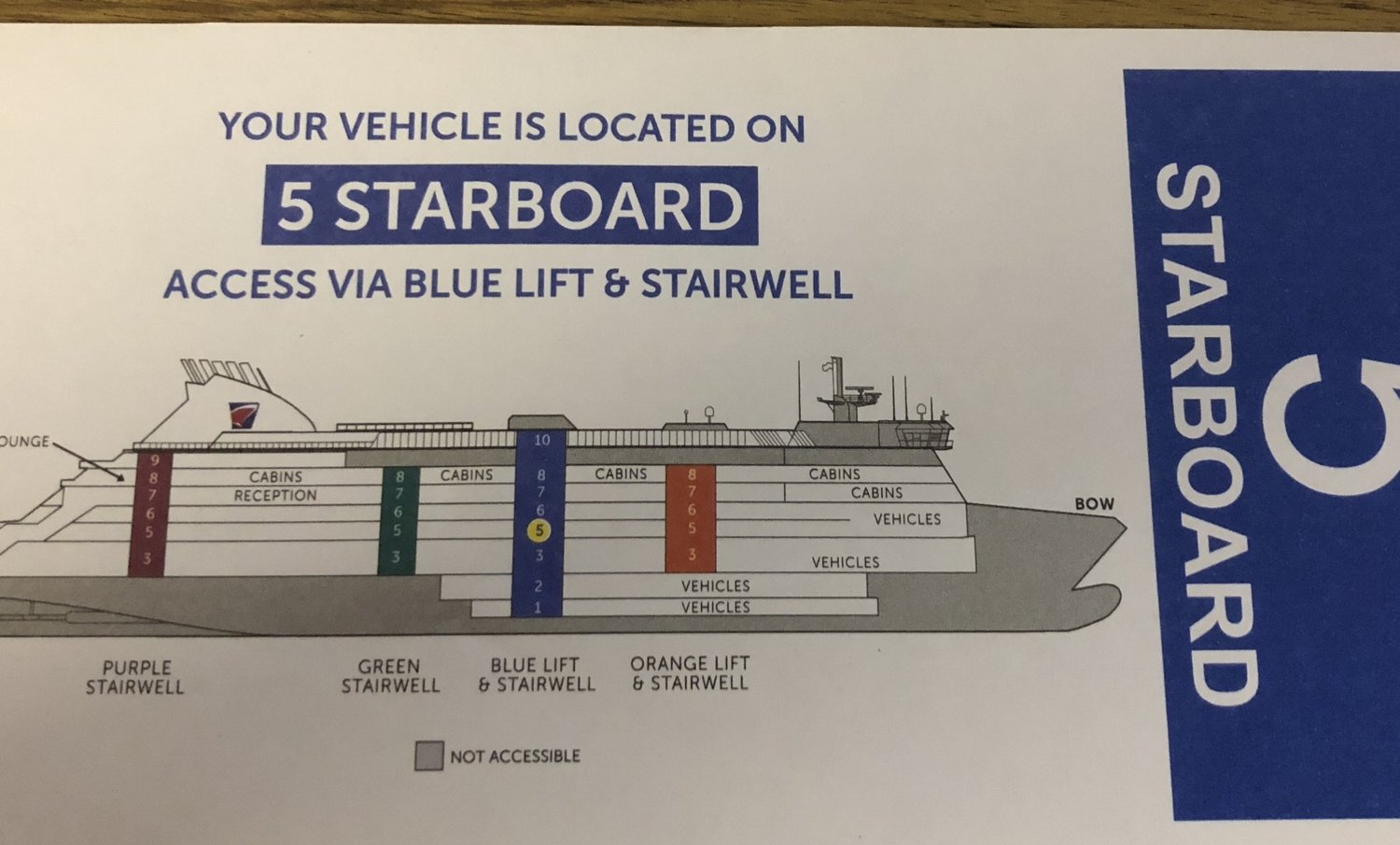 CABINS
If it's within your budget we do advise getting a cabin. It's a loooong sail and having the space where you can relax during the day and put the kids down for a sleep is well worth it. Also, for the night sail, it was fantastic going to sleep in Devonport and waking up in Melbourne! Perfect!! 
The trip from Melbourne to Tasmania is about a 11 hours sale. As comfortable as the boat is, having a cabin to chill out and sleep in made the trip across Bass Strait all the more enjoyable. Here's a quick walkthrough of what the 4 berth porthole cabins look like.
ON BOARD MOVIE THEATRE
There is a fantastic movie theatre on board that screens both kids and adult movies. If you are keen to get in a flick while your sailing, head straight to the kiosk/reception once you board to book your ticket. Depending on the month and season, this books out very quickly and you don't want the kids to be disappointed.
FOOD
We weren't aware as to how good the food on The Spirit is and kids under 5 eat FREE with a paying adult. They offer all meals and they are delicious and at an excellent price. Do take some snacks, but honestly, the amount of food you'll eat, you wont want to snack!
SEA SICKNESS
Do you get sea sick? We sure do, so I made sure to stock up on sea sickness medication for the whole family. We loaded up on Kwells for us and ginger tablets for the kids. Luckily we had fairly calm seas on both sails across and the Spirit is a very stable vessel!
PARKS PASS (National Parks)
Located on the boat you will find the Tourism Hub. This is where you can buy your parks pass and pick up all the travel brochures you will need to plan your trip. It is well worth the money at about $95 and definitely bang for your buck if your visiting several National Parks.
Absolutely amazing beach camp on Bruny Island in Tasmania. Tow your big caravan down the beach to a bush camp.

TIPS FOR TRAVELLING THROUGH TASMANIA
MAPS
Do ensure you grab a map of Tasmania. We were bombarded with desired attractions and activities all over Tassie. We found it essential to have them plotted onto the map to ensure we didn't miss any hot spots and must see locations. Plus, it's great to see it visually & map out your route and kilometres to travel.
MOBILE APPS
Having the app WikiCamps will enable you to locate dump points and water stations. As there is so much Free Camping in Tasmania, in the most epic destinations, you'll find that you'll be self sufficient a lot of the time. WikiCamps is also an excellent app that provides accomodation spots such as caravan parks and free camps. It also provides comments on those points of interest so you can make up your own mind!
THE ROADS
The roads in Tassie are winding and narrow, so your usual 100km/hr doesn't usually apply. Allow 2 hours for a 100km drive! Do have some Kwells or ginger tablets on hand as the road can have you car sick! 
YOUR VEHICLE AND CARAVAN
As we said above the roads are hard on the gear. Make sure you have your car and van serviced and checked over before you head to Tassie. Your engine will be working hard pulling the van up all the hills & the brakes will be working overtime coming back down the steep wind sections. 
GROCERIES
In built up areas such as Devonport, Launceston and Hobart, Woolworths & Coles are readily available. However, once you leave these largely populated areas your only options are IGA's, which are much more expensive. Do try to stock up as much as you can at the big chain supermarkets as you'll make a huge saving.
WHEN TO GO
For us, Summer is undoubtedly the best season to visit Tasmania. We are beach bums and loved visiting the amazing beaches and campsites around Tassie's coastline. The whole state comes to life with a heaps of events & some amazing fresh produce, cider and wine which is produced on the Island. It's also a great opportunity to hit up some of their best wilderness walks without freezing your butt off.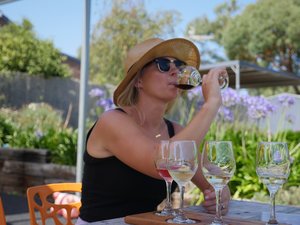 OUR TOP PICKS
After spending 5 weeks in Tasmania doing a full lap we've put together a list of our top picks.
Bay of Fires | Binalong Bay | Freycinet National Park | Cradle Mountain | Stanley and 'The Nut' | Launceston | Cataract Gorge | Bruny Island | Salamanca Markets | Mount Wellington | Boat Harbour | Port Arthur Historical Site | Eaglehawk Lookout | Tasmazia – The Village of lower crackpot | Turners Beach Berry Patch | Puddleduck Winery | Willy Smith Cider | Cockle Creek | Cloudy Bay | Bakers Beach | Left Of Field | 
Did you know Tasmania as the worlds cleanest air? No wonder they're all so happy and relaxed over there!
We HIGHLY recommend visiting Tasmania. Around each & every corner, Tassie totally blew our minds. Although sparsely populated, it's rich in wildlife and some of the friendliest people you'll ever meet. The Island possesses a sense of calm and laid back nature that ensures you'll have a relaxing holiday.  
Come with us for a day trip up the Beach. We'll show you bit more about our rig and the gear we use.
FUNDING OUR TRIP
How we funded our trip and tips for you to do the same
OFF-GRID BATTERY SET-UP
THE ULTIMATE IN FREE CAMPING POWER
Map of Australia Decal - 15% OFF TIAV15