Pumpkin Island
Pumpkin Island is a private island eco-retreat nestled in the Keppel Islands in the Capricorn region. It is only 14km off Yeppoon making for a quick 30 minute ferry trip over to this remote paradise.
You can access the ferry from Keppel Bay Marina at Rosslyn Bay and jump aboard the Pumpkin Xpress.
Pumpkin offers a lot and really is a blissful escape suitable for families and couples. The eco-friendly accomodation has gorgeous beach shacks overlooking the stunning waters from your private deck!
Snorkelling, fishing, kayaking and a lot of relaxing is what you'll be doing on Pumpkin. The sunsets are absolutely stunning and you can enjoy these with a cocktail or beer served to you at the Sunset Lounge. Keep the kids busy there at the playground or with some boardgames. They also have a fire pit on the deck for you to sit at and watch the sun go down! One of my favourites parts about the island!
Birds eye view of Pumpkin Island
Fishing on Pumpkin is excellent, although Justin didn't catch too much due to the winds, apparently there is plenty around, so definitely pack your fishing rods, some squid jigs, soft plastics, metal lures and a bag of pilchards. All the kayaks have rod holders and you can also hire a tinny if you want to explore a bit further around the surrounding islands. Pumpkin passage is renowned for good fish such as Coral Trout. We hope you do better than Justin – he's a hopeless fisherman lol.
Use of Kayaks and Stand Up Paddle Boards are complimentary with your stay. The kayaks have a glass viewing porthole which is fantastic for kids (and adults). Our kids had some much fun kayaking out to the pontoon.
Awesome pontoon you can swim out to.
Cost
This ferry service operates on Monday, Wednesday, Friday and Sunday at a cost of $45/adult (one-way) and $35/child (one-way) for one return trip per booking.
The cottage we stayed in was called Coral Cove.
~$440/night is for 2 adults for a 7+ night stay
~$465/night is for 2 adults for a 5-6 night stay
~$490/night is for 2 adults for a 3-4 night stay
~Children under the age of 16 years stay free
There are alternative options and other cottages that are approx $100+ cheaper per night, so take a look here.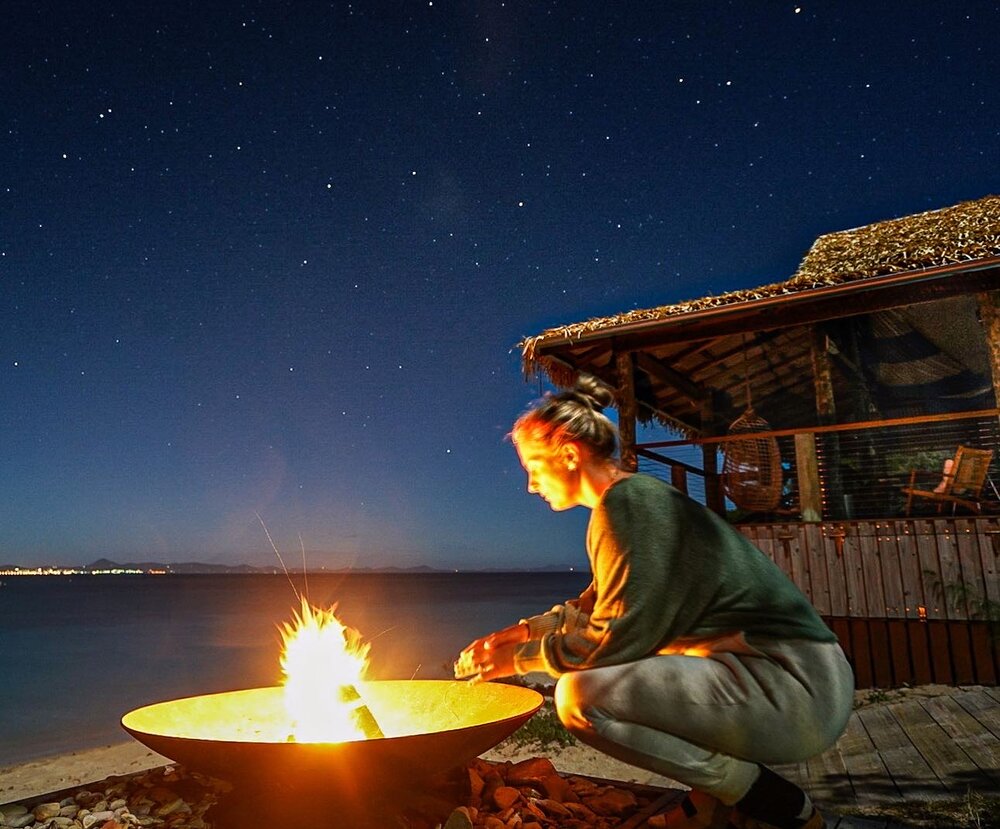 Our car and caravan were stored at Great Keppel Island Security Car Park in Rosslyn. Prices below.
ABOUT PUMPKIN
Pumpkin is fully battery and solar powered, so don't bother bringing your hair dryer. Although you can charge iPads and phones through the 12v chargers in your cottage or bungalow. If you'd like to charge a computer or camera gear, just ask staff as you can do this in the Sunset Lounge.
It is a self-catering island so you will need to bring all your food and alcohol with you. We stocked up in Yeppoon and grabbed some big cardboard boxes from the bottle-o and cooler bags from Woolworths which held all our food and was ferried over with us to the Island. You are expected to help get your gear off and on the ferry and the staff will assist in popping your belongings onto a trailer and tow it up to your cottage with the island Polaris. There is no shop or anything available to purchase food or toiletries, so don't forget anything! Just drinks at the Bar for purchase. Cocktails are from $17 (from memory).
We highly recommend a stay over on Pumpkin Island. It really was a lovely break from van life and we thoroughly enjoyed a flushing toilet. It would be awesome to hire out another shack and go with another family. It really is a fantastic holiday and the deck is ideal for entertaining. Plenty of room, a BBQ and only a few footsteps to the beach!
There is a pizza oven on the Island too. We took over our own bases and toppings. What a view!!
What do you pack when your heading off to Lap Australia?
FUNDING OUR TRIP
How we funded our trip and tips for you to do the same
OFF-GRID BATTERY SET-UP
THE ULTIMATE IN FREE CAMPING POWER
Map of Australia Decal - 15% OFF TIAV15