EXMOUTH & CAPE RANGE NATIONAL PARK
Exmouth and Cape Range National Park on the Ningaloo Reef has to be one of our favourites parts of Australia.
Where else in Australia can you swim only metres off the beach through the clearest turquoise water and be snorkelling over the World Heritage Ningaloo Reef. This popular holiday destination and resort town has plenty of underwater paradises to view amazing coral fish, turtles, stingrays and all kinds of visitors!
It is here you can also do a Whale Shark Swim, which I can HIGHLY recommend! More on the later.
Exmouth is the perfect base to explore the variety of landscapes here.
We parked our caravan up at RAC Exmouth Cape Holiday Park. It has a great vibe, resort style pool, small playground and a fantastic camp kitchen, to top it off there are grassy sites! It has everything you need and at reception you can book all tours you wish to go on while you're staying in the area. Only a short walk into town from here and if you're staying, make the quick stroll (about 500m) over to Whalebone Brewery. An excellent family friendly brewery with delicious craft beer on tap, out of this world pizza's, live music and a boat sandpit for the kids. We had such a good time here and met up with a few other travelling families for a good night.
The pool at RAC Exmouth Cape Holiday Park.
Explore the hidden gems around town..
Those who visit this area are often focused on visiting the Ningaloo Reef, yet they are unaware of the incredible landscapes of Charles Knife Canyon. We took a drive out here to the Canyon lookout and wow, was it incredible! Eating eggs cooked out of the back of our rig, watching this magic sunrise was one to remember!
Outside the National Park and behind the Airport and RAAF base is an epic cave you have to go and see!
A little bit tricky to find, but our best advice is to locate it on Google Maps and take the directions there. It's a good dirt road out and over the range to find a sign-less fig tree popping out from a cave. Hence the name of the cave, Fig Tree Cave or also known as Owl Roost. Keep your eyes peeled for it. We took the wrong road out but managed to find the right dirt track to get back out to the highway.
There is a sketchy ladder that you can take down into the cave. It's about 5 metres deep and its just pretty cool in there. Looking back up out the entrance really is incredible. There is a few deep cavities to explore further down but we weren't that game to head down. Scaredy cats!
After cave hunting we head back to RAC Exmouth.
Exmouth is a great little town with a free splash park for the little ones. Grab a coffee over the road from Social Society (awesome brew and they also have some delicious healthy treats) and take the kids here to burn some energy!
Such great facilities in town.
Exmouth has a Yacht Club where you can take in sunrise and grab a coffee from The Short Order coffee van, what a lovely way to start the day. They have a great skate park too on the main road through Exmouth (near the Info centre).
If you get a chance, head to the new Discovery Centre. It's fantastic. We went to check it out and decided we wouldn't go as it was $19 per adult, however the next day it was FREE due to the Whale Shark Festival. We took the kids through and were surprised at how educational it was and a fantastic experience for them. We would recommend going through and the $19 per adult is well worth it. Our favourite was the cyclone room and the kids loved drawing and creating their own fish!
CAPE RANGE NATIONAL PARK
Wow, Wow! Probably our favourite NP in Australia. Be sure to book early here, it is sort after real estate! For us, we really don't like time schedules, so thought we would just wing it up this way. There were several families cancelling their bookings due to being way off on timing or had decided to move on quicker than anticipated. We were lucky enough to snag 3 night at Osprey Bay (by taking someone else booking), which is our favourite campground of them all out in Cape Range NP. We also love Kurrajong and have previously stayed at Yardie Creek too. Great for fishing back then, but now the river is closed over and you can actually drive through to Ningaloo Station (or back the other way, like we did, with our caravan).
Travel Australia Cost Calculation/Budget Spreadsheet
Osprey Bay campsite is unreal.
Water views from every site and when you get down to the beach, the reef is only a few metres off shore. You'll see some spectacular fish and plenty of turtles (we seen one every time we went snorkelling)! Its amazing and the sunsets are epic – I mean, they all are in WA, but over the Ningaloo Reef is pretty special.
To stay here it is $11 per adult per night and children are $3 per night, so for our three nights we paid $93.
There is a lot to do in Cape Range NP. Turqoise Bay and Oyster Stacks are a must. Turquoise Bay is spectacular on a good day and we spent hours swimming here. As for Oyster Stacks – hit that a high tide so you can snorkel over the reef and see the most amazing marine life! Absolute must!
Below: Pic on the Left is us at Yardie Creek 3 years ago in 2016 (can you see Charli?) and this year, 2019 in the same spot.
Yardie Creek Gorge Walk is great one fort the family.
Take the path alongside the river and you'll come to a sign and layered bricks. Jump that a follow the white poles along the track for some gorgeous views. Good footwear required as its rocky with some steep inclines/declines, albeit an easy walk.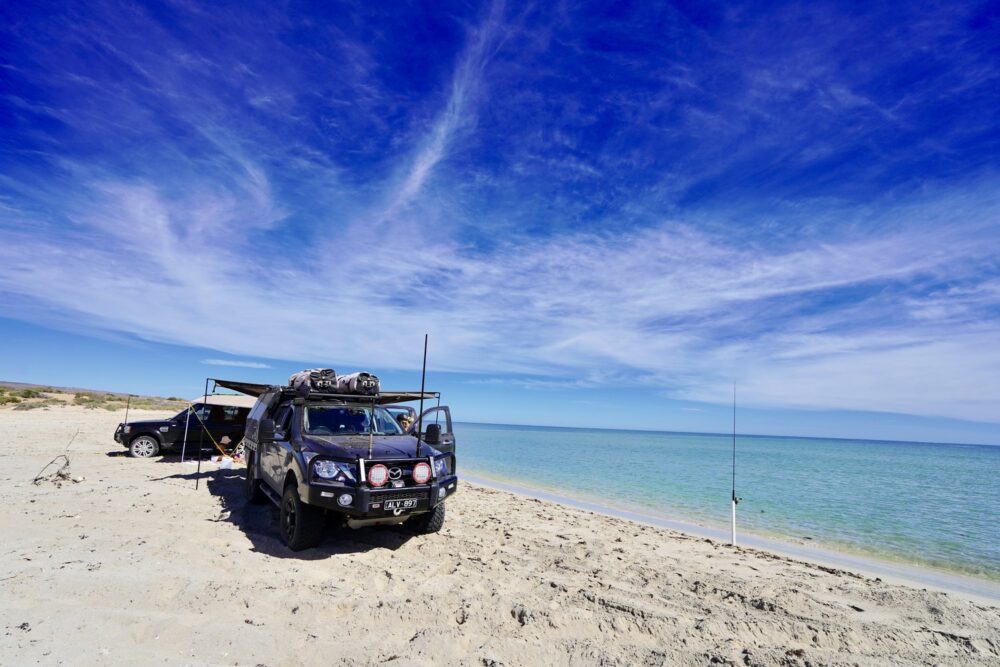 Within the Cape Range NP there is plenty to see and do. Mandu Mandu Gorge, Sandy Cape Track, the Marina, Yardie Creek Boat Tour, Jurabi Turtle Centre and the above mentioned. There is even this fun cliff jump (above) that you can do at Yardie Creek Gorge! Water was a nice temp too.
If you're keen on doing a swim with the Whale Sharks it will set you back around $400 just for yourself. It is an incredible experience and I truly had a wonderful day (back in 2017, on my own). We seen 4 Whale Sharks, Dugongs, Dolphins and some Manta Rays, the crew were fabulous and I didn't get sea sick! I chose to go with Ocean Eco Adventures and they came highly recommended. Once you do your own research you'll soon realise why they are the best of the best!
I couldn't find any photos of me from my Whale Shark swim, so its on the to-do list!
Exmouth and Cape Range National Park really are a must see location on the Western Australia coast.
Travel Australia Packing List
FUNDING OUR TRIP
How we funded our trip and tips for you to do the same
OFF-GRID BATTERY SET-UP
THE ULTIMATE IN FREE CAMPING POWER
Map of Australia Decal - 15% OFF TIAV15