Sailing through the islands of the Whitsunday's has been on our bucket list for YEARS. An experience and adventure we have talked about for such a long time, and we finally made it a reality! With our three kids we spent 5 AMAZING nights at sea with Whitsunday Rent A Yacht.
Our bareboat sailing trip consisted of fabulous weather, plenty of snorkelling, fishing, exploring the islands, relaxation and sunset bubbles on the back deck of our catamaran.
Enjoying the sunset with a wine and my kids at Shute Harbour.
Below is our 5 day itinerary + the night before.
THE NIGHT BEFORE
We opted to sleep aboard the night before our charter commenced to settle in and get used to Yacht life. This isn't always available & it depends on how busy they are at the time but lucky for us, there was a free berth and we were able to enjoy Sunset and Bubbles in Shute Harbour. The fishing here at night time is pretty darn good to and we manage to catch a Shark, Bream and some Trevally right off the back of our catamaran. It really kick started our trip and got us very excited for what lay ahead. Our kids were beyond happy to be catching fish (and staying up late to do so)!
Shute Harbour Marina where we left from and spent the night before.
Travel Australia Cost Calculation/Budget Spreadsheet
Day 1 – Training & We Set Sail.
As we said, this is a Bareboat Charter which means you skipper the yacht yourself. This of course involves some training before you head out there on your own. Around 3-4 hours in the morning is spent with an experienced yachtsmen who will take you through everything from how to flush the toilet & have a shower, right through to navigating the seas and anchoring safely. By the time you're done, you'll be hoisting the main sheet and sailing the high seas. We felt really comfortable with the information and training given to us, to be able to leave Shute Harbour. We were shown how to interpret marine talk and maps as well as a bit of knowledge about The Whitsunday's and where are the best spots to snorkel and pull up our catamaran for the night!
We leave Shute Harbour super excited and ready to explore for the next 5 days. Our first anchorage is only a few hours away at CID Harbour. A good first stop for us to pull up in the early afternoon and enjoy the sunset.
Make sure you troll some lures out the back while you're getting around, we landed a big Spanish Mackerel on our way to CID Harbour… YUMM!!!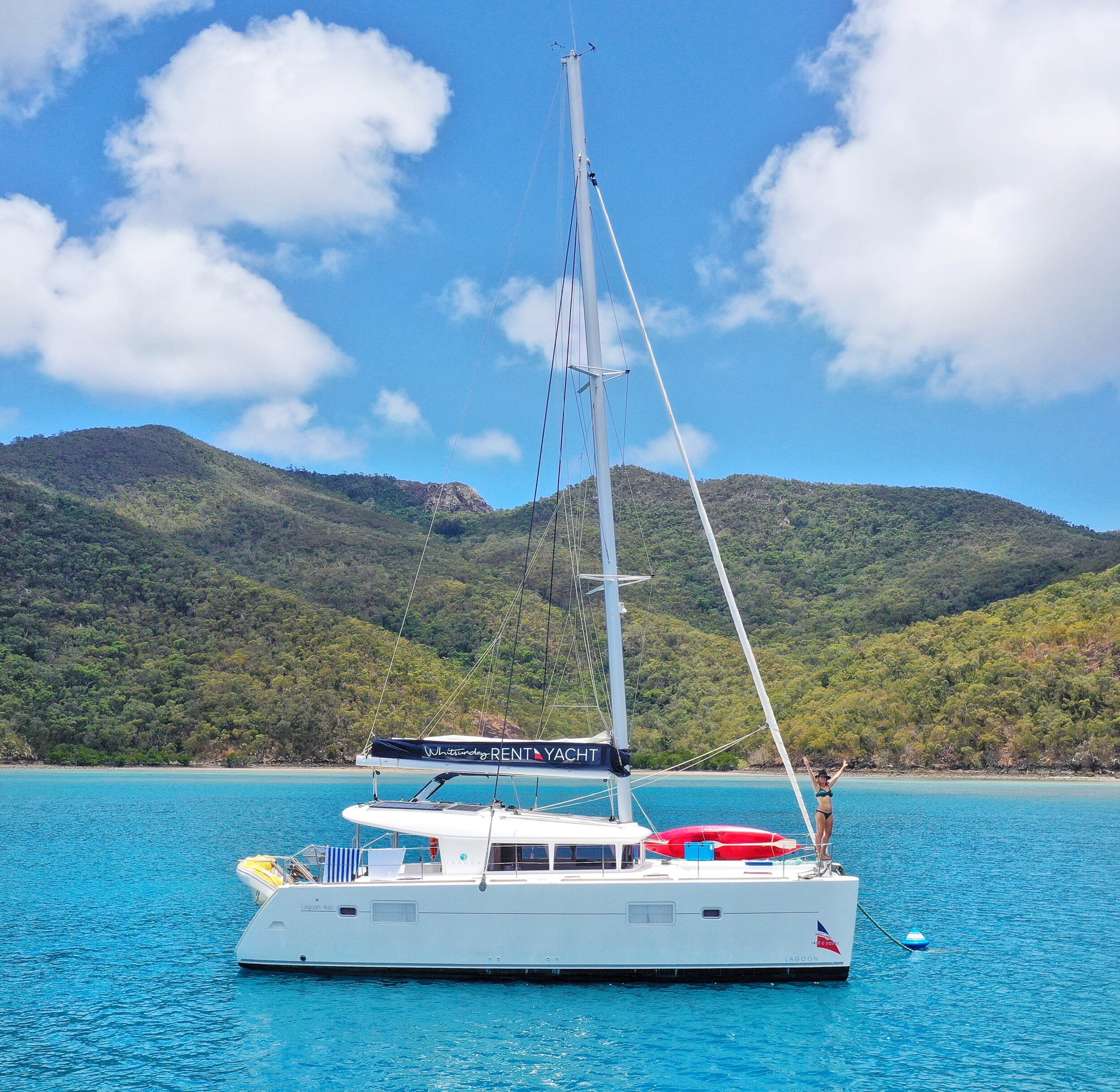 Epic adventures! This is STONEHAVEN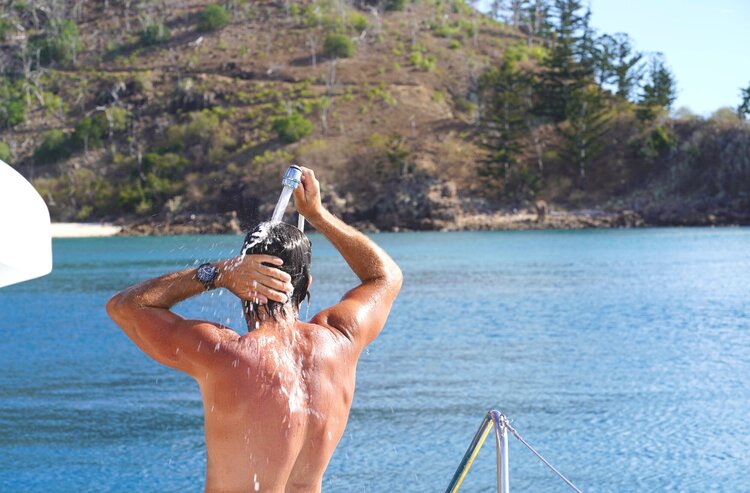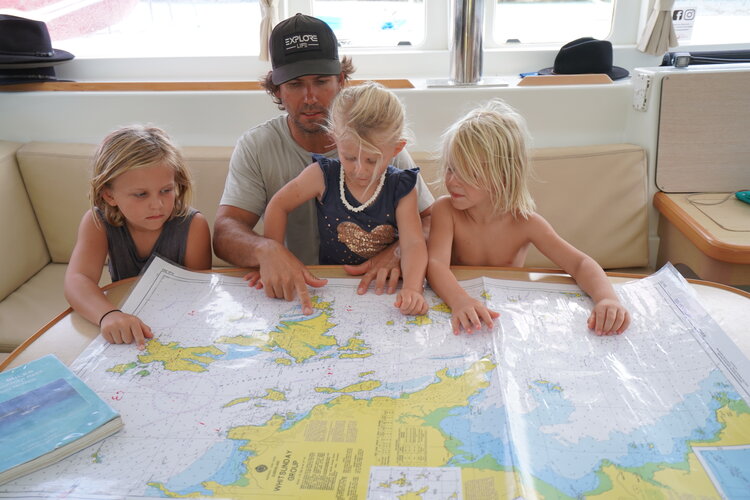 Day 2 – Blue Pearl Bay
We are up early for sunrise and start planning our day. With wind conditions coming from the East, we stick to the protected side of the Islands in the calm water. Thats what we love about this trip… You pull up and move around according to the winds and swell. This area is full of bays so its not hard to find a protected spot to anchor/moore up.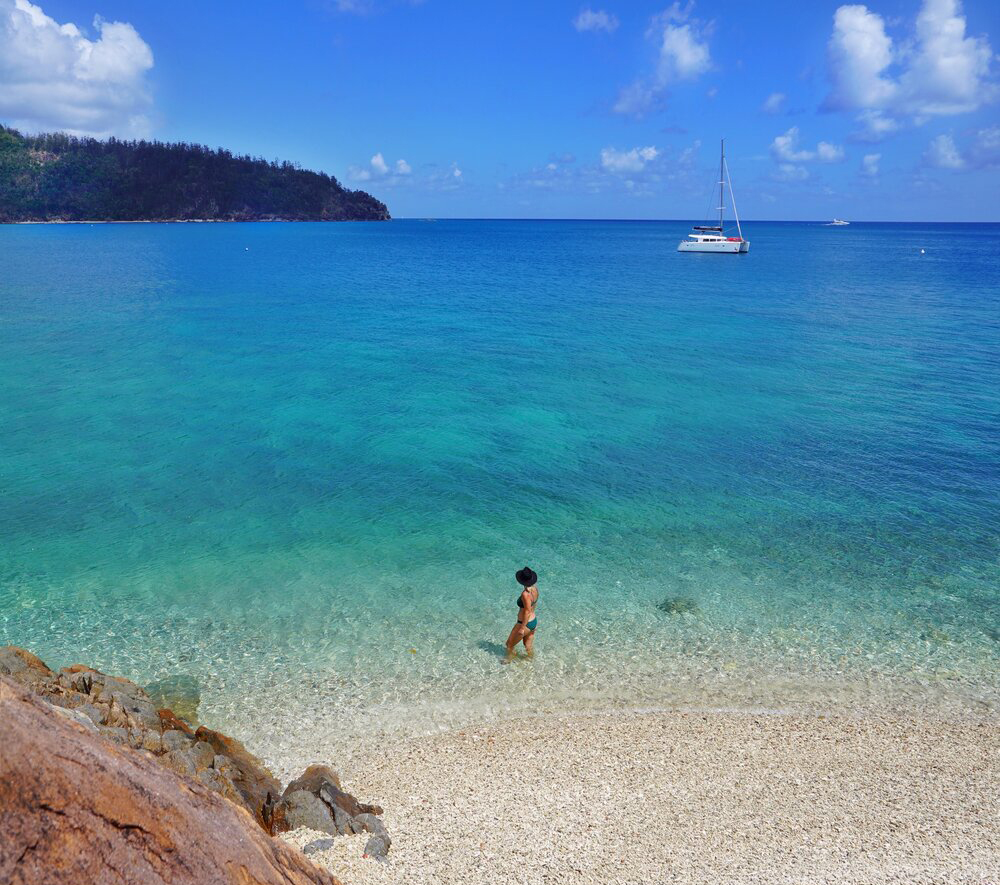 We explore a few bays on the way to our next anchorage at Blue Pearl Bay. We pick up a mooring, drop the dinghy in and spend the afternoon exploring the beaches. This place is absolutely beautiful with some fantastic snorkelling! A 'must see' when you're exploring The Whitsunday Islands.
Day 3 – Butterfly Bay
A lazy morning start with some schoolwork and Bacon & Eggs on the back deck BBQ, before we head around to Butterfly Bay & WOW!!!!! 
Again, we troll on our way there and pick up a solid Yellowfin Tuna for dinner.. They are sensational fresh on the BBQ, no wonder they call them the chicken of the sea!! A pinch of salt and pepper, a salad, and lunch was sorted.
Your content goes here. Edit or remove this text inline or in the module Content settings. You can also style every aspect of this content in the module Design settings and even apply custom CSS to this text in the module Advanced settings.
We take a mooring in the shallows of Butterfly Bay surrounded by amazing reef. So much colourful coral and BIG fish. The kids were so excited, we spend the afternoon snorkelling. When we got back on the boat we started to feel the wind kick up slightly, so we moved our boat into a mooring that was further within the bay. We felt much more settled here and found another amazing snorkelling spot, right off the back of our boat. Although it wasn't far from the boat we took the dinghy so the kids could come up for a breather and chill in the dinghy for a bit if needed.
Day 4 – Tounge Bay, Hill Inlet & Chalkies Beach
Another amazing sunrise wakeup & a big day planned. We have some ground to cover and we are heading out around the top of Hook Island into the open seas. Although it looks calm out there, once we get out, we realise it's a bit rough. I get all the kids to lie down on the lounge on the back deck. I knew if I did this, there was a good chance they wouldn't get sick. It was an early start so they were happy to have some shut eye and ride out this rough patch.
After an hour we arrive in Tongue Bay & anchor up. It is here you can take the dinghy into the beach and do the walking trail to the lookouts over Hill Inlet. Probably the most Iconic view in the Whitsundays, the shades of blue are really are unbelievable!!! It doesn't look real and if you see it on a good day, OMG it will blow your socks off!!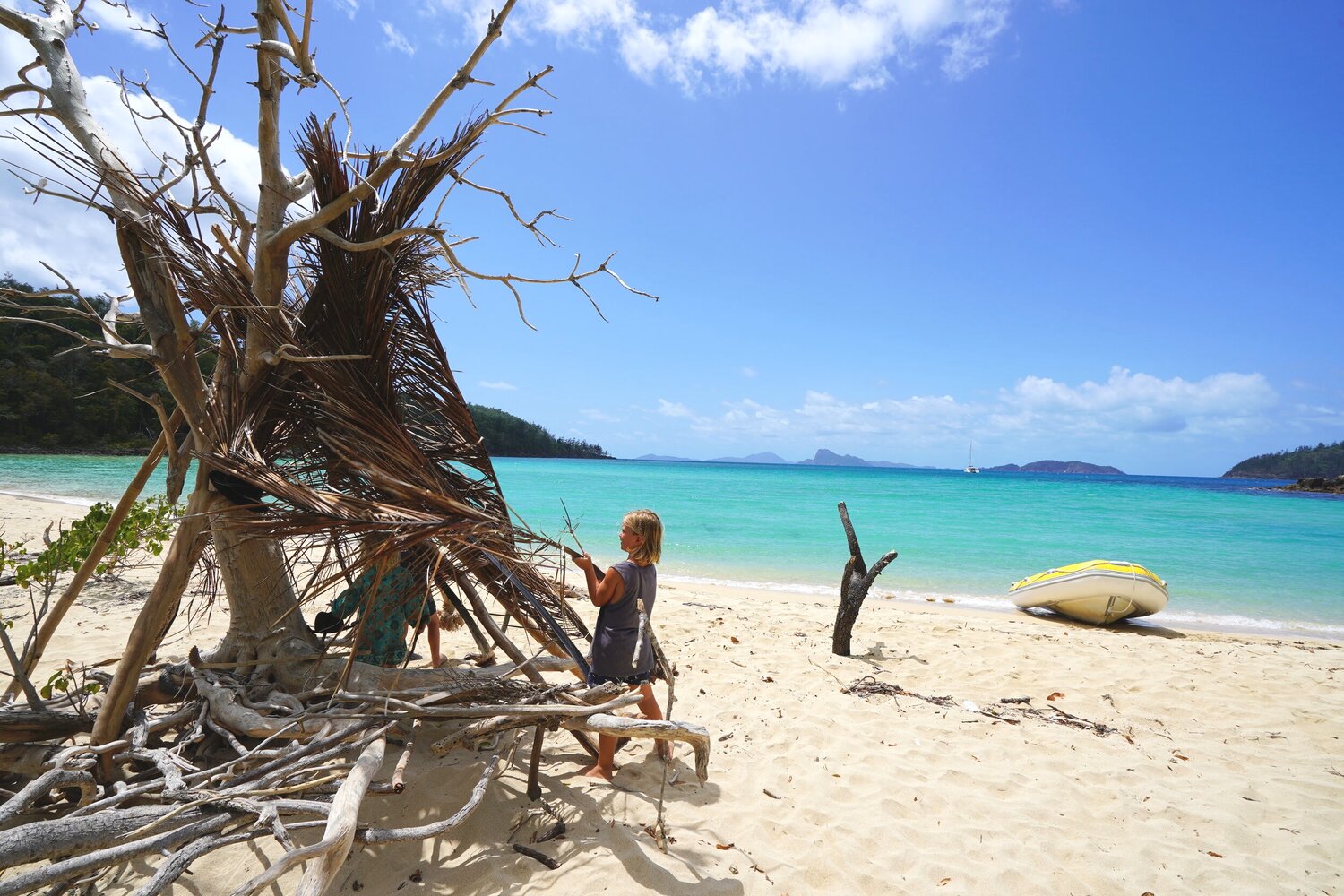 HOT TIP – wear shoes or thongs!! The footpath gets super HOT!!
The walk is only 700 Metres and takes about 15 minutes. It's a very busy area with lots of tours happening. If you want to avoid the chaos of touristS, get there early morning (before 10am) or late afternoon. There are three lookouts to view the famous Hill Inlet and we recommend the last one as we think this has the best view. On your way back down there is a beach access (250m) and the beach there is stunning!
ninja shark masks have been a game changer when snorkelling with the kids!!!
They allow you to breathe easily, anti-fog and anti-leak! Awesome addition for us on this trip to The Whitsunday's. For more info, check below video.
We jump back on the yacht for lunch before cruising along Whitehaven Beach & parking on a mooring at Chalkies Beach. We pull up beside this massive, amazing, ridiculously rich looking boat. It is called 'The Legion'. After a quick google, we find out it is a 15 MILLION dollar Superyacht built in 2019, we even saw them 'christening' the boat with the champagne smash thing that they do. So we stop dreaming and our dinghy comes off again and we are snorkelling and playing on the dunes until dinner time.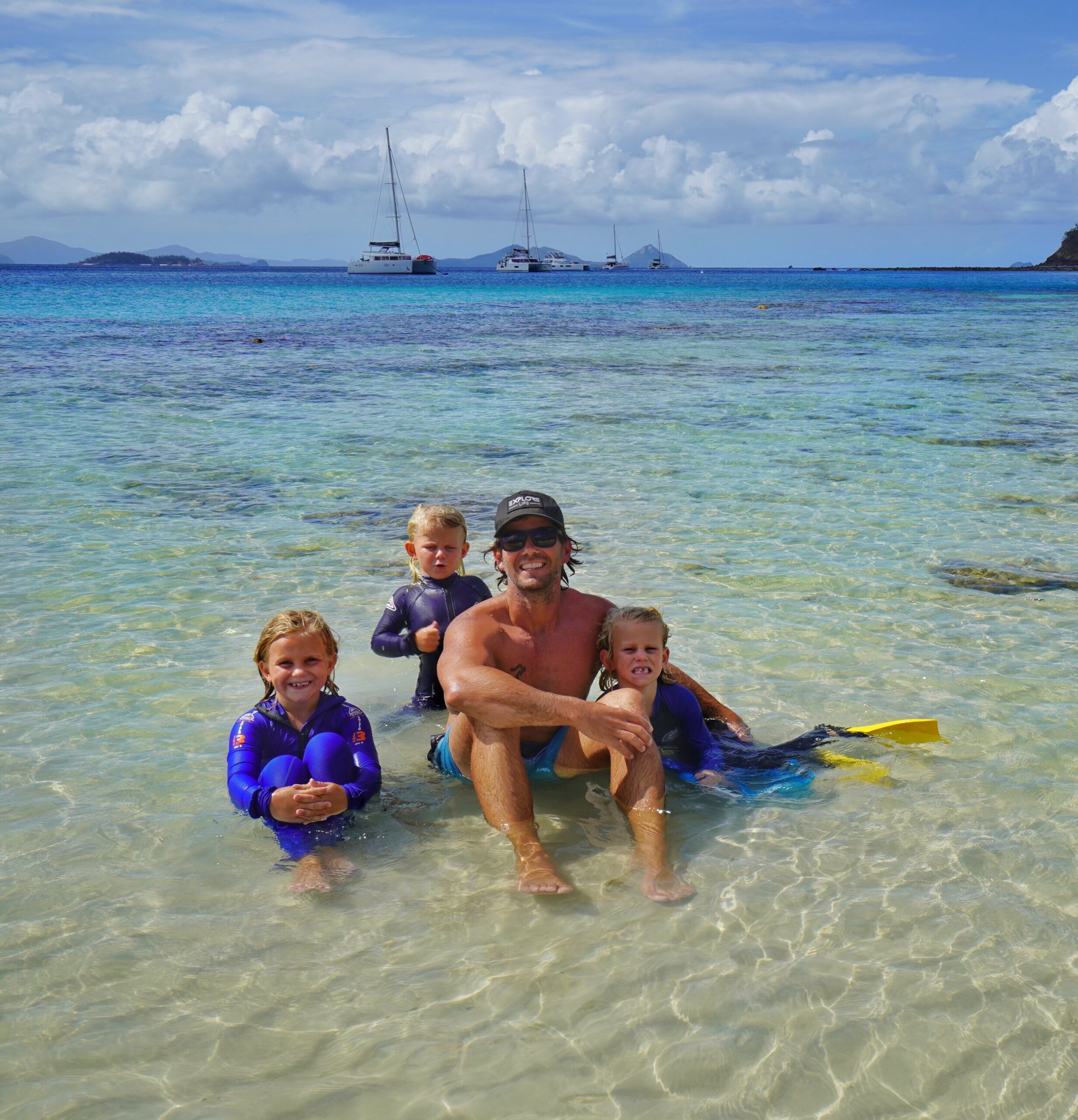 EXPLORING THE BEACH AT CHALKIES
Travel Australia Packing List
It was so relaxing and such a beautiful beach right across from Whitehaven. The snorkelling here was excellent too so the kids had a blast with their Ninja Shark masks and spotting fish and coral.
DAY 5 – Our last full day
After a looksy over at Whitehaven Beach, we decide to make our way to Hamilton Island (or Hammo as the locals call it) for our last night aboard. You can book a berth in the Marina for $125 a night & then use the free island transport to explore and use all of the resort facilities. On our way to Hamilton Island we stop in at a pristine spot called Turtle Bay. We explore the secluded beach and swim in some of the clearest water we have ever seen!! The kids spent the whole time making a cubby house from palm fronds and swimming in the beach. We actually felt like we were in the movie Castaway (with Tom Hanks) haha.
Once on Hammo, we spend the afternoon at the resort pool (which is open to the public) and beach before having fish and chips on the back deck while the sun went down. A little taste of Island life and such a special way to finish off a fantastic experience up here in the Whitsundays.
Hamilton Island has NOT nailed its coffee, so can't give a recommendation there, but the Bakery did serve up a great pie and sausage roll for lunch. There is also a massive IGA on the island f you need to top up on any groceries, that's your place.
Day 6 – Heading home (insert sad face).
We leave the berth at 9am and head home to Shute Harbour to disembark and thank the team. We had the guys from Whitsunday Rent A Yacht come out and meet us outside the marina, drive us in to Shute Harbour and park our catamaran. We unload our stuff with these handy trollies that they have available and pack up our car which was parked up at Shute Harbour. We had our caravan in storage at BIG4 Adventure Whitsunday's in Cannonvale for $7.50 a day.
Once we get back you our caravan, we unpack all our stuff and settle back into home and van life. What amazing memories we just made and what a cool experience while we travel around Australia.
We cannot recommend this highly enough. To be able to plan your own activities and pull up wherever you feel is a total sense of freedom and relaxation… And oh yeah, the scenery is NEXT LEVEL AMAZING!!!! 
The girls enjoying the front of the catamaran.
So here's what everyone's asking right now? How much is it to hire a yacht like this? Our trip was $6500 (this boat allows 10 people) or $1300 per night. Awesome if you want to split the cost with family and/or friends.
Your best to jump on the Whitsunday Rent A Yacht website as prices vary depending on the vessel you hire and the time of year you'd like to go.
Whitsunday Rent A yacht have an exclusive offer for
Trip In A Van followers.
A FREE sleep aboard valued at $220!
This allows you to settle in and relax prior to your briefing the following morning.
Would you like to watch 'Trip In A Boat', here is our YouTube episode where you can catch a glimpse into boat life and plan your own trip with family and friends.
Cheers, Bec & Justin x
FAQ'S
What is the cost to hire a vessel?
The price varies depending on the time of the year and the vessel that you rent. Our catamaran was $1300 a night, we hired it for 5 nights (plus the night before) and it allows 10 people on board.
Did any of you get seasick?
No, we didn't. When heading out around the top of the island we hit a bit of swell. The kids and I (Bec) lay down on the back deck lounge as we felt a bit queasy but otherwise no seasickness.
Were you worried about stingers and sharks?
Not the stingers as I knew we would have the suits on us and we actually didn't see any but sharks yes. Due to the recent attacks we made sure to swim in more shallow areas
Do you need to have a boat licence or sailing experience?
Whitsunday Rent A Yacht is a skipper yourself. There is no boat licence required and you get all your training on the first morning. Justin has had boating experience so that was handy, otherwise no requirements just a willingness to learn.
How did the kids go on the boat? Were you worried about them running around the deck? Did the doors have locks to avoid any night time wanderers?
We did have an eye on our kids all the times, especially when playing tag around the boat. They weren't allowed to run around or leave the back deck/inside area when we were trolling and finding our next mooring. This meant we knew they were safe and we could read maps etc. knowing that hadn't fallen off. The kids loved the trip, slept really well with the slight rocking and didn't fall or trip at all (surprisingly). I guess they dodn't want to fall in some were a little more cautious.
Do you have fresh water and tanks on the boat?
Yes, there is tanks and plenty of fresh water for showers.(600litres on this yacht) I'd advise taking your own drinking water though as you wouldn't want to run out of fresh water.
Did you have to refuel? How?
The tanks were full of fuel and got us around the Islands for 5 days. They advised us that we shouldn't need to refuel in the time we had out on The Whitsunday's.
Do you get an itinerary or mooring guide before you head out?
Yes you sure do. They actually send this to you prior to your departure, so you can do some research yourself. However, don't plan too much as it really depends on the winds that day and they can change overnight. You get an update on the weather every morning via UHF radio.
What is the best time of the year to go?
Apparently around September to early Spring is ideal but you can never judge weather conditions. It's The Whitsunday's and most months are ideal.
How much fuel did you use?
We used 99litres of diesel in the yacht and 5 litres of unleaded in the dinghy outboard.
FUNDING OUR TRIP
How we funded our trip and tips for you to do the same
OFF-GRID BATTERY SET-UP
THE ULTIMATE IN FREE CAMPING POWER
Map of Australia Decal - 15% OFF TIAV15