A Guide to Cairns, QLD
There really is so much to see and do around beautiful Cairns. Well known for its relaxed vibe, Cairns and surrounds is one of the most beautiful parts of Australia.
We spent 4 weeks exploring from the AMAZING Cairns Coconut Holiday Resort. Legit, a kids paradise there! With just about everything you could ask for… Waterslides, splash park, jumping pillow, outdoor cinema, mini golf, playground and toddler play pen, pancake brekky, a couple of pools and an all round lovely park. If you're full time travelling with kids, we often tell others to allow time here in your budget. So many families stay at Cairns Coconut Resort and the kids have a blast!
The Essential Guide to Road Tripping Australia eBook
Here's a few spots to check out when you get up here
JOSEPHINE FALLS
We did a bit of exploring around the area and our first stop was the stunning Josephine Falls. Only 700m rainforest walk gets you to the most magnificent swimming hole WITH rock slides. We had the best time here. 
Only 70km from where we were staying in Cairns, which made for an easy trip.
BABINDA BOULDERS FREE CAMP, SWIMMING HOLE & BAKERY
We stopped in at Babinda Bakery on the way home for one of their delicious pies – try them, promise you won't regret it, unless you're gluten free like me (but it was worth it). Babinda Boulders is well worth a look too and if you've got your van hitched on, they have a fabulous free camp there too. Excellent spot to roll in for the night!
Travel Australia Cost Calculation/Budget Spreadsheet
CRYSTAL CASCADES & FAIRY POOL
Just awesome this place! A 20 min drive out of Cairns to see some unreal scenery. The cascades and swimming hole are crystal clear and a great spot to have a dip. It's a 1.2km walk but well worth it. We thought the pools right near the car park were fantastic and recommend swimming there in the rapids!
Fairy Pool is a 10-15 min walk via a little track to the left which takes you to yet another beautiful waterfall.
SKYRAIL
A lovely way to hitch a ride up to Kuranda and glide along the top of the rainforest. A couple of stops to get off at and have a wander as well as an interactive room for the kids along the way (this was awesome).
Kuranda is simply beautiful. Lots of culture, shops and plenty to do up in the mountains?
PALM COVE & PORT DOUGLAS
Now this is one of the places you wish you could have left the kids behind and visited with JUST your partner?
So relaxing, beautiful beach, lots of palm trees, swimming and plenty of cafes to feast at.
THE DAINTREE RAINFOREST
You can do a day trip from Cairns, but allow for a long day! It really has to be SEEN this place and it's where the ancient rainforest meets the reef! Do the rainforest walk, spend time on Cape Tribulation Beach, scoff a pizza at Cape Trib Camping, go see the 'heart' at Cape Trib Beach House, swim at Mason's swimming hole, Emmagen Creek too?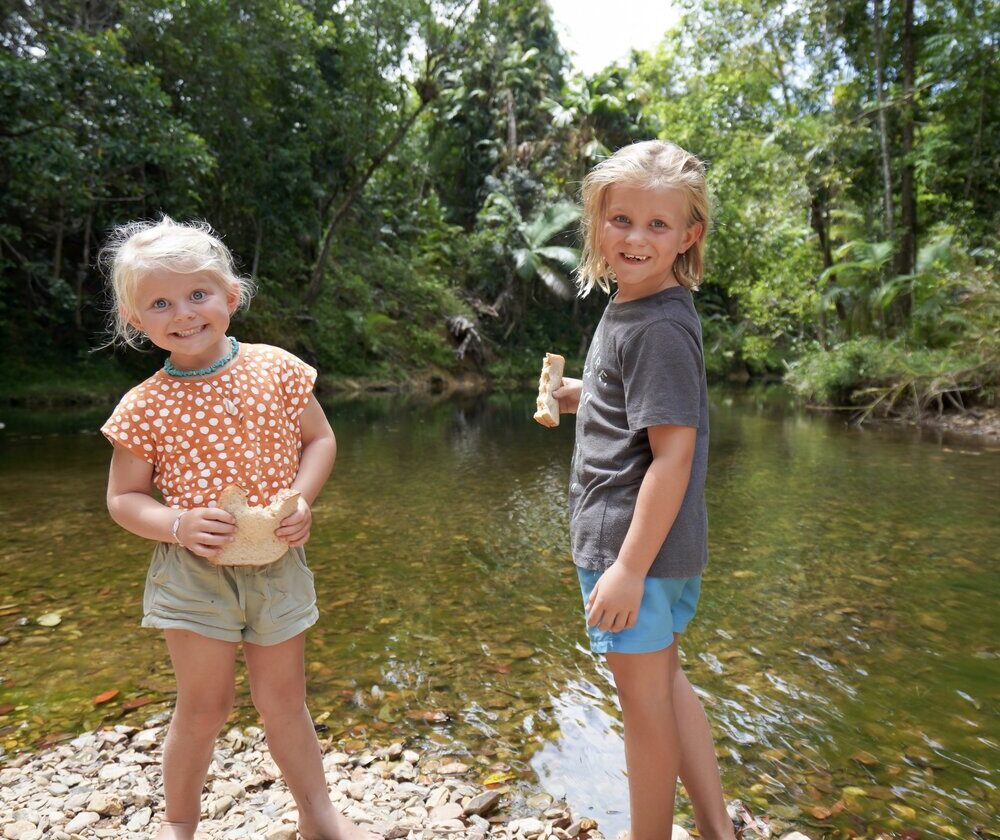 HARTLEY'S CROC ADVENTURES
Ok, now this has probably been one of our favourite croc experiences (and we have been to a few)!
The feeding show was great and the boat ride was so awesome. Loved watching the kids faces and taking in all the knowledge nuggets about this place!
Loads of other wildlife – kids fave were the Koala's, patting snakes and baby croc's! So cool.
A DAY TRIP TO FITZROY ISLAND
Only a short boat ride out of cairns and you will be pretty close to paradise! Fitzroy blew our minds. You can do a lot over there. A glass bottom boat tour, water trampoline and eat lunch at the pub overlooking the beach. We took our Stand Up Paddleboards and it was fantastic!
FUNDING OUR TRIP
How we funded our trip and tips for you to do the same
OFF-GRID BATTERY SET-UP
THE ULTIMATE IN FREE CAMPING POWER
Map of Australia Decal - 15% OFF TIAV15