The Kimberley, WA
Broome to Kununurra.
We seriously LOVE this part of Australia!!
From the stunning rugged coastlines to the crystal clear blue water, beautiful gorges, waterfalls and epic fishing! PLUS, the weather is absolutely perfect everyday!!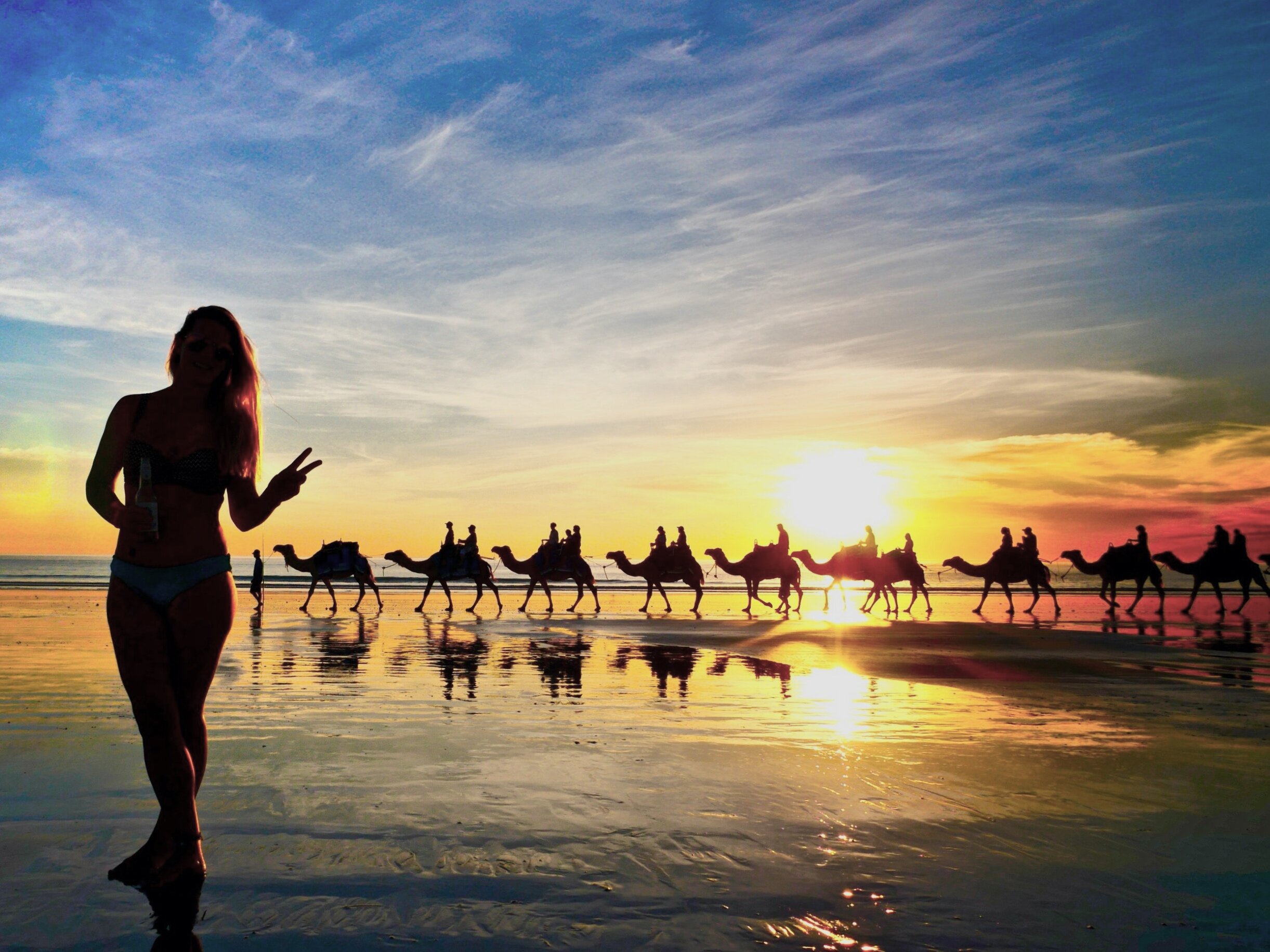 Cable Beach – Camels, Sunsets & Beers.
Broome to Kununurra in our opinion is one of the best parts of Oz.
Cable Beach in Broome has a super relaxed atmosphere. Take a few beers down and watch the stunning sunsets as the camel trains ride past. If you're feeling adventurous you can jump on the back of one for a sunset ride. The best part is that Cable Beach has 4WD access and it's very easy to drive on, you just cruise past the surf club car park and roll straight onto the beach.
You'll often see the odd commodore wagon or bongo bus down there!
Broome is a great place to relax and we stayed at the Cable Beach Caravan Park. It has large shady sites, live music, resort style pool and it's only walking distance to the hub of Cable Beach. It's worth ringing ahead to book here if you are planning to arrive in peak times, it can get very busy during tourist season.
Be sure to check out Guantheume Point and the Dinosaur Footprints. Great for the kids but do remember to visit on low tide or you won't see the footprints.
Justin managed to snag a mates boat and get out for some fishing. If you launch off the beach at Gantheaume Point and head out only a few hundred metres there is a big shelf that holds plenty of Mulloway, Bluebone and Trevally.
A few days in Broome is definitely not enough – Spend a few weeks!!
WATCH OUR VIDEO'S BELOW ABOUT CABLE BEACH AND CATCHING BIG MULLOWAY OFF GANTHEAUME POINT!!
How awesome is Cable Beach!! You need to watch this and find out! One of our favourite places in the country, can't wait to get back there again!!
Cape Leveque
The road out is 180km and its can definitely get pretty rough at times so be wary if you plan to tow your van up there. It's 90km of red dirt road thats shaped like a skate bowl in some sections, followed by 90km of bitumen. We had planned on hiring a tent and staying at the Kooljaman campground, but luck had us staying there in a beach cabin.
Gorgeous red cliffs at Cape Leveque.
Kooljaman was fantastic. Our cabin slept 5, had an ensuite and a very tropical feel.
It also has a restaurant/cafe, pizza night (delicious) and live music on weekends. From here we visited Cygnet Bay Pearl Farm and Lombadina. We really relaxed here and spent our days at the swimming beach under our BT50 awning and it was nice to have loads of room in the cabin and seperate beds for the kids. They got a real kick out of sleeping under the mosquito nets that hung from the ceiling.
If you have a tinny you will absolutely clean up fishing the closer inshore reefs around Cape Leveque.
You can even target sailfish as they come in close to the coast up here.
Infinity Pool at Cygnet Bay Pearl Farm.
Sleepover in the cabin at Cape Leveque. Kids loved it!
Broome to Fitzroy Crossing
We left our van at 'The Fitzroy River Lodge' and day tripped out to Tunnel Creek. What a fantastic place and it has some great Indigenous history so make sure you stop to read all about it. We popped Charli in the Kathmandu carrier and waded through water in the dark. The kids loved this adventure and thought it was pretty cool wearing head torches and wading through water with freshwater crocodiles watching on!! It is not a very long walk and doable for the family.
A must see attraction when in the area.
From Fitzroy River Lodge we headed east to the Bungle Bungles.
We stopped at Spring Creek Rest Area which is a free camp & parked up the van (see more in video below) and headed down the rough track into the Bungle Bungles bound for Cathedral Gorge. The 52 km took us around 2 hours as it was very rough, and windy with steep bumpy sections along the way. We were all car sick by the time we hit the visitor centre! Definitely give yourself plenty of time if you plan to day trip in like us. The free camp had a lot of people camping here doing the same thing so we felt safe enough leaving the van there.
An easy walk in to Cathedral and WOW!! What a picturesque experience. The bungle's are beautiful and once we made it into Cathedral it was just as gorgeous. If you're there at the right time the have a violinist playing in Cathedral Gorge, we've seen a video of this and it's incredible.
The kids realised that their sounds echoed off the cliffs and it was on for all money who could yell the loudest.
BELOW IS A VIDEO FROM THE SPRING CREEK REST AREA WHERE WE LEFT OUR VAN TO EXPLORE THE BUNGLES
Another great free camp in Western Australia! This one is a great place to stay while you day trip in to explore the AMAZING BUNGLE BUNGLES…
Bound for Kununurra.
We decided to stay at Kimberleyland Waterfront Holiday Park. This is definitely the pick of the parks in the area. A great pool, friendly staff, live music and a cafe on site called Spilled the Beans. The playground and park over the road is fantastic too and we managed to get in a couple of workout's there while the kids burned off some energy on the play equipment.
SEE THE VIDEO BELOW FOR MORE INFO ON KIMBERLEYLAND
[et_pb_nextend_smart_slider_3 slider="15″ _builder_version="4.9.4″ _module_preset="default"][/et_pb_nextend_smart_slider_3]
What a fantastic place to stay and enjoy Kununurra and the Kimberleys!! Loved our time here, check out the vid to see what we got up to!
There's plenty of attractions in Kununurra and we started off at Molly Springs.
This little oasis is a must see in Kununurra and a beautiful croc free swimming hole. The Hootchery (rum distillery) is great and it even has a playground for the kids. Justin being a Qld'er tasted the rum paddle and was very impressed with the local drop.
Justin also went out on a fishing charter with Northbound Charters and caught heaps of Barra. He also managed to film a crocodile dragging a cow down the Ord River. This video went VIRAL and we had news companies and media websites picking it up. Our phones were running hot that week.
Be sure to take a look at Ivanhoe Crossing. It's a beautiful scene and stunning at sunset. If you can and its the right time of year, you can cross the crossing and its a bit if a thrill.
Our Stay in Kununurra was Awesome!!
Waterfront sites at Kimberleyland.
MONSTER CROCODILE ON THE ORD RIVER!!
After leaving Kununurra we were off to El Questro.
Now this place is INCREDIBLE! We stayed at the Black Cockatoo Campground which has great amenities, cafe and restaurant as well as live music every night. All this gives the place a great atmosphere and makes it a great basecamp to explore the property.
We checked out just about every attraction out there, however the ones that stood out were Emma Gorge, El Questro Gorge and Jackaroo Waterhole. The rapids at the campground were fantastic for the kids too.
Definitely put this on your list to visit.
Absolutely loved our time here!
HERE'S A SHORT VIDEO OF OUR EL QUESTRO HIGHLIGHTS!!
We day tripped out to Home Valley Station and crossed the Pentecost River.
It was a beautiful sight with the Coburn Ranges in the background and definitely worth a drive while your there. Home Valley has a beautifully made steel entry gate surrounded by Boab trees and the playground there is awesome. The kids spent a couple of hours at the pool while we grabbed some lunch and had a drink poolside from the restaurant and bar.
Get yourself to Home Valley, it would be worth dragging the van out for a few nights.
Crossing the pentecost with the Coburn ranges in the background. Just Beautiful!!!
Back through Kununurra for supplies and we head out to Lake Argyle. 
Wow, the caravan park here is one of the best. The infinity pool and outlook over the lake is stunning and we scored a big grassy site. The restaurant puts on a great meal and they even do a trivia night. Check out the video below for more info…
Live music is played every afternoon down by the pool and again, it's just a great atmosphere.
This Place has some serious WOW factor. It's a must see destination on your travels around Australia! Check out the vid.
We were slightly dreading the three hours on a boat with three kids. But, they loved it. The cruise flew by. Plenty of wildlife to see and plenty of freshwater crocodiles to spot. Bec did a spot of cliff jumping from about 10 meters high & towards the end of the cruise, champagne and beers were served while we took a dip in Lake Argyle and watched the sun set.
Absolutely magic!
Alternatively, you can hire a pontoon boat and take it out yourself. We'd recommend going with another family and splitting the cost. They provide you with a map and some housekeeping and off you go! It is a wonderful day on the water.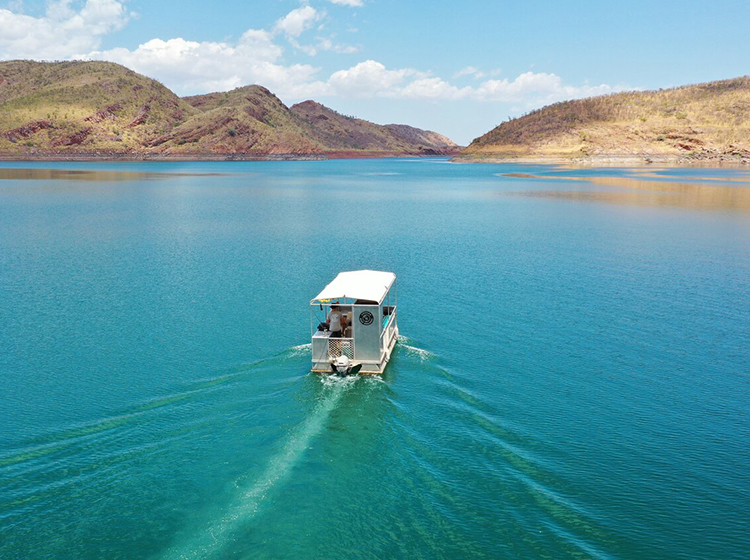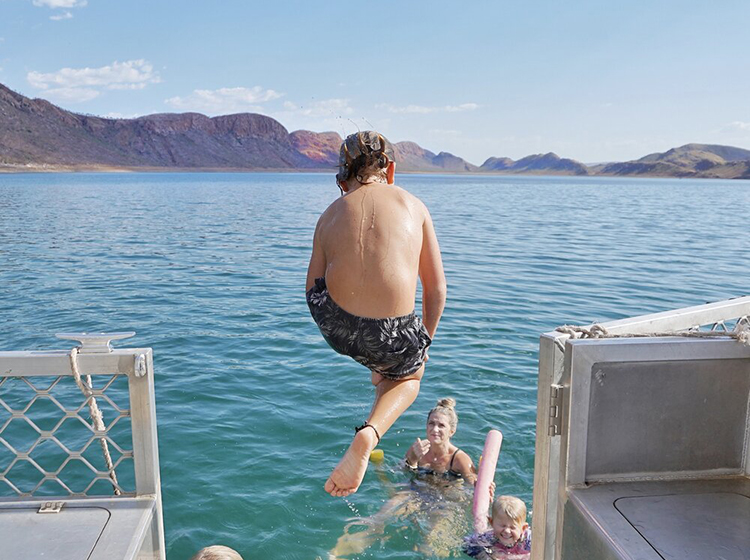 Kids can be tough to travel with….Here's a few tips to help you out!
Lake Argyle's Infinity Pool 2017
SPILLWAY FREE CAMP
On your way to Lake Argyle you will cross the spillway bridge and if you look down to your right you will see a dirt track that runs along the waterway. Well if you head down there you will find some great spots to pull up and camp. Take some firewood with you and setup with the sounds of the lake argyle overflow rushing by and a campfire crackling to send you off to sleep. NOTE: This camp may be closed, Check WikiCamps.
Check out the vid below for more on the free camp.
LETS SUM IT UP!!
This region from Broome to Kununurra has been one of our favourite parts of Australia to explore and we had an adventure of a lifetime. We still have so much to see when we return, with the Gibb River road on our bucket list.
We really hope you enjoyed reading this and that you gained some good information and travel inspiration to head off and explore the Kimberley for yourself!
Cheers everyone – Justin & Bec
FUNDING OUR TRIP
How we funded our trip and tips for you to do the same
OFF-GRID BATTERY SET-UP
THE ULTIMATE IN FREE CAMPING POWER
Map of Australia Decal - 15% OFF TIAV15