School Holiday Guide
BEST LOCATIONS TO HEAD TO FOR THIS SEASON OF SCHOOL HOLIDAYS.
Port Lincoln National Park
Looking for a great place to stay in the school holidays? We have a list of hotspots that have fantastic attractions and activities to keep the kids entertained. For some families, school holidays is a convenient time to get away, relax and spend time together as a family.
 CRESCENT HEAD
This beautiful beachside town boasts legendary surf with it's famous point break. Located on the mid north coast of NSW, the unspoilt charm of of this laid-back town not only prides itself on the 'longest ride in the world' but fishing and National Parks. If you're after a free camp head to Delicate Nobby. Its a quiet location with grassy spacious sites. Pet friendly, toilets onsite and beachfront!! What more could you ask for?
Right out the front of our van, what a view!
 MARGARET RIVER
One of the family friendliest areas in Australia. The Margaret River region from Bussleton to Dunsborough, Yallingup and Coowarumup is largely known for its boutique wineries and breweries with some fantastic attractions. Activities that aren't to be missed are the limestone caves, they're affordable and a great way to spend time with the family. Check out Booranyup Forrest, or Colonial Brewery which serves up some delicious wine and craft beer while watching the kids play on the large playground.
Simmo's ice-cream will tempt your tastebuds and have the kids running off their sugar high in the natural playground onsite. Mazes, farms, chocolate company, cheese and noughat factories are just some of the activities you can do with the kids!
Attractions include the world famous surf at Prevally beach. Geography Bay and Cape Naturaliste are amazing sights and the Bussleton Jetty is a must see.
 CORAL BAY
What a holiday paradise! The beach is simply amazing and very kid friendly. Fantastic for snorkelling the Ningaloo Reef, hire a kayak and go fishing. If you're up for some serious adventure, why not try snorkelling with sea turtles and manta rays? Take a 4WD out to Oyster Bay or Sandbar for a secluded piece of perfection. Let the kids try out the fish feeding for a wonderful 'free' experience and enjoy swimming in the warm waters of the Ningaloo Reef.
A fun 4WD track to get here!
LORNE
If you haven't already, you need to put the Great Ocean Road on your bucket list. So much to explore, a great deal for the kids to do and family friendly for all. Base yourselves at Lorne where the bush meets the beach. With it's stunning beaches, epic lookouts and the nearby Otways. Be sure to head out here to Erskine Falls and wander the tracks to some beautiful scenery. This 'arty' town has plenty to offer with festivals and markets. Picnic at the foreshore with the family or dine in at the family friendly pubs and restaurants. Take the kids for some fun at the Lorne sea baths or trampolines. A fantastic place to holiday.
Family selfie at Erskine Falls, VIC. Look at out little baby!
Lookout on the Great Ocean Road.
MERIMBULA
The township of Merimbula is a beautiful place to explore, the waterways and foreshore are fantastic for the family to enjoy. There is plenty on offer for kids and those young at heart including Magic Mountain Family Fun Park. Head out to Ben Boyd National Park to experience walking trails and natural beauty.
Heading down to the beach from the caravan park in Merimbula.
Short Point and NRMA Merimbula Beach Holiday Park.
PORT LINCON
Port Lincoln has a fantastic holiday vibe and is the 'Seafood Capital Of Australia'. This beautiful township is a great way to base yourself to explore the Port Lincoln National Park. Out here there is spectacular beaches and some amazing low cost campgrounds. If your family love a bit of adventure, there is seriously so much to do. Theres Shark Cage Diving and swimming with sea lions if you want to get the heart racing. However if you'd prefer to stay on land, theres museums, Wildlife Fauna Park or visit the local wildlife at the Glen Forest Animal Park. If you'd like to stay in the heart of Port Lincoln, the low cost camp available is at the Axel Stenross Maritime Museum for $10 per night and overlooking the beach.
ROBE
A beautiful seaside town, Robe is a fantastic place to visit on your school holidays. It has a very relaxing feel and oozes family time. The beaches are clear blue, the fishing unreal and its town centre is rich in history. Located 4hrs from Adelaide, it has some old historic pubs that have been operating since 1800's. If you're after an adventure packed time, activities include a day trip to Beachport via the 4WD track along the beach and through Little Dip Conservation Park. Spend your day on the sand at Long Beach which is 4WD accessible. Be sure to stroll down the main street of Robe for some boutique shopping, delicious coffee and homewares.
Free Camp at the low cost Long Gully Campground in the Little Dip Conservation Park. Spacious with great amenities and easy access to all of Robe, SA.
 AGNES WATER/1770
One of our favourite places in Oz. Situated among surf beaches and the gateway to the Great Barrier Reef it has some of the best reef fishing. With great surf and a calm bay to get your SUP or kayak out for a paddle you'll be spending your days beachside. Take a stroll around 1770 or get some shopping in at Agnes. The awesome Workmans Beach Campground is a fantastic camping area with a bush setting and clean amenities. Get back to nature by camping, fishing and swimming with your family.
Paperbark Forest Walk, Agnes Water
KIAMA
Kiama's famous blowhole, gorgeous beaches, great fishing and stunning sights, you'll have plenty to do in this region. Only 90 minutes south of Sydney, check out the amazing Sea Cliff Bridge on your way down. Take the kids to Jamberoo Action Park for some family fun or browse the Historic Terrace Houses (for gifts). Kiama offers a great Coastal Walk and look at the stunning views of Cathedral Rocks. There are a number of tours for fishing and kayaking. Take a drive out to Budderoo National park for some spectacular waterfalls.
HALLS GAP
Halls Gap is a gorgeous little mountain town in The Grampians. Town has everything you would need to stock up our have a leisurely look through the shops. Take a hike up to 'The Pinnacle' and experience breathtaking views. Along the way witness 'Silent Street' and other rock formations, its a real sense of achievement getting to the top! The beautiful Mackenzie Falls are not to be missed. After your adventure filled day, take the kids to the Coolas Ice Creamery for some seriously delicious flavours. There are loads of free camps to choose from within the National Park. A fantastic school holidays getaway.
 KALBARRI
A laid-back coastal town that sits at the mouth of the Murchison River, surrounded by the beautiful Kalbarri National Park and stunning coastal cliffs. So much to see and do as a family. Take a drive down the coastal cliffs road for spectacular views. Check out the iconic Nature's Window, only a short trail walk navigating some rocky outcrops to see the beautify scenery. Kalbarri offers amazing views of Natural Bridge, Pink Lake, Red Bluff and Chinaman's Beach. Take the kids fishing or kayaking at the River mouth for some fun in the crystal clear blue waters.
COOLUM BEACH
Situated on the Sunshine Coast in QLD, this place has a serious coastal vibe. The Coolum Beach Holiday Park is on prime realty situated by the beach. Not only do you park up here, everything is within walking distance. Restaurants, cafes, Coles, skatepark and playground. Also a patrolled beach 200m away.
Climb Mount Coolum for spectacular views or have a ball of fun at the Coolum Aqua Park. Only 15 minutes to Noosa too to experience the atmosphere.
 JERVIS BAY
The Jervis Bay National Park has to be seen to be believed. The beautiful waters, friendly wildlife and excellent fishing are just some of the attractions. Jervis Bay is one of the true gems of the NSW coast. With some of the whitest sand, the blue waters are home to dolphins, whales and other marine life. Take a drive to witness many other stunning coastal towns such as Huskisson and discover why Jervis Bay is one of Australia's most popular destinations.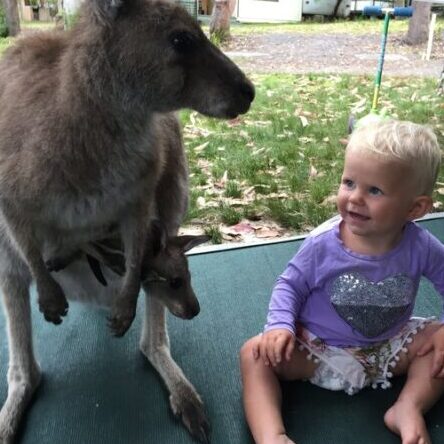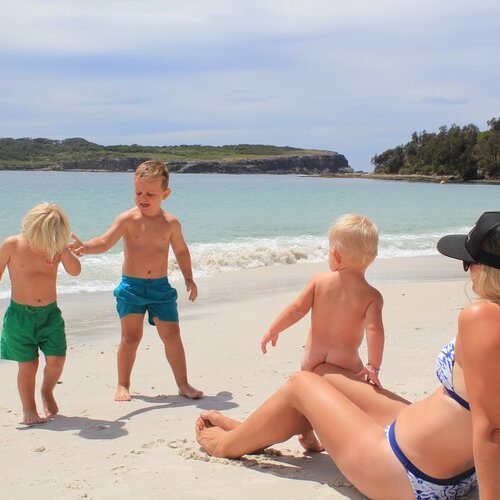 CAPE YORK
For those in North Queensland who want a serious adventure, why not tackle Cape York for the school holidays. If you love 4WD, campfires, beautiful scenery, free camps and being off the grid, this is your place. Take your camper trailer or pack the tent and experience the stunning waterfalls, sensational fishing, 4WD tracks and the iconic Old Telegraph Track, culture and some epic free camps. Take your adventure to the Tip and explore far north Queensland!! Favourite Free Camps include Loyalty Beach, Vrilya Point and Roonga Point.
BIG CRYSTAL CREEK CAMPGROUND
If you're after a tranquil, peaceful and adventurous holiday with the kids, here is your spot. Situated in the Paluma State Forrest only 80km north of Townsville, enjoy a rainforest walk or bushwalk up to the beautiful lookouts. Take a dip in the cascading waterfalls that form one of the best freshwater swimming holes, sometimes you can even spot a turtle! Paradise pool is simply amazing and the campground has toilets and showers – bonus!
I hope you enjoy your school holidays as a family and this has given you some spots to visit!
Cheers, Bec.
FUNDING OUR TRIP
How we funded our trip and tips for you to do the same
OFF-GRID BATTERY SET-UP
THE ULTIMATE IN FREE CAMPING POWER
Map of Australia Decal - 15% OFF TIAV15