GET BETTER MOBILE PHONE RECEPTION WHEN TRAVELLING AUSTRALIA
CELL-FI GO MOBILE REPEATER
THE LEGAL WAY TO BOOST YOUR MOBILE SIGNAL WHEN TRAVELLING AUSTRALIA!!
Read through to the end of the article to find out how to get a DISCOUNT through our partnership with CEL-FI. There's also a video we've done with some great info. Cheers!
So for us, travelling full-time around Australia we go through a lot of areas and stay at a lot of campsites that have poor coverage which leads to poor signal. Now this isn't really ideal for us as we have work to do and of course it's online!! So having the Cel-fi module that boosts our signal to a data capable level is Perfect. 
The CEL-FI GO only has 4 components and it's an easy DIY install if your willing to have a go. 
The CEL-FI module – The booster unit needs to be installed somewhere safe inside the vehicle. We chose to mount it under the passenger seat as it's an easy install and out of harms way
The External Antenna – mount this to your vehicles bullbar and run the cable through one of the rubber grommets in the firewall and route it to where you will mount the Cel-FI unit. 
The Indoor Antenna – mount this somewhere inside your vehicle(read the instructions supplied to find out the best locations) and run the cable to where you have mounted the CEL-FI unit. 
 The 12v power lead –  This comes with a cigarette lighter socket fitted, this is the easiest way to power up your CEL-FI GO module. If you want the power hidden away, then a licensed auto electrician can hard wire to your vehicles 12V system.
External Antenna, CEL-FI GO module, Internal Antenna & 12 volt power cord! EASY INSTALL
The Cel-Fi GO mobile version is a great addition to a 4×4, as it's designed to significantly boost voice quality and increase data speeds for moving vehicle applications.
Technical Info –  The unit gives up to 70dB of system gain, it will only start boosting once the mobile signal drops below -80dBm (3G) or -96dBm (4G), and features a Bluetooth WAVE App for iPhone, Android and computers. The WAVE APP is the perfect way to see when and how well your module is performing.
DISCOUNT!!!!!
HEAD OVER TO OUR CEL-FI LANDING PAGE HERE AND READ MORE ABOUT THE CEL-FI RANGE AND USE OUR DISCOUNT CODE trip18 TO GET $50 OFF YOUR PURCHASE. 
Here's an update on the Cel-Fi Go mobile phone repeater we fitted earlier in the year. This vid shows you how it can boost your signal when in area's of no service!!
Learn how much it will cost you to Travel Oz like us!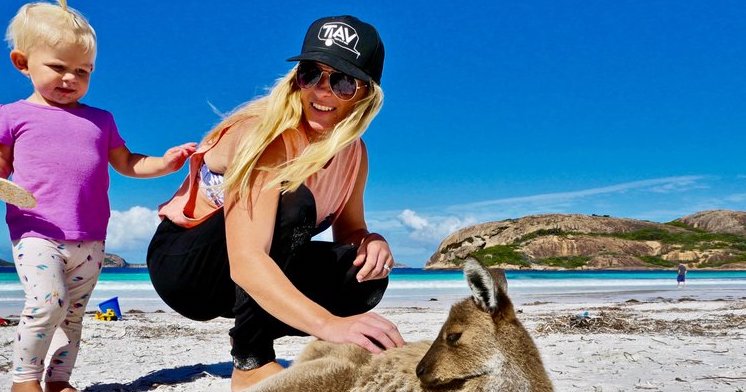 TRAVEL STORIES, ITINERARIES, TIPS & TRICKS
This is our Rig and how we have set it up!
FUNDING OUR TRIP
How we funded our trip and tips for you to do the same
OFF-GRID BATTERY SET-UP
THE ULTIMATE IN FREE CAMPING POWER
Map of Australia Decal - 15% OFF TIAV15