Riverina To Snowy Valleys Drive
From a bustling region rich in history, heritage and farming to the stunning Alpine landscapes of the Snowy Valleys. This road trip is one of endless scenic surprises and tasty food and wine trails. We hope you enjoy the adventure ahead!
Justin & Bec
OUR TRIP HIGHLIGHTS VIDEO TO GET YOU EXCITED!!
Day 1
We arrive in Griffith and it's not what we expect! A bustling country town, clean, tidy and there is everything here that you may need. The Main Street in town is really long and lined with cafes and shops. After grabbing some groceries we head out to our free camp – Lake Wyangan… Yep, it is FREE. But, the best bit is it's right on the lake meaning you have water views wherever you park up. Sunrise and Sunset here is quite spectacular, check out our highlights vid to experience a Lake Wyangan sunrise! There are some amenities here with showers and toilets, plenty of rubbish bins around and a bbq area down by the lake.
After parking up the van we decide to go into the Cocoparra National Park for a short hike up the Falcon Falls trail. We had heard it was a great walk, but sadly there was no water running and it was very dry. This place would be Epic if there was water flowing down the rocks!! Be sure to check the conditions before you visit.
Day 2
A late start and we are excited to be doing a food and wine tour with Bella Vita tours. The little tour van arrived to pick us up for an 11am tour and we weren't really sure what to expect. The girls at Bella Vita Tours had tailored a tour to suit our young family so we knew it was going to be a great day, but WOW it sure was!! First stop was the Pioneer Park Museum which is dedicated to preserving the history of Griffith. You'll find original buildings, machinery, antiques, cars and even a church. Also some cool artefacts from the Italian settlers and how the wine and produce market began in the area. The staff here run a cool little train around the grounds with a commentary of where all the buildings came from and the history of the Griffith region.
Next up, we are off to Hermits Cave and Lookout on Griffth's Scenic Hill where you can catch a glimpse of the town as well as some more history. The story of a man who lived in a cave under this lookout is quite incredible. Only a short walk down the trail down to see it all and witness how he lived. It really is quite amazing to see how he had built a home in the caves here. It would have been a great place to live!
Travel Australia Cost Calculation/Budget Spreadsheet
The town of Griffith and surrounding area is a Huge food producing region of NSW. Everything from Oranges to Almonds to huge amounts of grapes for delicious wine is grown here. It's well known as being the "Food Bowl" of the Riverina.
Now, its wine time! However, on the way we pick oranges from one of the local farms who produce hundreds of tonnes of these beauties!!
We visit De Bortoli wines for lunch and a tasting. We do the tasting first while the kids sit down and colour in with stationary provided by both Bella Vita Tours and De Bortoli. The tasting was spot on and we went through an array or whites, reds, sparkling, port and desert wines – Yummmm!! They also have a playground here and the kids played and we all had lunch which was supplied by Bella Vita.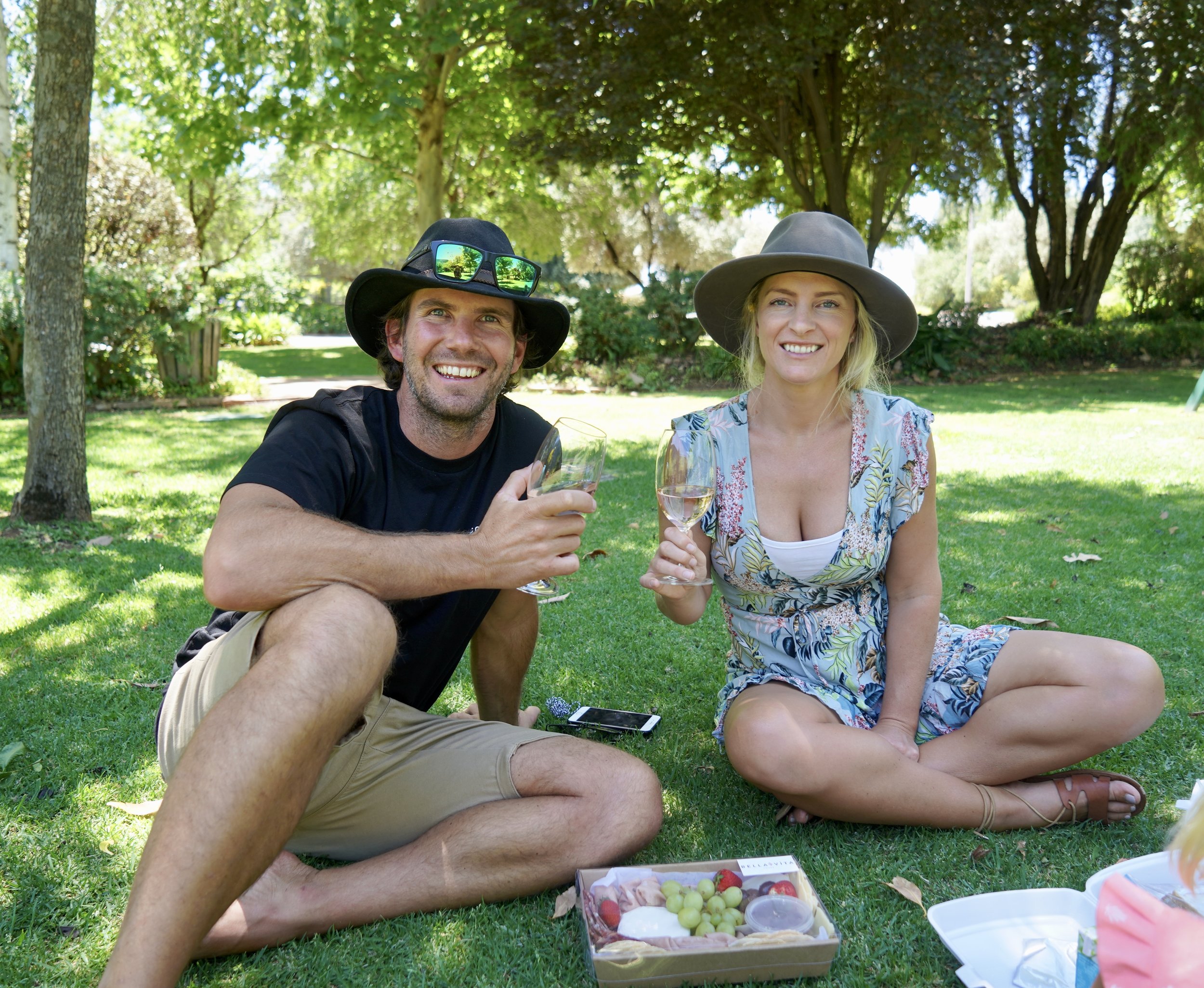 So good to be able to have a few wines and not have to drive – this guided tour is EPIC!!
The kids ate a delicious packed lunch organised by the tour which consisted of a sandwich, leSnack, popper and a kinder surprise. For the adults we had a gourmet platter and it was super tasty 0- a huge treat for us budget conscious nomads!! After finishing off our visit to De Bortoli by tasting some dessert wines we head back into the town centre of Griffith for another sweet treat. Bertoldo's Bakery do a mean meat pie and also some amazing Gelato! We all tuck into our favourite flavours and enjoy the sugar high. Check out Charli's face in the photo – pure JOY!!
That concludes our tour and we are dropped back to our caravan at Lake Wyangan where we had a few more sneaky vino's and enjoyed the Sunset yet again. What an awesome day! We can highly recommend Bella Vita tours if you're keen to see the region and its wineries.
Day 3
An awesome start to the day! Justin and I get up to watch the sunrise. It's an early start but well worth it. We even get a whole 2 hours together without any interruptions (this is rare for us) the kids slept through until 7:30am!!!
City Park was first up today and wow, what a fantastic complex. Something for all ages. Our kids loved the flying fox and climbing spider web and then they splashed around in the splash park. We spend about 2 hrs here and it was way too much fun! Something we have noticed in all these towns along our itinerary is that the local councils do an amazing job providing such fantastic facilities for families. Not only is it great for us as travellers passing through, but such a good local hangout for everyone who lives in these towns. We are very impressed!!
15% off all Oricom Products – USE TIAV15
We pack up and head to Darlington Point which is only a half an hours drive from Griffith and we arrive at the Altina Wildlife Park. A safari style zoo with a twist…. It feels as though your getting a family tour of the property with very welcoming staff, great information and a close up experience with some amazing animals. We jump onto a horse and cart pulled by a beautiful Clydesdale called Jack for a trip around the property. We see loads of different animals, some familiar ones and others we had never heard of. Some of the animals are on endangered lists and have come critically close to extinction. The team here have an excellent breeding program and have done some stellar work in creating a safe environment and a future for these beautiful animals.
Some of the animals we lay eyes on were rhino's, hyena's, lions and tigers, giraffe, zebra's and loads more! The kids were squealing with excitement and it was awesome to see there happy faces. After we finished touring the zoo on a horse and cart, we went into the mini zoo to see even more cool animals like meerkats & crocodiles. A great way to finish the tour as well, the staff put a cuppa tea or coffee and a few bikkies.
There is a caravan park in Darlington Point but we choose to scoot down the road a bit and scope out our next river free camp. We find one smack bang on the Murrumbidgee River in the Narrandera Forest. Absolutely perfect spot, the sun sets right in front of our caravan, loads of birds and the kids skim rocks into the river while we enjoy a cold one. Very quiet and peaceful spot.
Day 4
We started off with some Koala spotting at the Narrandera Forest and found 4 in about 5 minutes! What cute animals they are and they are everywhere in this forest so be sure to while your here!
Next was the Narrandera Visitor Information Centre to strum the worlds largest playing guitar. At 5.8 metres long it even made a World Guinness Record! The kids have a fair crack at this guitar and it's getting loud and time to leave haha.
The BIG GUITAR at Narrandera Info Centre
We're heaps excited to get to the Lake Talbot Swimming Complex. There are water slides there and the kids are heaps pumped! It's $4 per person and kids 3 and under are free. A lovely area, large and grassy with picnic tables throughout so it's a good spot to bring your lunch as well.
The Rampage!! What a fun slide.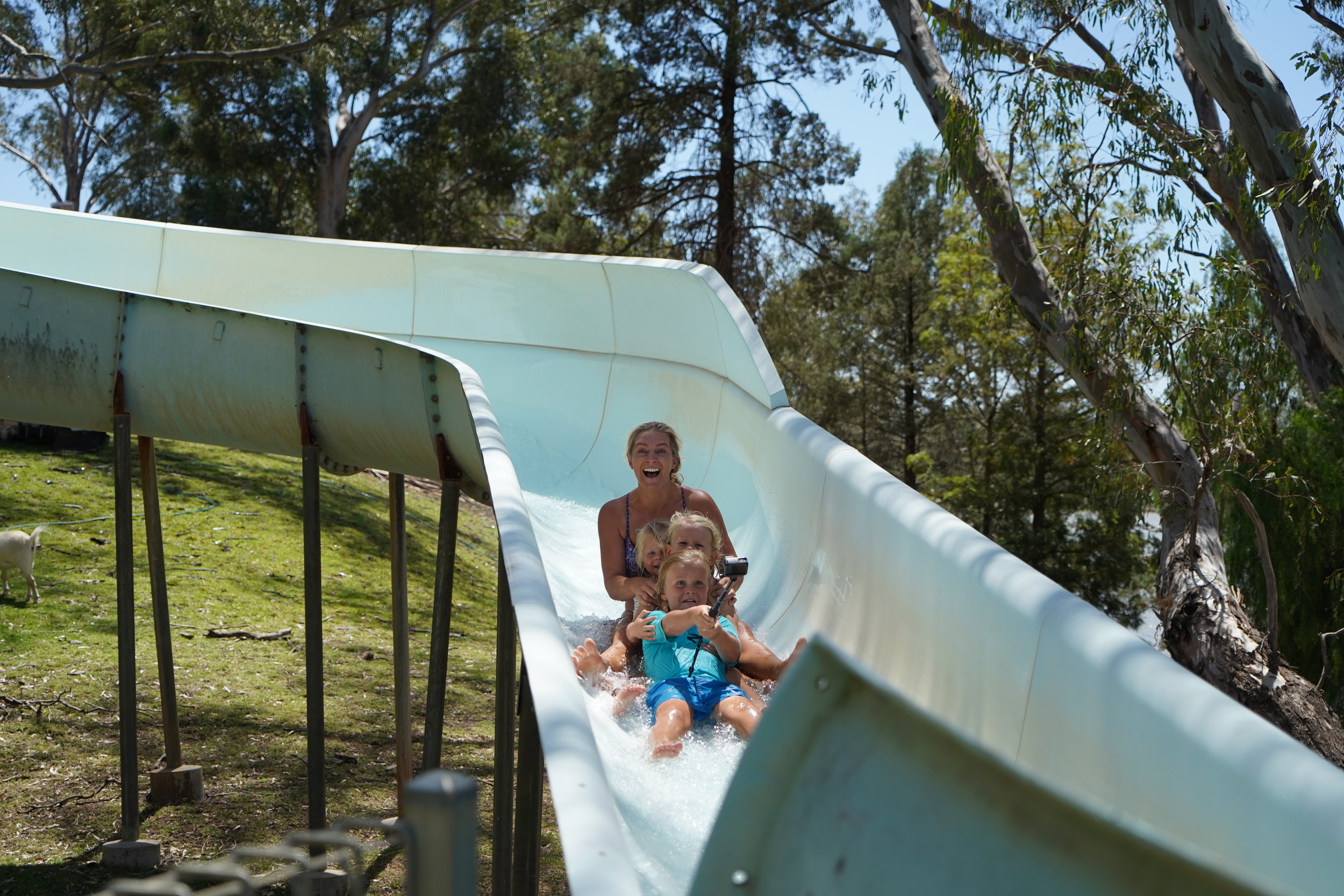 We hit the Rampage Slide which is high and steep. To go down this you grab a slide board and without hesitation Jack is heading up the stairs. He's the first cab off the rank. The lifeguards instruct him on what to do and down he goes. Not even a squeal but loads of laughter and smiles. He loved it! Next was my (Bec) turn. I sure let off my fair share of sqealing!! It was a bit of a thrill. Billy and I went down together and his grin was the best! Soooo much fun! The other waterslide was Charli's favourite and it was a fast winding one. We all went down together and laughed hard! After that they were off on there own and up and down the slide about 20 times! Then there bellies were hungry.
We got them out of there by bribing them with a pie from the famous Garmain Pies. They just won an award for 2018 for their epic meat pies & it did not disappoint. So delicious. I was so mad I went with a sausage roll and had to beg the kids for a bite of there pie! Definitely a must do on your travels through here.
Coolamon was our next stop and we arrive to yet another cute town in the Riverina. We are booked into the Coolamon Caravan Park which is newly revamped. It backs onto the public pool and a playground and the pool only cost $1 per child to swim if you're staying at the caravan park. It's only a short walk to the main street to check out the Coolamon Cheese Factory which is a gorgeous factory and cafe. Make sure you give the cheeses a taste because they are delicious. A good point to note is that it doesn't open until 10am so don't head over there for an early breakfast and coffee like us!!
There is also a fire museum here in the main street to have a look at with an old restored fire engine, Great for the little ones too! Opening hours for this one are 10am-4pm.. We finish the day with an hour in the pool before its dinner and bed for the kids. They're absolutely stuffed after a big day!
Day 5
Junee Licorice and Chocolate Factory was a highlight on our travels through this region and I'll tell you why.
Firstly the building, cafe, restaurant and factory are absolutely gorgeous. So many beautiful trees and plants that it fells like you're in a little piece of wonderland. The owners Neil and Coral are some of the loveliest people we have ever met and were so accomodating towards us. After our tour we ended up sitting down and having the most delicious lunch in the restaurant with them.
20% OFF NINJA SHARK MASKS
Only half an hour from Wagga Wagga is where you'll find this incredible place. We kicked off our visit with the kids making rocky road, the smiles on their little faces while mixing all the ingredients was priceless. Although it was a struggle too get the ingredients into the bowl before it went into their mouths. For adults – you can make a SMASH CAKE and decorate it yourself! I had a crack at this and I don't have a creative bone in my body but managed to decorate a Chrissmasy cake.
We then had a tour of the factory and how everything is made which is pretty impressive!! Did you know the main ingredients in Licorice are Flour, Water, Molasses and Licorice root?
Last week, we visited the Corowa Whisky and Chocolate factory and LOVED it too… Well this place is owned and run by the same people, so no wonder it was fantastic!!
We did the 11am tour which is spot on if your keen to stay for lunch, and we'd recommend it!! The food here is just another highlight of the visit..( and if you love coffee, it was bang on as well!) Get your bowling arm ready, because after the tour you'll get a shot at launching a giant ball of licorice into the old bag chute to knock down the pins, loads of fun!
On the way out the door, the kids fed the goats and Alpacas liquorice. They go nuts for it! (makes sense i suppose – its loaded with molasses). All in all this place is well worth it on your travels through the Riverina. You'll get to meet some top people and the kids will have a blast!
It's now time to get to Wagga Wagga and we arrive at the BIG4 for 2 nights.
Day 6
Of course we start the day with coffee and after a few hot tips we head to Trail Street Coffee. A very smooth brew if you're after a good coffee while in Wagga Wagga.
The Wagga Wagga Botanic Gardens are a must do! Not only are the gardens pretty but there is also a Zoo! This amazing place is free and you can work on through as you wish. Plenty of animals to see including pigs, rabbits, peacocks, birds, donkeys and more. What a cool experience for the kids, we just couldn't believe it was free. When we were finished walking through here we headed out to the playground. Also another ripper one for the kids with a flying fox, maze and the usual play equipment. Excellent morning!
We love a strawberry and a new strawberry farm has recently opened in Wagga Wagga. Run by the nicest bloke Michael, who gave us a punnet each for us to pick our own strawberries. He then went on to talk about how the growth of the strawberry happens, irrigation and predators of the delicious strawberry. It was great to see the kids learning about fresh produce and where it all comes from. They were hands on, got in there with the scissors and cut off strawberries. While they packed there punnet with strawberries, plenty were going in their mouth too! Goes hand in hand really!
It's bloody hot here in December and today reaches 35 degrees! So I guess we'd better cool off by downing a few beers at the Thirsty Crow Brewery. A little gem in amongst the town centre on the river. A funky looking place who happen to do a wicked beer. We settle in a few pizza's off there menu while Justin has a tasting paddle and enjoys a few beers. We must admit, they didn't nail the pizza's (especially the gluten free one) however their other meals looked unreal.
A trip to the Marrambidya Wetlands which are located only 5 minutes from the Wagga Wagga CBD. Plenty of space to pull up your caravan and we begin the short track around the wetlands. An ideal location to learn about wildlife and also opportunities to connect with the environment. Formed as a healing place for Indigenous tribes, this 20 hectare recreational wetlands hosts some sculptures and bird watching huts. Beware of snakes, we did spot a red belly black here. It was a very hot today so we were wary of snakes! Our kids loved their time here and were genuinely interested in their suroundings. Good tip, there are toilets here on site in the carpark..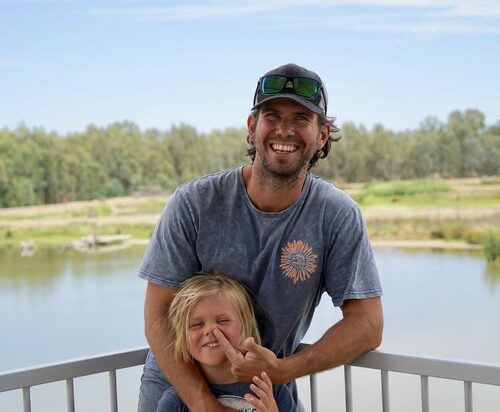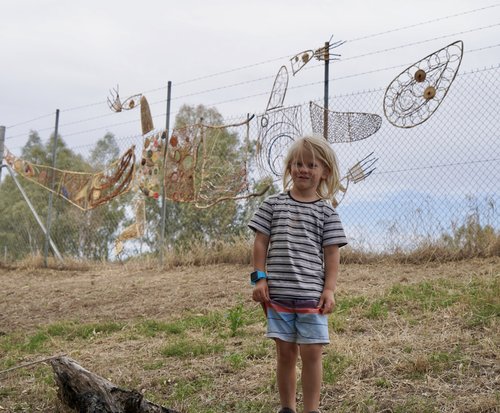 It time to head to Tumut! Only 100km away and we decide to stop into the Adelong Gold Mill Ruins. Wow, what a surprise! Not only loaded with history but it's set on a beautiful running creek. There are rapids, swimming holes and rock slides, we definitely didn't expect this!
Only a short 5 minute walk down to the creek via some rocky stair and you arrive at this pretty place. We had such a fun time and we spent ages swimming and climbing over boulders. So, please note, when visiting the Gold Ruins, take your swimmers and have a dip in Adelong Falls.
Tumut is a quaint town set on the Tumut River. We are staying at Riverglade Caravan Park and it is a top spot! Grassy, large sites and they cater for both powered and unpowered sites as well as ensuite sites too. The riverfront sites are just beautiful and we really enjoy the outlook from our caravan.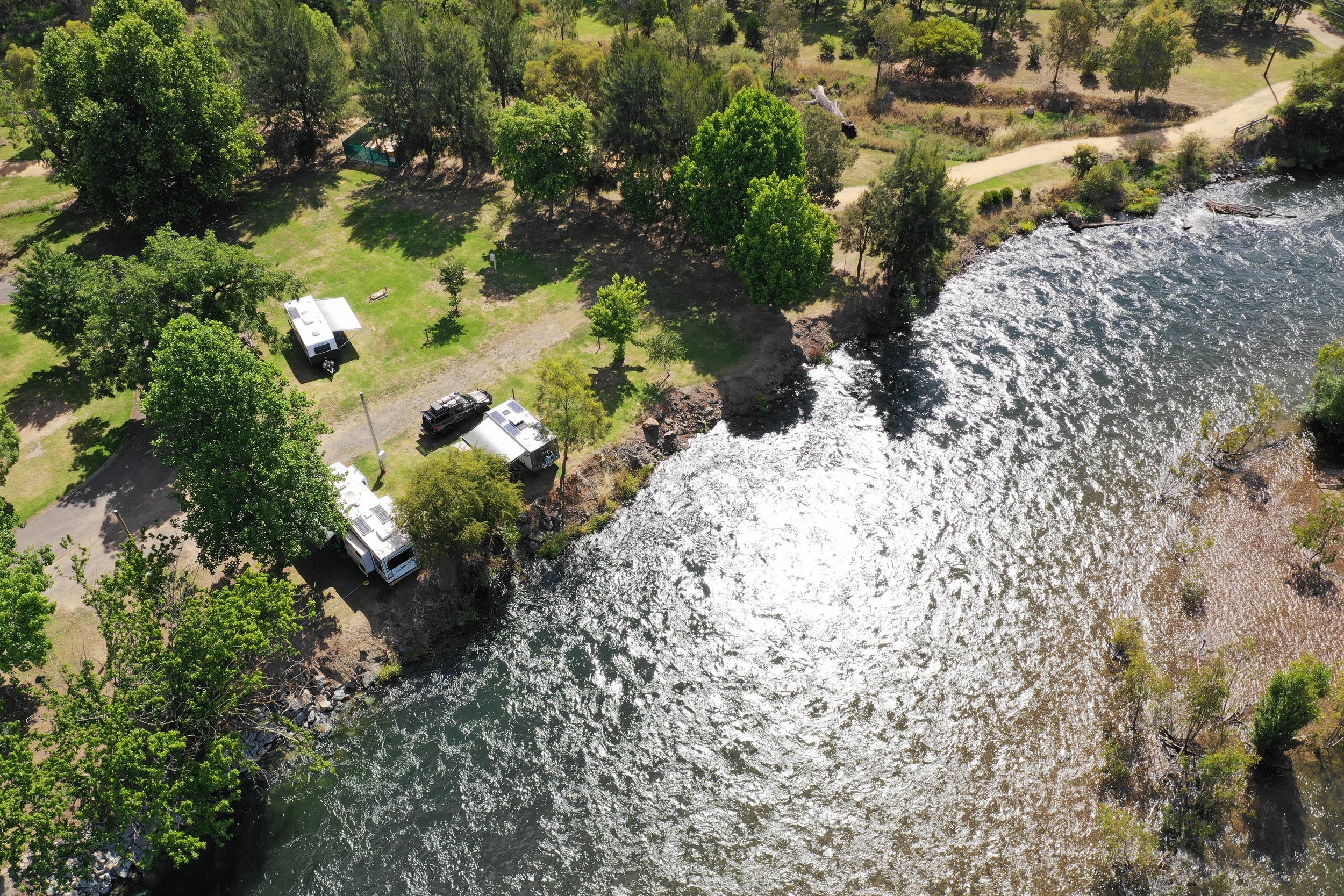 After we settle into our caravan park we make way for Blowering Dam. This dam is one of the biggest in NSW and holds water three times the size of Sydney Harbour. Blowering Dam stores water for the Snowy Mountains Hydro-Electric Scheme as well as the Murrumbidgee Irrigation Scheme. It's a popular spot for water sports and fishing.
We drive the 14km back into Tumut and check out the Tumut Brewing Co. This is on our list of things to see however we have temperatures of 36 degrees and the kids just want to chill and swim. We take them to the Tumut Public Pool which is FREE. A perfect place to cool off. They have a toddler pool and a standard Olympic pool. The deep end is 3.5 metres deep and after several attempts Jack manages to swim down and touch the bottom!
Dinner tonight is outside with a river view and that completes our second last day on the Riverina to Snowy Valleys Drive.
What do you pack when your heading off to Lap Australia?
Day 8
First stop is coffee from the Coffee Peddler in Tumut's town centre. Mmmmm delish and yet another good brew on our travels through this region. Can you tell we love coffee?
We travel the 93km to Yarrangobilly Caves and stop in at the information and tickets centre. We decide on a self-guided tour (so much easier with kids) and the cost for our family, including the National Park fee was $44.90.
We drive a little further down to park up our car at the start of the track. All up its about an hour to do the cave. We begin by walking down the track lined with the most beautiful trees to then come out and around to the cave entrance. What an incredible view walking towards the cave and its size really does blow us away! The kids are heaps excited for a cave adventure and call themselves explorers. They were looking for glow worms (not sure if there is any in this cave), crystals and surprisingly told us some facts about caves they had learnt on other guided tours. It's a wet cave so be prepared for falling drips of water and wet shoes. Take a head torch with you as well as it can get quite dark inside!!. An easy cave to navigate and there are some tight spots to get through which was pretty cool. We really did love this experience. The cave walk brought us out back at the carpark, which was very convenient.
The entrance to the caves!!
After a bit of lunch out of the back of the car, we drive only a kilometre and park up for the 700m decent to the thermal pools. It's hot and we have heard from others who have been on the track that there are snakes, so stick to the middle of the track.
An easy walk down and you begin to see the thermal pool from above. The pool sits at 27 degree all year round, its a stinking hot day at 36 degrees and it doesn't feel like 27 but more of a refreshing swim. We all dive in and the water is crystal clear and quite deep. A toddler pool and a little waterfall is here also which the kids had a ball in. Picnic tables and toilets provided. After a swim, something to eat and lots of fun, we head back up the hill. It's a little tough on the legs but we manage with no dramas. A fantastic spot.
A winding and hilly drive back to Tumut and we chill riverside at our caravan. Luck has it that the carols by Candlelight is on in Tumut so we head to them after an early dinner. They start at 6pm and Santa arrives soon after. We thought we would miss these opportunities while on the road so we are all stoked to be able to catch one on our travels at this time of the year. Our kids are beside themselves, theres nothing better then watching the Christmas spirit in kids. Eyes wide open with excitement and a big fat smile on there face. They all sit on Santa's lap and talk about it for the rest of the night.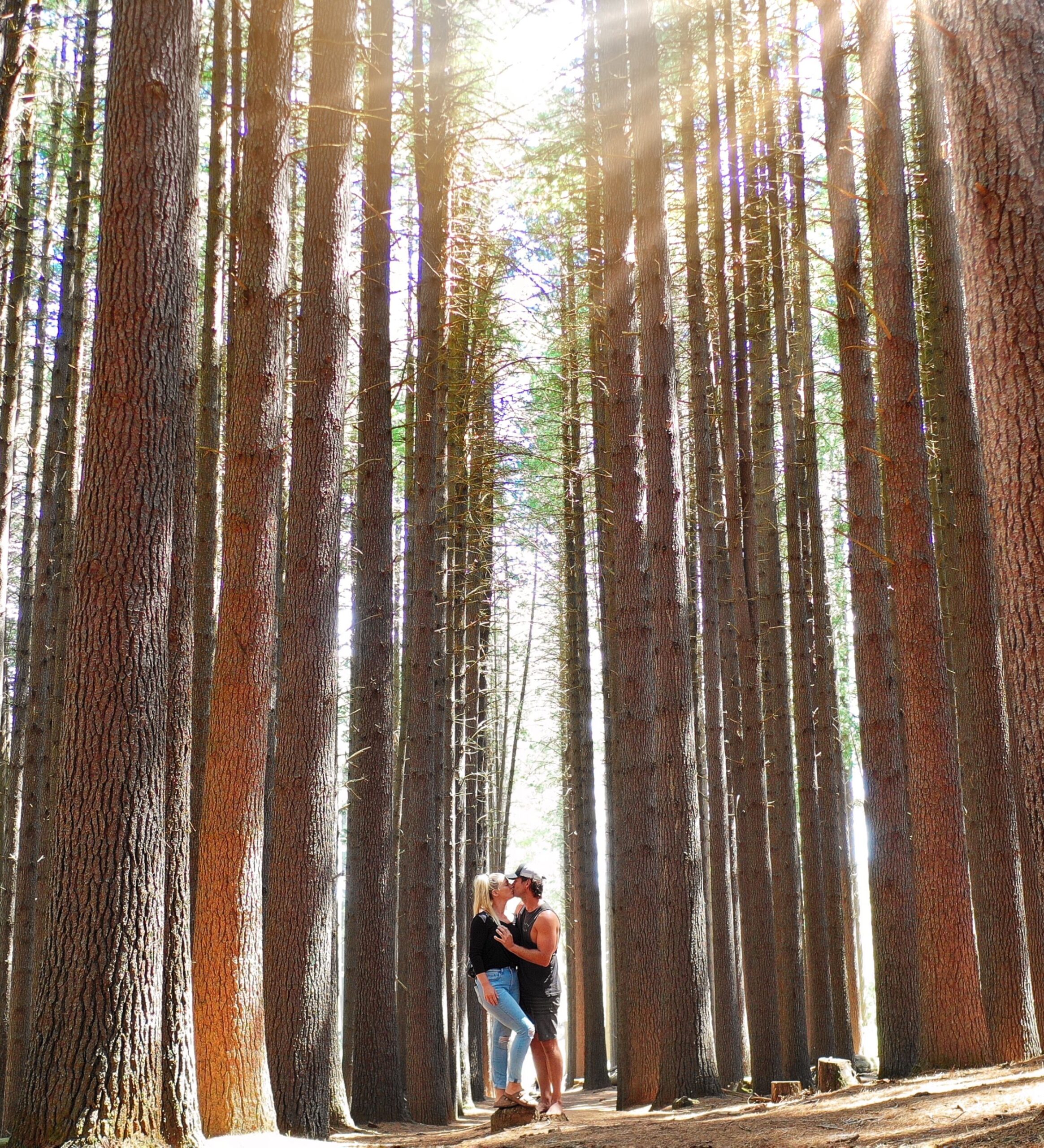 DAY 9
Our last day on the itinerary and it starts off with a 50 minute drive to the Suagrpines Walk north of Tumbarumba. Such a magical little walk (and it really is only a few minutes to walk through the massive pines). With the sun peeping through the trees, casting shadows and beaming with rays of light it was just so pretty! Of course we had to grab a few snaps. The kids loved hiding behind the trees and running up and down the walkway. What a beaut and easy stop. With so many dandelions around we also caught the kids playing with them too.
Courabyra Wines located about 10 minutes from Tumbarumba is well worth the stop. A beautiful setting with rolling green hills which hover over long lengths of vines. We sat on the back deck for a bit while watching the kids play on the playground and trampoline. We drank coffee, had a wine tasting and a few sneaky treats which were absolutely delicious. They offer lunch and do bookings for dinner. Cathy the owner is such a lovely person and it was fantastic sitting with her and chatting about how they started up a winery from scratch. Awesome story and a beautiful property, she was fab with the kids too.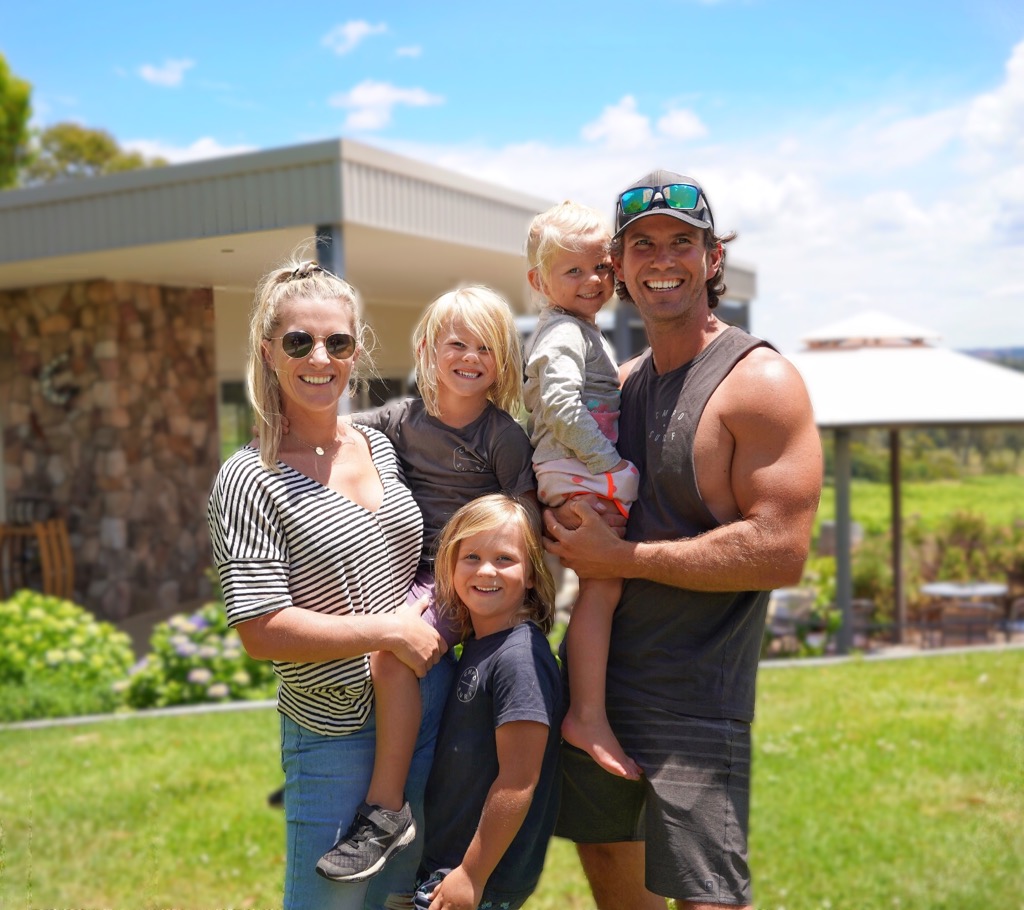 A family pic at Couraybra Wines, a great day here!
We drive the next few minutes to arrive in Tumbarumba's town centre. Yet another quaint town we have visited on our travels through the Riverina and Snowy's. We park up at the park which has a skate park, playground and the most epic BMX/pump track we've ever seen!! I seriously want one in my backyard when we get a house. We have to bribe the kids to leave with a movie in the car.
This finishes our amazing travels through the Riverina and Snowy Valley. All we can say is WOW. We really did love this trip and only wished it was longer. There was so much more to see and do and it is now on our list of places to come back to. We just need to explore this area some more and even in Autumn maybe. We hear it is at it's most beautiful then!
CHEERS – JUSTIN & BEC
We move on to another ripper free camp on the Murray River called Gadds Bend Reserve. Prime position on the water, amazing sunset and sunrise, cows, hills and a lovely swim. Happy campers!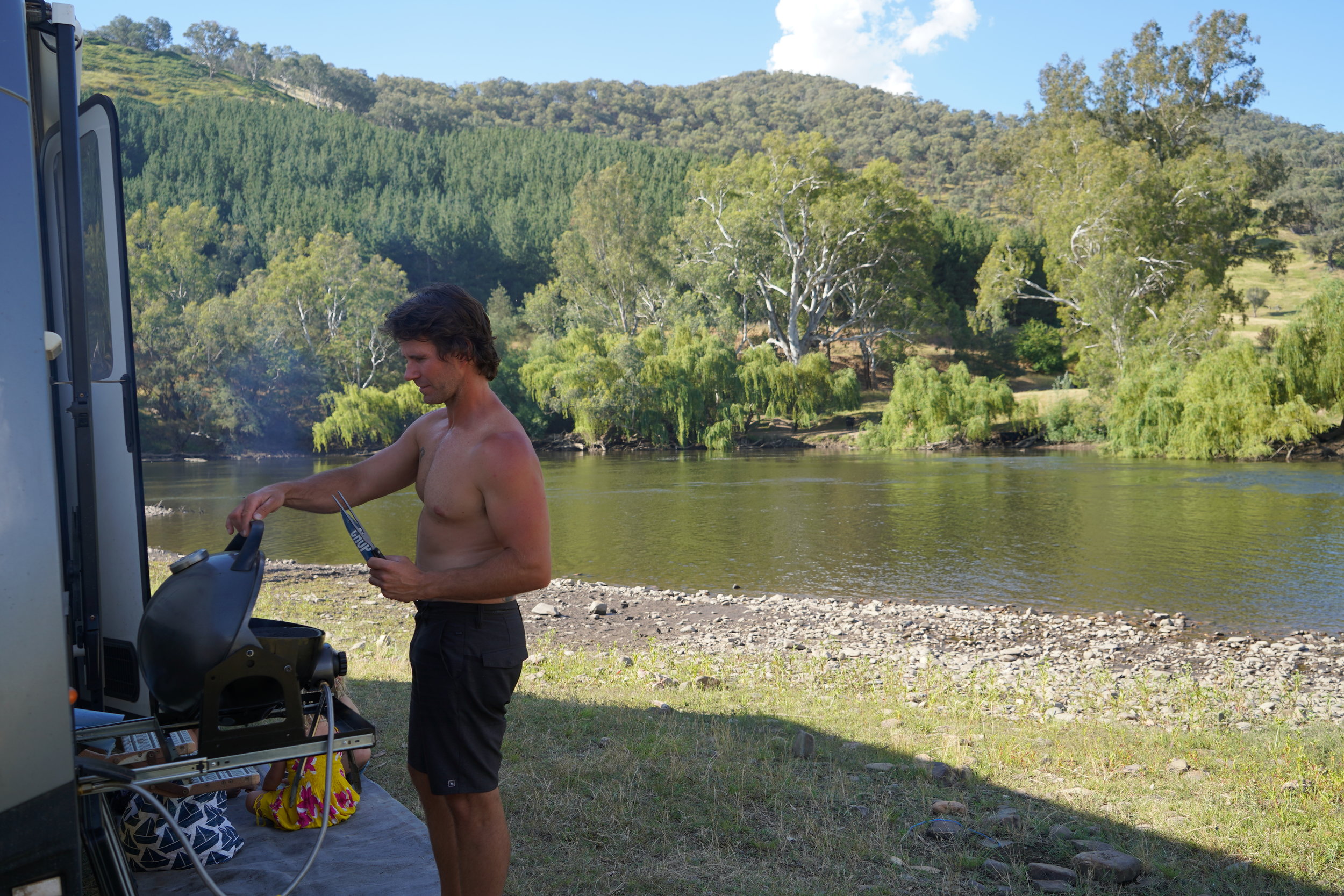 The Free camp at Gadds Bend on the Murray.
Learn how much it will cost you to Travel Oz like us!
FUNDING OUR TRIP
How we funded our trip and tips for you to do the same
OFF-GRID BATTERY SET-UP
THE ULTIMATE IN FREE CAMPING POWER
Map of Australia Decal - 15% OFF TIAV15