Stradbroke Island, also known as Straddie or North Straddie, lies within Moreton Bay, 30km off Brisbane. The second largest sand island in the world after Fraser Island. Straddie comprises of three small towns, several Lakes and a coastline full of beaches and rocky outcrops. The island is only 38km long and 11km wide, meaning everything is very accessible and easy to get around.
Amity Point has the best sunsets!
We really didn't know much about Stradbroke Island and I (Bec) actually thought it was a lot less populated and full of dirt tracks. How wrong was I.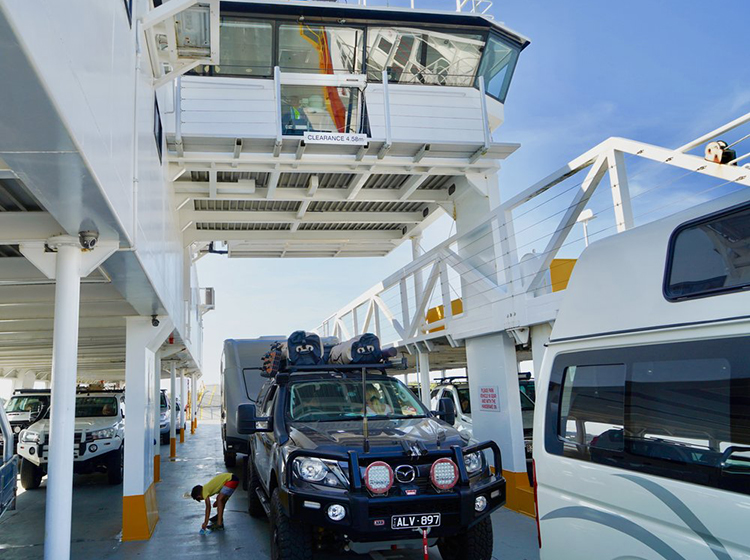 We book our ferry online at Stradbroke Ferries and leave from Cleveland, which is about half an hour from Brisbane City. One thing that struck us was that there are loads of direct signage telling you where and how to get onto the ferry. Meaning we didn't get lost or make a wrong turn! After pulling through the check in booth we are designated a lane and drive straight onto the car ferry. A quick trip over and we land on Straddie in about 50 minutes. Costing of the ferry for us was $370 return.
We caught a 3pm ferry and arrived before 4pm. Its getting late in the day and its also high tide. We can't get to our camping zone on Flinders Beach so decide to head to Amity Point Campground. They close at 4pm, so the manager comes back to check us in. A quick tip – if you are booking in here, do so online and if you arrive late they leave an envelope out for you. Plus they close at 4pm everyday.
Amity Point is a beautiful spot! However, we weren't so happy with the price tag. At $54 per night for our family for an unpowered site, we think it's a little expensive! But its our only option. Putting that aside… Amity Point is a really family friendly spot! Beachfront campsites (which we pulled up on), a jetty for fishing which also provides a dolphin experience. Sadly we missed it but apparently they are known to arrive at the Jetty between 3-5pm. Take down some pilchards and wait til they arrive.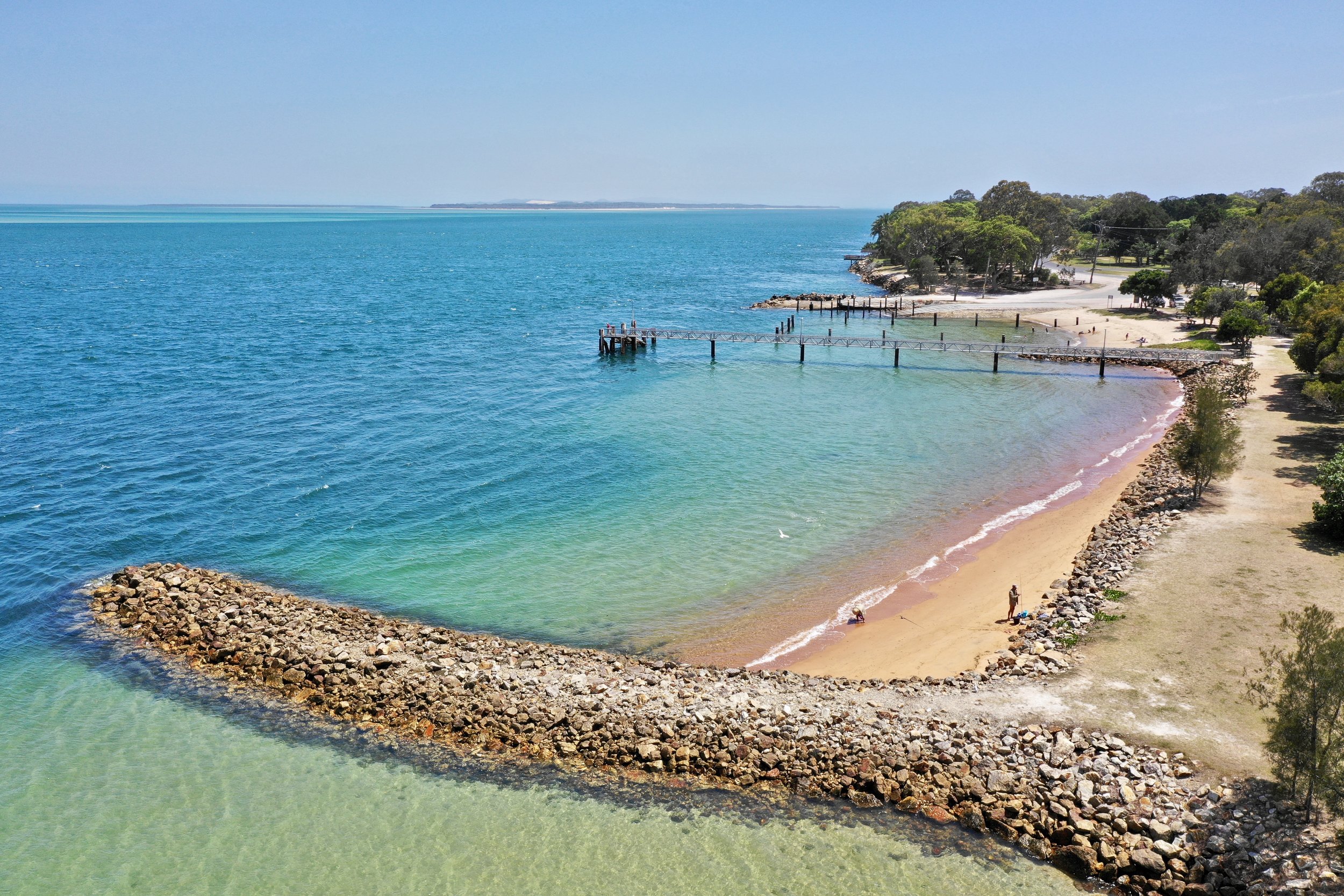 Amity Point is known for sharks so there is a netted safe swimming area. The kids loved splashing around in here and playing on the playground.
TIP: If you want to use the showers at the campground you'll need some coins. 3 minute showers.
Day 2
En route to our campsite at Flinders Beach
We're excited to head to Flinder's Beach. Only 15 minutes away and we are at the beach access. Justin jumps out of the car and heads down to check the sand conditions. It's soft but we'll be right he says! We drop ALL our tyres down (caravan and car) to 18psi and we get through with no drama's at all. Once passed the soft stuff we get onto the bottom of the beach and its hard as a rock! Made for some easy driving to our camping zone. Only 3 minutes up the beach and we find a spot we'd like to pull up at. in Zone 5 or in between tracks 4 and 5.
A vehicle permit will cost you $54 which last you for 12 months. Camping at Flinder Beach costs $25 per night for a family.
Day 3
A relaxed morning, some school work for Jack and we're off to do the North Gorge Walk. Wow, now this is some beautiful scenery. With views over Main Beach and around the headland to discover the most aqua blue ocean, it blew us away. Then comes the gorge! A surprisingly cool rock formation and plenty of opportunities for a pic. The walk is an easy 1.2km stroll and you finish up right in front of the best gelato! So of course we have to try it out.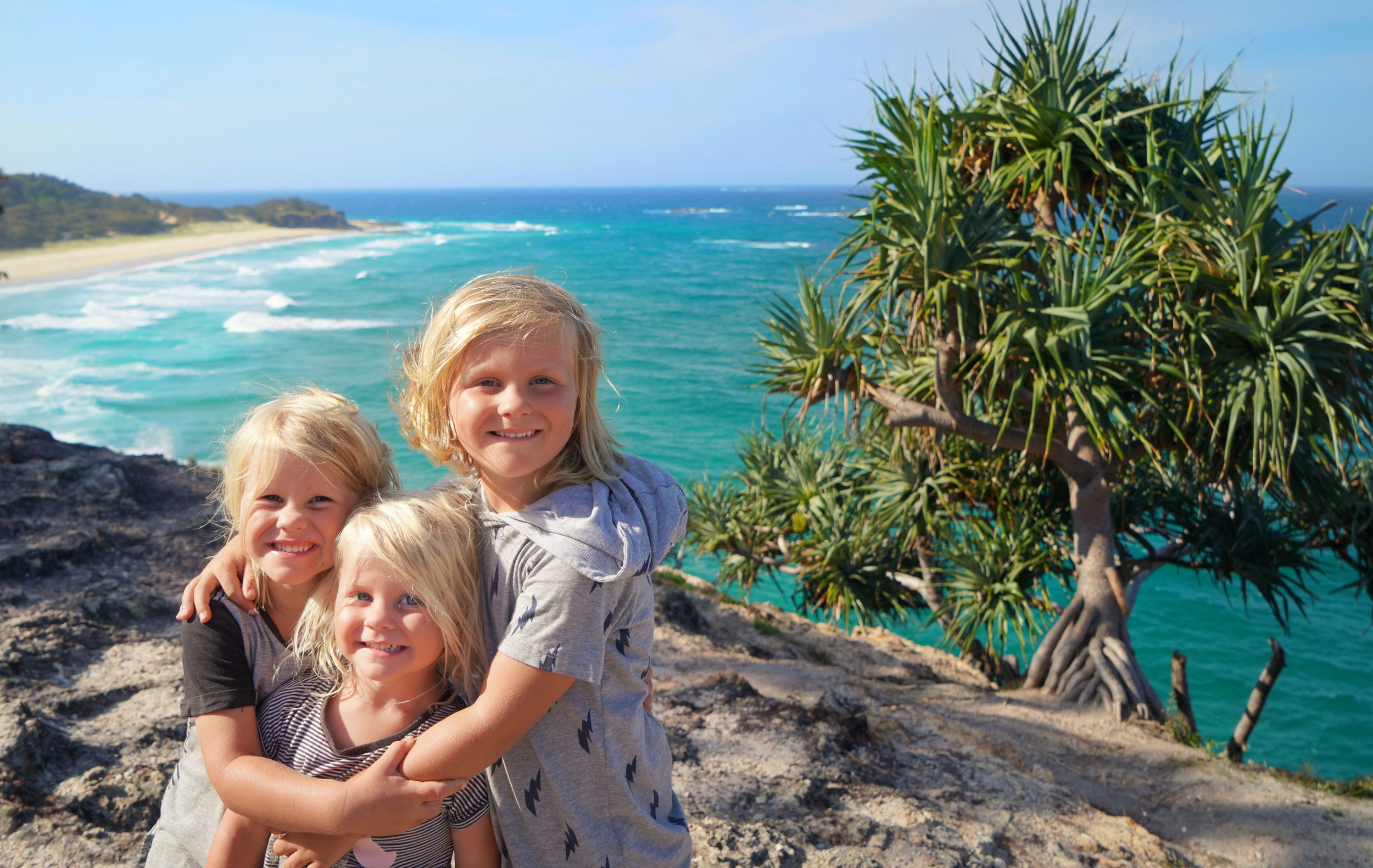 It's Melbourne Cup day and we watch the race and take in the views from the Stradbroke Hotel. There fries and wedges are tasty if you'e after a snack! They also put on some toad racing which was very funny and the kids were glued!
Day 4
A drive over to Brown Lake to check out one of the iconic attractions on Straddie. With the name Brown Lake, I really wasn't expecting much but it was a really lovely spot. We had been told by a friend to keep driving past the main carpark to find yourself a private beach. We followed the track a kilometre or so and came to a little secluded beach for us to swim at. This tea tree lake was the perfect temperature and we spent a few hours swimming and chasing fish.
Next we take the Alfred Martin Way and it drops us out onto Main Beach. A beautifully large beach and reminiscent of a highway. It was such a good run down to Jumpinpin, the bottom of the island. We set up the awning, have some lunch and let the kids run wild on the sand dunes for AGES.
Day 5
Coffee and the skate park first up. It surprised me how many playgrounds and skate parks there are on Straddie! We check out Cylinder Beach also. We didn't try it, but they have a coffee van that pulls up at Cylinder Beach if you're keen for a brew.
Most of the afternoon is spent fishing and swimming while parked up by the beach. Perfect way to end the day, however, no fish for dinner!
Day 6 & 7
Its our wedding anniversary and we decide to go and have a drink at Little Ship Club in Dunwich. A fantastic location, playground for the kids, plenty of space for them to run amuck, fabulous views and affordable beers and wine! They also have live music on a Sunday. Again we spend our time going to and from the beach, make a campfire, eat dinner while watching the sun go down. So damn relaxing!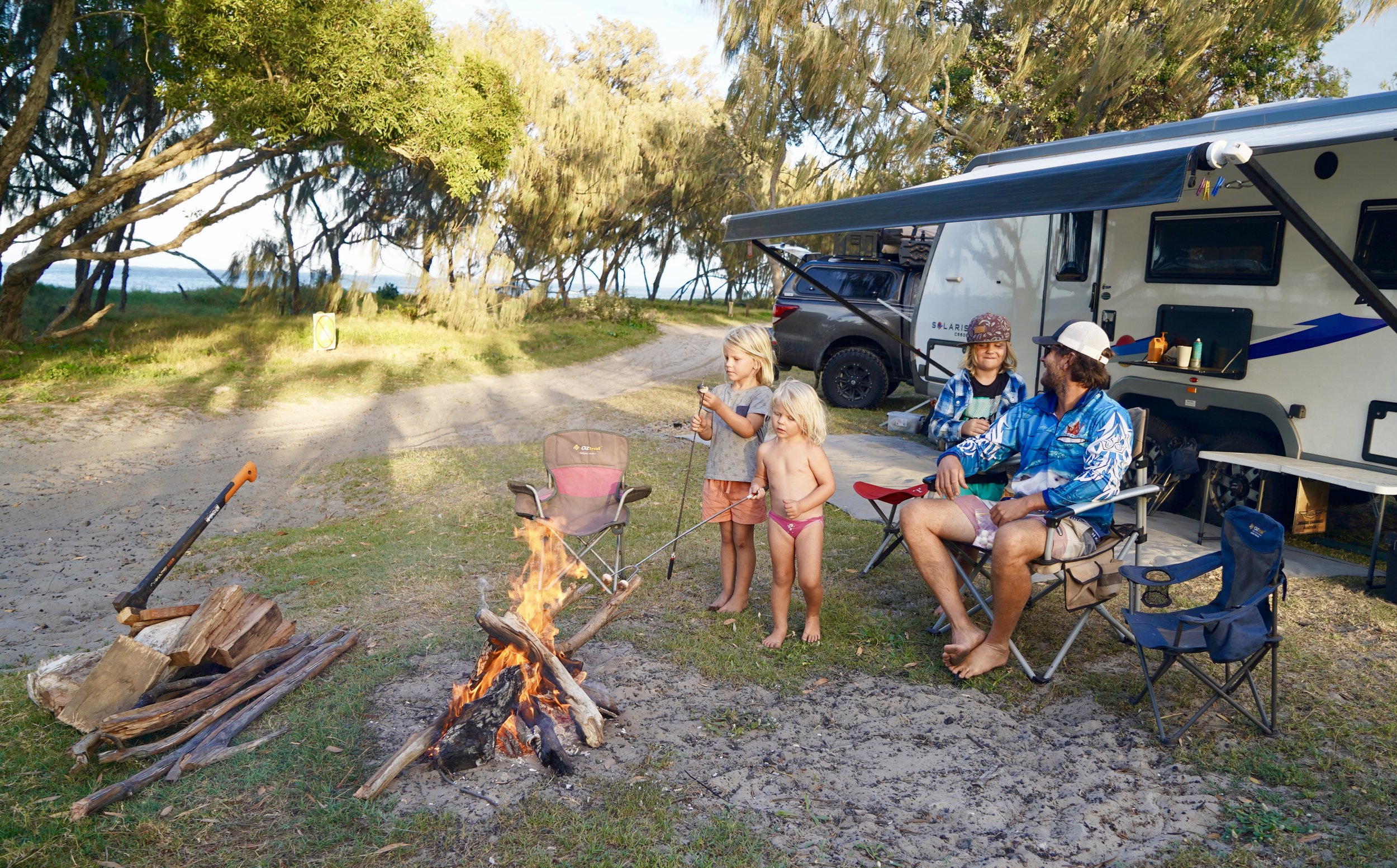 The following day is Justins birthday and he does a heap of fishing, drinks a few cold ones and we feast on prawns. Probably the best prawns we have ever had. Fresh, MASSIVE and tasty. We purchased them from Rufus King Seafood in Amity Point, the owner is a larrikin and up for a chat. If you're after seafood on Straddie – he's your man! Delicious! A campfire and a few drinks to finish off the day.
Day 8
It time to head off. We leave Stradbroke Island on an 8am ferry. We need to get off the beach on low tide so this is the best ferry time for us.
Coffee: Chillers Cafe
Groceries: There is a great Foodworks at Point Lookout and Dunwich.
Firewood: Can be purchased at the Foodworks in Point Lookout for $15 a bag.
Water: Water can be refilled at Adder Rock Campground. Just before the boom gates, on your left, is a water tap and hose for you to use and replenish water.
Vehicle Permit – $54 (yearly).
Flinders Beach Camping – $25 per night for a family.
Certainly a lovely place to visit and we recommend getting over here for a trip. Allow a week (if you can) as its expensive to get over to Straddie and you want to see and do everything, relax and really enjoy it.
Cheers guys.
FUNDING OUR TRIP
How we funded our trip and tips for you to do the same
OFF-GRID BATTERY SET-UP
THE ULTIMATE IN FREE CAMPING POWER
Map of Australia Decal - 15% OFF TIAV15