"The Mighty Murray River Drive"
"The Murray River is Australia's longest river at 2,508km! An iconic Australian region that spoils you with diverse landscapes, amazing food and wine, producers and countless tours & attractions to experience along the way"
Now, this is a drive we have always talked about doing, but have always been so busy exploring coastal area's that it's never happened until now!!
The Murray River is Australia's longest river at 2,508km! An iconic Australian region that spoils you with diverse landscapes, amazing food and wine producers and countless tours & attractions to experience along the way. We only cover a small section of this Mighty River on this trip, but it will get you hooked and keep you coming back for more. With some standout free camping and caravan parks along the way, this drive really is a great way to relax and explore what's on offer along "The Mighty Murray."
Justin & Bec
Day 1
We commence our trip from Albury-Wodonga, a bustling city on the NSW/VIC border. Before parking up the caravan, we hit the Wagarri Trail and do the Yindyamarra Sculpture Walk. A tranquil walkway with the wetlands one side and the gorgeous Murray River the other. The walk features a series of Aboriginal sculptures and also provides an excellent family walk. Its 5km long and an easy stroll as it's paved the whole way which makes it perfect for bikes as well….Unless the kids ride off on you.
Travel Australia Cost Calculation/Budget Spreadsheet
About 20 minutes from the CBD was our accomodation at Discovery Parks Lake Hume. A family friendly holiday park on the beautiful Lake Hume. Some of the facilities include a jumping pillow, playground, games room, spa and a resort style pool with some crazy views overlooking the lake.
We enjoyed an ensuite site which is a real treat for us & it had the BEST shower pressure, oh the things you miss when full time vanning!! Much the same as the flushing toilet, we didn't have to think about emptying our caravan one, so that's another bonus for us….
Our site at Discovery – Lake Hume
Albury's Botanical Gardens are truly beautiful. The layout and design is fantastic and they also have a new addition, the Children's Garden. The play space is an enchanting place for kids to discover and explore. With a life-size dinosaur, a fairy temple and interactive musical instruments as play equipment, our kids had an absolute ball. We took our picnic rug to have an afternoon snack and let the kids run wild. A great place to visit when your passing through.
Day 2 Albury-Wodonga
So today we got things a bit wrong…….We were headed in to go canoeing down the Murray and we were super excited, but there was only one thing stopping us!! It wasn't the weekend, haha!! The canoeing companies only operate by appointment throughout the week and we had no idea, so unfortunately we missed out, but it's some good info for you guys to make sure you get to paddle down the Murray when your here. We were going to go with these guys, so here's a link to check out – Canoe The Murray
Oddies's Adventure Playspace is a fantastic playground located in Albury's city centre along The Murray. It's a fully fenced area with plenty of activities for children of all ages and abilities, with the favourite being the super long flying fox!! We spent a few hours here before strolling over to the Riverdeck cafe for lunch.
The Riverdeck Cafe is set on the Murray River with a beautiful outlook. A playground just outside the cafe and a great meal for our family. Our kids thought the Nacho's were a hit!
With full bellies, we drove out to the Hume Dam Wall and had a walk around. What a sight and it's something you must do when in the region. It holds 6 times more water than the Sydney Harbour and at only 44% full when we were visiting, there is still plenty of water flowing. Someone actually told us that the wall flexes 12ft when at full capacity. How incredible is that!
Day 3
We travel for just under an hour and arrive in Corowa. Our first activity is the Corowa Whisky and Chocolate Factory. Plenty of parking to pull our caravan up and the first thing that strikes you is the building! It's heritage listed and absolutely gorgeous. An old flour mill that is now a distillery.
Corowa Whisky & Chocolate Factory (an old flour mill)
Corowa Whisky & Chocolate Factory (an old flour mill)
First up was a coffee from the cafe and we meet up with the head distiller Beau. What an absolute champ who calls himself the dreaded distiller (due to his dreadlocks). We start off with some chocolate tastings and the kids make their way into a room to commence making their giant chocolate freckles. They absolutely loved this, it's pretty quick and easy and they were left aside to set in the fridge while we walked through the Whisky factory. Beau gave us a good run down on how it all works and you can learn to as they have tours everyday from 12-230pm.
We sat the kids down with a Santa video and had a couple of whisky taste testings. Delicious and so smooooth!! It didn't go down like rocket fuel & burn the throat having it without any coke – Haha! We walked away with an expensive bottle for my parents for Christmas (I hope they're going to share it). After grabbing our set freckles we headed outside to feed the goats and cows. Some of them hand raised, very friendly and super cute. What a morning and highly recommend stopping in here on your way through!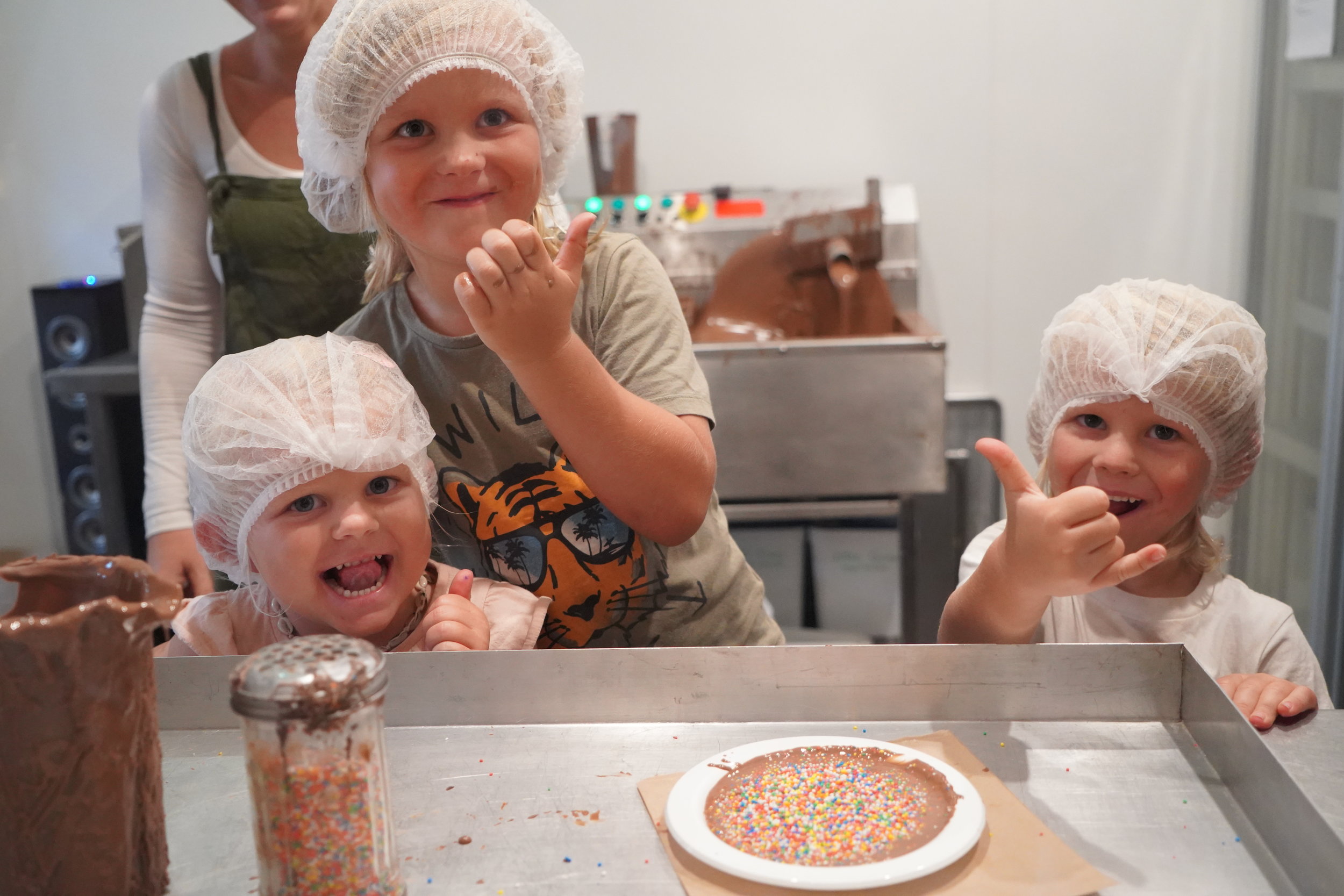 Now, on our itinerary there was a SURPRISE FOR BEC – 90MINS. I had no idea what this was and Justin dropped me off at a Day Spa called Circa1936. OMG!! I had the most relaxing 90 minutes ever! It started with a foot scrub and only got better. It's not very often I get time away from, the kids so this was sensational!!
A wine bath was waiting for me in a copper bath tub scattered with red rose petals. Gosh did I feel like a superstar! It was AMAZING. After my half an hour bath it was time for a full body massage for an hour! The most relaxing thing in three years on the road! As a mum, we just never treat ourselves to stuff like this, so I was so appreciative that the tourism body of Destination Riverina Murray had organised this for me. I felt so special. Even topped off with a post massage herbal tea!
Travel Australia Packing List
A relaxed me was picked up by my family and we travelled to Lake Mulwala. Yet another surprising stop on "The Mighty Murray Drive". A very cute little lakeside town with an amazing foreshore area. The Lake itself has thousands of timber trunks rising from the depths and it's a pretty cool sight. The foreshore is very lush, has a designated swimming area and playground. Over the road is a funky pizza bar that we would have loved to sit at, but kids….
We move onto Barooga and tonights a free camp called Quicks Beach. WOW! The most beautiful setting. Camped right beside the Murray River and the sun goes down right in front of us. One of those magic and tranquil nights that will be etched in our minds forever. There are toilet facilities here at the start of the camping area and plenty of spots to park up. It also has a beach area too that is suitable for kids.
DAY 4
We sadly leave our epic free camp and head for Tocumwal. We park up right beside the BIg Murray Cod (great spot for a pic) and again, another beautiful foreshore area. A large area for the kids to play, playground and a splash park in the making, go council. We Love this!
From Tocumwal we head for Echuca-Moama and what a beautiful country town this place is. We visited a few years ago for a wedding and absolutely love it here.
We drop the van off at out accomodation – Discovery Parks Maindens Inn and its a fantastic spot. Excellent kids facilities with a heated pool, jumping pillow, playground and water park. Our kids don't want to leave! But we convince them with a Paddlesteamer ride up the river with jam and cream scones! YUMMMMMM…
Plenty of parking at the Port Of Echuca and we head back in time when we stroll down the historic town. It's free to come down here and offers an extraordinary insight into the river's pioneering days. You can also buy your tickets for a paddlesteamer here too.
We board the Murray River Paddlestreamers "Pride of the Murray" and set off for an hour cruise. It was called the Devonshire Tea Cruise. We ate the most delicious scones and sipped tea. We all enjoyed the cruise and an hour was just enough time for our kids!
Once off the paddlesteamer we went into the Port Of Echuca Discovery Centre. Another wonderful insight into the bustling river trade and a hands on experience for our kids. They could touch most things and were interested in the workings of the Port and the history behind the town and the river.
A busy and interesting day which ended at the pool and water park at the Discovery Park Maidens Inn.
Two of our kids even put themselves to bed (a rare occurrence).
Day 5
We pack up camp an head for the 5 mile Mountain Bike Track which is in the Murray Valley Regional Park just outside Echuca Moama. How GOOD is this place!! Our kids love there bikes so to get them on a cool track with some jumps was epic. They had the best time and it's totally free! It even has a lovely outlook as it's set right on the banks of Murray River. We spent a few hours here, plenty of space fo the kids to ride around and also to pull your caravan up. As you head back in towards Echuca, the Three Black Sheep Cafe does an awesome brew if your a coffee lover like us!
Now……Taking three kids to a winery doesn't really sound to appealing does it?
Well Morrisons Winery was a fantastic family friendly winery located in Moama. A beautiful location with delicious wine and great food. We feasted on the tri of dips with some delicious bread while the kids ate chicken schnitzels and chips. (seriously the best snitty ever!!)
What more could we ask? A playground? Well yes, we were very excited to discover they have a playground and large grassy area for kids to run wild.
Justin and I sipped wine and beer while the kids played. They also offer colouring in for the little ones too. It was an all round win for our family and we highly recommend this place for a day out!
Hot Tip!! You can catch the Paddlesteamer here for lunch and get picked up again a few hours later so you can enjoy a few more glasses of vino and get a bit of a glow on!!
After our wine and dine, we hit the road for Deniliquin – THE UTE CAPITAL OF THE WORLD!
We arrive late afternoon and decide to sit put and let the kids enjoy the facilities at the BIG4 Deniliquin. They offer a jumping pillow, pedal-carts, heated pool, another pool and a water park. A seriously beautiful setting and a definite highlight on our trip through the Murray River region. We parked up on a riverfront site with the greenest grass and a magic setting overlook the Edward River. Just perfect!
Day 6
We wake excited that we are heading off on a pontoon boat for the morning. This can be hired out through the BIG4 Deniliquin and we can't speak highly enough of the experience. Scooting along the river on the most beautiful day was fabulous.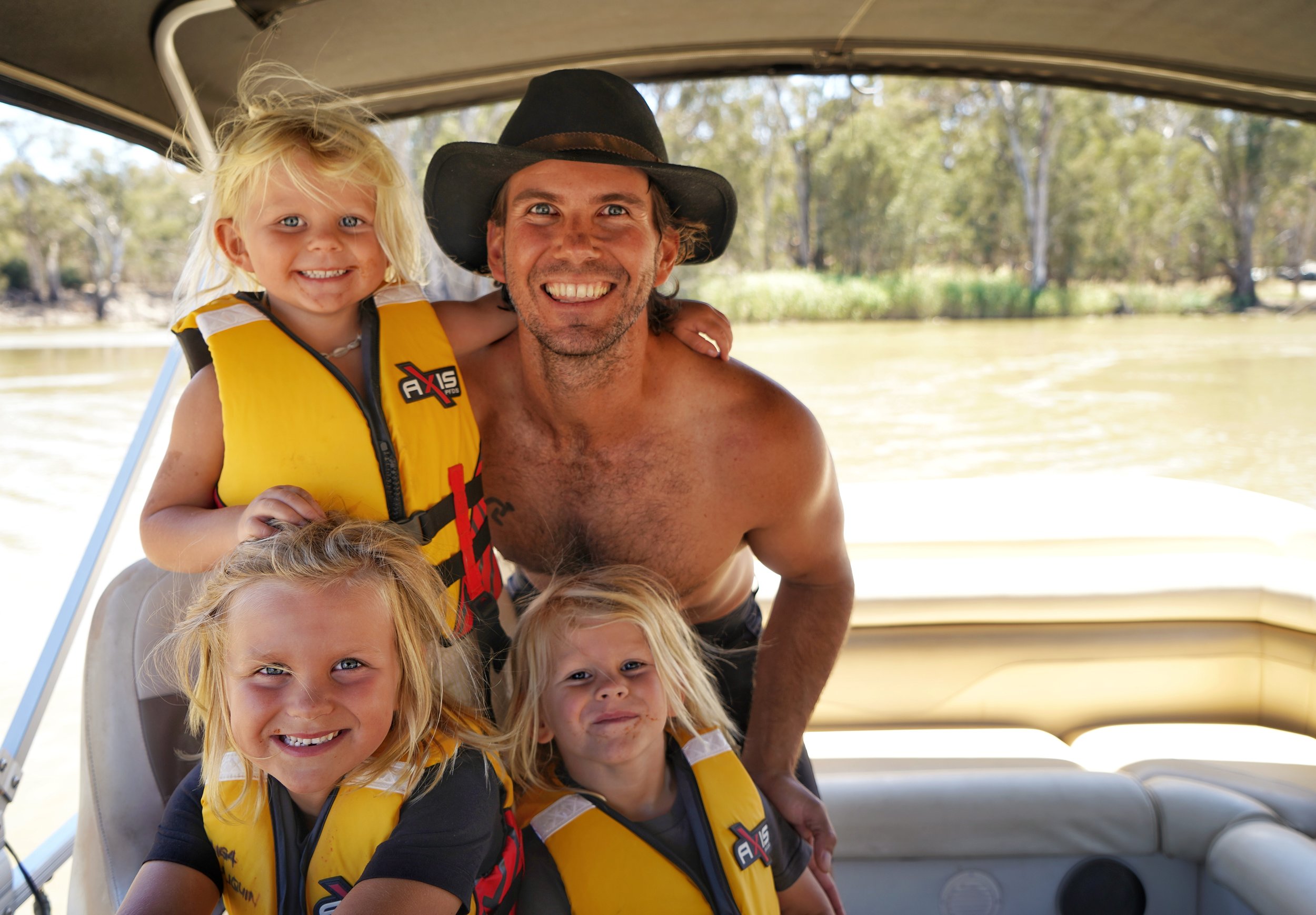 We board the pontoon only 100m from our campsite and head into town on what felt like the fastest pontoon boat ever, it really gets moving!! We docked in town after about 25 minutes and walked another 100m to The Crossing Cafe. Great coffee there by the way and the kids smashed their hot chocolates. Next door was the Peppin Heritage Centre which doubles as the Information Centre and houses a heritage museum. Our kids loved the old Deniliquin Gaol and the re-created classroom from the old days. A cute little place to look at local and travelling exhibitions also.
We cruise back on the pontoon boat & again, enjoy the facilities at the BIG4 Deniliquin.
Day 7
We have to practically drag our kids out of this park.
They've made some new friends ad really enoyed everything that this place has to offer. Justin and I have loved the scenery and relaxed atmosphere. If the kids are happy, we are even happier. A massive shout out to the outstanding staff at BIG4 Deniliquin, so friendly and very helpful. We will be back!
It is time now for us to finish this unreal road trip. We really do hope to come back to this region as we felt we missed a fair bit along the way. There really is so much to see and do and we loved every minute of it.
There is something so special about "The Mighty Murray River", the friendly people and the gorgeous towns along the way! We can't recommend this drive enough!
LETS SUM IT UP!!
Thats a wrap!
Our "Mighty Murray Drive" itinerary done in a week. We have had a brilliant time & hope you get some great tips out of this itinerary. It's an ideal holiday for everyone with experiences and accommodation to suit all types of road trippers!
Safe travels everyone – Justin & Bec
FUNDING OUR TRIP
How we funded our trip and tips for you to do the same
OFF-GRID BATTERY SET-UP
THE ULTIMATE IN FREE CAMPING POWER
Map of Australia Decal - 15% OFF TIAV15