Alice Springs to Cooktown
An outback adventure from Alice Springs to Cooktown. This stretch of vast and remote area of Australia shapes up to be one of the best adventures yet. Who new there were amazing swimming holes, incredible sunsets and a real experience.
Beginning in Alice Springs where it was not what we expected! I thought it would be more of a town not a city. They have everything there and once you hang around for a bit and if your in peak season (June-Sep), there is a lot to do!
We stay at BIG4 Macdonnel Ranges Alice Springs, its a fantastic park with waters slides, a BMX track, gym, pancake brekky and plenty of other happenings within the park. We definitely recommend staying here as there is a great traveller vibe.
It is here in Alice that we receive a random phone call from the Today show at Channel 9 for an interview. The producer told us how he came across a video and decided he wanted to chat.
A few days later we are at Imparja Studio's in Alice Springs getting mic'd up for our interview. It was all fun.
From here we head north to Threeways and pull up for the night. The park itself is basic but has everything you need. It is a roadhouse and a busy little stopover with a restaurant and bar. The kids spend some time in the pool and riding bikes while Justin and I have a few drinkies to celebrate getting through another live interview without a toddler meltdown!! They have some beautiful sunsets here!
How we funded our trip and tips for you to do the same!
We get going early as we are keen to get over the border and into QLD. We cross over and stoked that there are no checkpoints, so we take an obligatory photo before stopping in Camooweal. On our way into the township we spot a free camp under the bridge we are about to cross, however, we drive through for a look and grab some supplies in town.
In Camooweal they have a dump point and a drinking water tap, so we fill up, dump the toilet and head back over the bridge to the free camp. Pretty stoked with the space in the free camp called Camooweal Billabong. Plenty of other vans and room for the kids to burn around on their bikes. There are no facilities here so you must be self contained. Again, we make tracks early as we're off to Adels Grove.
Camooweal to Adels Grove is about 270km.  Of that 270km is a fair chunk of dirt & corrugations. From the moment we turn off the highway, our trip to Adels Grove was an awesome adventure. 
The access road was in great condition, but if you don't like dust and rocks and a few water crossings……… just harden up and do it anyway, because the Boodjamulla (Lawn Hill) National Park is unlike anything we have seen on our travels! 
Being able to canoe up this epic gorge with its emerald coloured waters was a massive highlight. Swimming at Indarri Falls without worrying about Crocs eating the kids was sensational and a memory we won't forget. So picturesque and a fun little adventure to get there!
The campground at Adels Grove caters for everyone. With 2 camping sections and plenty of safari tents and cabins as well. No powered sites however, so bring your solar panels.
A huge shaded deck at the restaurant and bar is a great place to grab a feed and a beer, and it also has full Telstra service to check your emails and surf the net!
The swimming holes right behind the campground are the perfect place to cool off throughout the day with tyre tubes, a pontoon and rope swings to keep the kids entertained for a few hours!!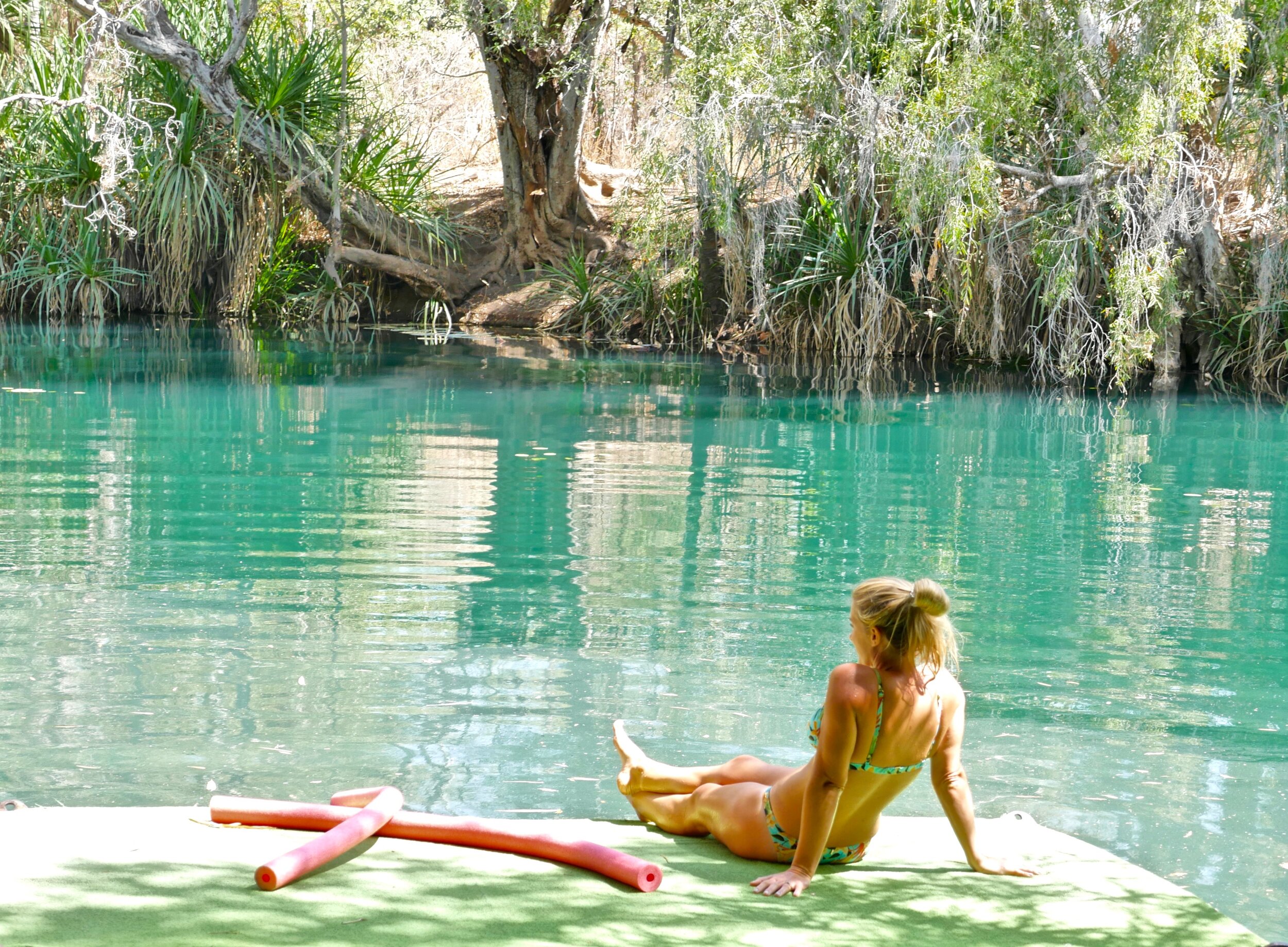 Adels Grove is bloody fantastic, so be sure to visit here on your travels and you can thank us later!
Another big drive is on the cards as we leave Adels Grove and head toward the east coast. When you pass through the town of Gregory, look out for 'BILLY HANGERS' general store, they do a great coffee and it's a quirky little shop. 
We punch out a big day and free camp at a wicked little spot called Routh Creek Camp Site just a few kilometres past Georgetown. There is no facilities here, but it's a beaut place to park up and enjoy the serenity. Only one other van here who had a campfire going and we arrived late and in the dark. For us it was straight inside to sort dinner, bath and bed for the kids. We would have loved a swim in the clear waters of the creek and it was a beautiful scene waking up there the next morning!
We are excited to hit the road and we're bound for Cairns and the Ingenia Holidays Cairns Coconut Resort. We have booked in for 4 nights.
It is fantastic to hit the east coast again. Plenty of shops to grab the odd bits and bobs, do a decent grocery shop and see the ocean again after being inland for some time! Cairns Coconut really is a sensational caravan park. It has everything on offer.
What do you pack when your heading off to Lap Australia?
Jumping pillows, a large playground, waterpark, mini golf, indoor playground and games room, Cairns Coconut is a kids haven. They also put on an outdoor movie night and have a cafe onsite. The pool is massive and and we had loads of fun here! A well maintained park, modern amenities and a great place to holiday! Only a short drive into the city of Cairns and there is so much to see and do. Markets, kids entertainment, great coffee, cafe and pubs. The lagoon is a cracking place to take the whole family to as well. Very kid friendly and right by the ocean to take in a picturesque view.
Outside of Cairns (but not far at all) is A LOT of beautiful scenery. The rolling hills and ranges are absolutely stunning and a must see while in the area. We head out for a drive to the Crystal Cascades.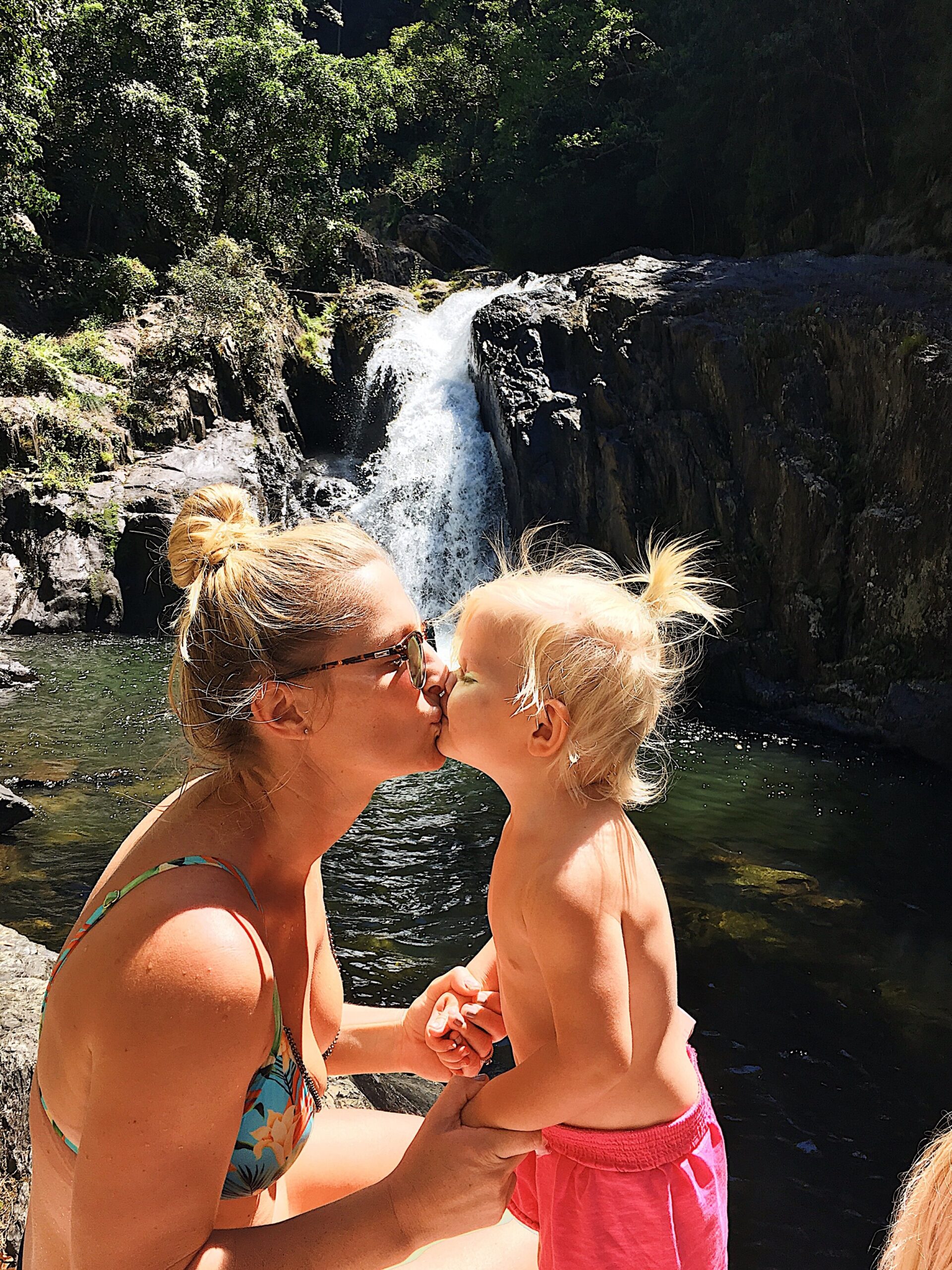 Before we left, we receive a hot tip to go to Fairy Falls, which is a short walk from the Crystal Cascades car park. We take the dirt track, climb over large boulders and jump over tree roots to find the most amazing waterfall. Fairy Falls really is beautiful. Justin managed to climb onto the rope that was hanging from one end to the other and made for a great photo opportunity. Its a bit fresh so the kids decide not to swim, instead pose for some pics!
Kids can be tough to travel with….Here's a few tips to help you out!
Off the Crystal Cascade we go, about a 2km round trip, all sealed pathways and an slightly uphill walk (which makes walking back a breeze). Again, another picturesque location. Plenty of people around as its a well sort after swimming hole. We stop for some lunch and a dip and take in the sounds of the crashing waterfall. 
There really is A LOT to see and do around Cairns such Josephine Falls, Babinda Boulders, The Daintree and Port Douglas. We have a full itinerary on A GUIDE TO CAIRNS that we recommend taking a look at.
We're a little unprepared for Cape York, so we make a mad dash to gather everything for our trip while we are in Cairns.
Leaving the van and packing it all into your car is a fair task. But we nail it and only manage to forget cutlery, LOL!!
After our four nights in Cairns and gathering all we need for Cape York, we head for Cooktown which commences our long awaited Trip to the Tip.
Travel Australia Packing List
We spend a couple of night in the beautiful BIG Cooktown Holiday Park. On a large shady site and we are stoked to see there is grass! Cooktown is a great little town to visit and lots to do. Trevantheaum Falls, The Lions Den, the Jetty for some fishing or even a charter.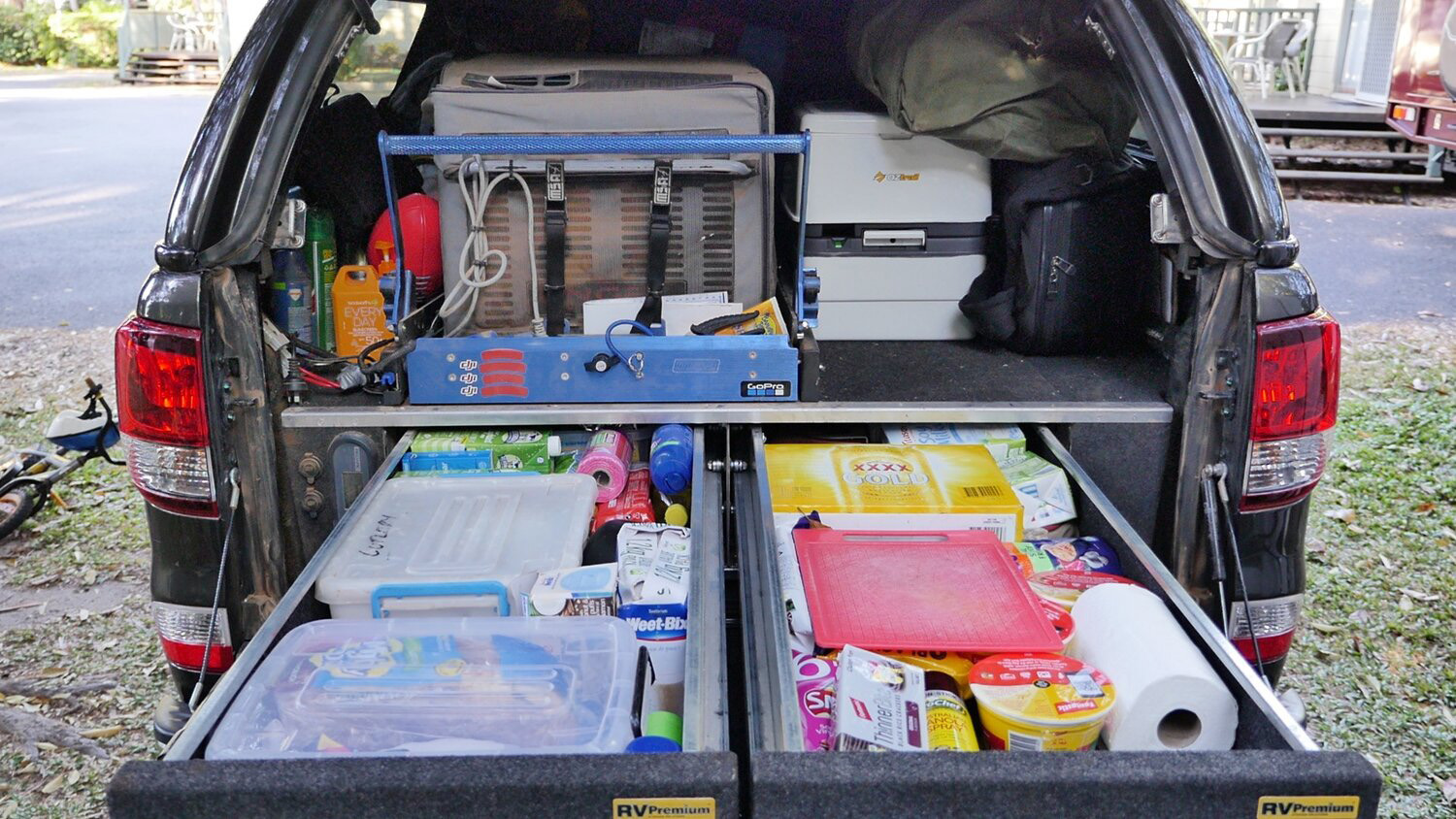 We relax poolside at the BIG4 and get the last things organised to throw in our car so we can store our van. We are a bit nervous about leaving our little home on wheels. It's just so comfortable in there, but we are getting super excited about the adventure of camping up to the tip of Cape York. 
Cheers guys and hope we've given you some useful info!
FUNDING OUR TRIP
How we funded our trip and tips for you to do the same
OFF-GRID BATTERY SET-UP
THE ULTIMATE IN FREE CAMPING POWER
Map of Australia Decal - 15% OFF TIAV15