"JINDABYNE FAMILY POP TOP REVIEW" – from TIAV
JURGENS AUSTRALIA GAVE US A NEW RELEASE FAMILY VAN TO TEST OUT FOR THE WEEKEND!!
The new Jindabyne family Pop Top is a cracker of a van and well worth checking out if your in the market for a family van! Its Engineered to be Lighter, Smarter and Stronger than other brands. Its easy to tow and has a low TARE weight and towball weight, so you don't need a huge car to tow it!!! Thats a big plus for those that don't caravan full time.
We got to hang out in the new Jindabyne family Pop Top for the weekend at Kilcunda, near Phillip Island in VIC. It's a great little van with an awesome layout for a young family. The setup time is under 5 minutes, and the layout inside is spacious and perfect for a young family.  There's a great double bed up the front for mum and dad, with plenty of storage under and around the bed. A reverse cycle air con is mounted under the bed, and ducted throughout the van. 
A great sized diner and kitchen adds to the package. A cooktop with 4 burners and a grill make cooking an easy task. Plenty of bench space, storage and a sink complete the kitchen and make life a whole lot easier than trekking to the camp kitchen to feed the tribe.
There's a great fridge and microwave with bench space for food prep, loads of storage around the van in cupboards and under the seats and bunks. The kids get an awesome double bunk space, with the bottom bunk converting into a little dinette for the kids.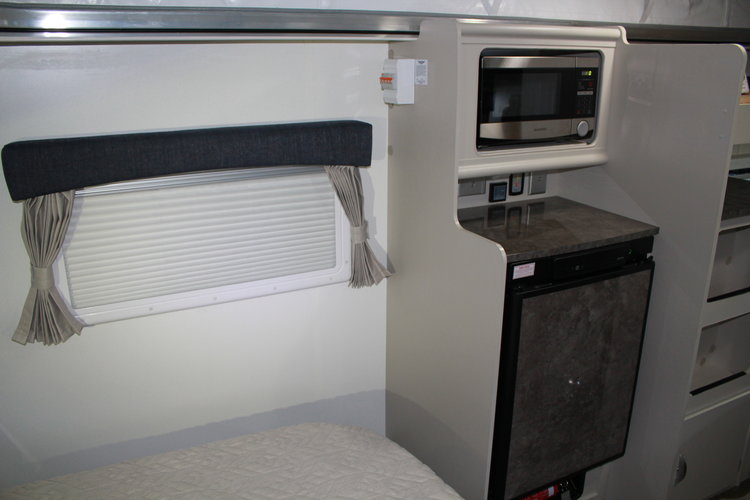 This little van is so easy to setup!!! Only a few minutes after you pull up on your site, you are all done!! Here's a quick video on how easy the setup is!!
This pocket rocket of a van can be optioned with an external shower and hot water system to top off the package. We think its an absolute ripper of a van for young families to get out and about and into the caravanning lifestyle. For more information, get onto the Jurgens Caravans Australia website here….
For any more info about our travels or questions you may have, you can get onto us via Facebook or our website at www.tripinavan.com.au.
CHEERS!! From Justin and Bec @ TIAV
Australias most informative family travel and caravanning site!!
FUNDING OUR TRIP
How we funded our trip and tips for you to do the same
OFF-GRID BATTERY SET-UP
THE ULTIMATE IN FREE CAMPING POWER
Map of Australia Decal - 15% OFF TIAV15