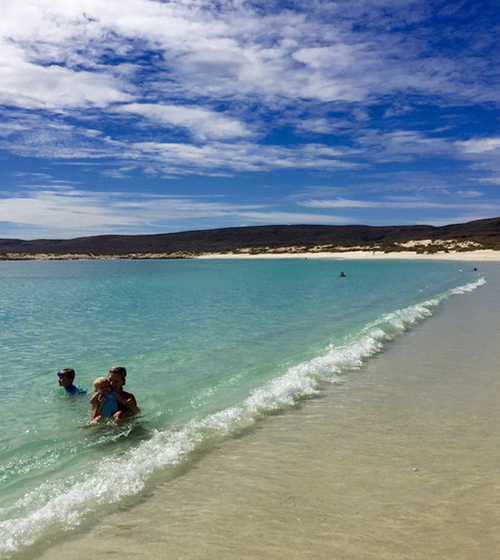 The Cape Range National Park on the West Coast of Australia is an amazing adventure and its Epic coastline is hard to beat. From the crystal clear blue waters and white sands of Turquoise Bay, to the colours of the cliffs that form Yardie Creek gorge. The Beauty of this place is breathtaking and has constantly called for us to return since visiting in June Last year.
Cape Range is located around 1100km north of Perth and only a 45 minute drive from the remote town of Exmouth in WA. Its a sealed road all the way and there is plenty of campsites to choose from. They are all 2wd accessible and sites must be booked online at Park Stay WA and you need to book ahead in the busy times. There are campsite hosts at each campground and they are a wealth of knowledge and will look after you when you arrive. They are volunteers and they look after the onsite toilets and ensure everyone there has booked and in there correct site. There are plenty of sites that can easily fit large caravans on them, but also sites that are only suitable for small vans or tents. Be sure to check the size of your site when booking online. One point to note is that these are all self sufficient campsites with no power or water available. Some of the campgrounds allow generators and there is a water fill point on the side of the road near the Milyering Visitor Centre.
Our pick of the campgrounds there is Osprey Camp. It is the largest campground with the most sites available, but it has the most amazing view of the lagoon and outer reef right from your site. We only stayed here 2 nights as it was booked out due to demand. We moved around to a few other camp grounds that were amazing as well. 
Kurrajong camp is about halfway along and is tucked just in behind the fore dune which can be a great thing if the wind gets up a bit which it can along this coastline. We caught a heap of good fish right off the beach out the front of the camp here. The kids absolutely loved the shallow water and we met some great families as well.
Yardie Creek is the last camp along the road and is right near the carpark where you can do a boat tour up the gorge, or you can do the gorge walk up to the lookout which is amazing. only a few k's round trip and we easily managed with our 3 kids. Great spot for a family photo at the top. The colours of the gorge that blend into the blue of ningaloo reef is hard to believe. It actually looks photoshopped while your looking at it.  This camp is a great one if you have your own boat as well. The boat ramp is only a few hundred metres away and a lot of people just leave their tinny moored up out the front of the campground for their entire stay. Its only a short trip to the outer reef where the fishing gets even better and some big reef species like coral trout are on the table. 
The fishing along this coastline is fantastic, just be sure to check you have correct licences and be aware of the zone that your in.  A lot of the areas directly in front of the camps are zoned as recreational so it fine to fish out the front, but a lot of other areas are protected zones and have restrictions in place as to whats allowed. Check restrictions for your area here Fishing.
We landed many spangled emperor and mangrove just off the beach while swimming around with the kids and playing on the beach. Just set up a rod holder and wait for that drag to start singing when you hook up. It was some of the easiest fishing I've ever done and great for the kids to reel in some cracker fish..
If free camping is not your thing, there are 3 Great caravan Parks close by. There are 2 in Exmouth and one a bit closer to the national park called Lighthouse Caravan Park. They are all great spots to stay if you'd prefer a powered site and just do day trips out to the different beaches and attractions of Cape Range. 
The town of Exmouth has everything you need with a shopping complex with 2 IGA grocers, cafes, restaurants, mechanical repairs, tackle shops, a marina and much more. Be aware though, groceries here are expensive, but its great to support the local small businesses and stock up when you get here.
Aside from the caravan park facilities of pools and playgrounds, there is a free water park right in town which is great for the kids. For the coffee lovers chasing a good brew, the best coffee we found in town was from a van that parks out the front of BIG4 Parks at Exmouth .
So after 11 months of travelling Oz in our van, Cape Range National Park on the Ningaloo coast has been our favourite spot and plan on returning next year. There is so much to experience there and we only just scratched the surface in our 2 week visit.
We hope this helps others to plan a trip and get out and enjoy this amazing place. You can check out all our photos and videos and follow our adventures on Facebook Trip In A Van or look up our website www.tripinavan.com.au .
Cheers!
Justin
If your after a great XMAS gift for your travelling friends and family, check out the link below!!! The kids LOVE em and its a great way to keep memories of their travels!!
FUNDING OUR TRIP
How we funded our trip and tips for you to do the same
OFF-GRID BATTERY SET-UP
THE ULTIMATE IN FREE CAMPING POWER
Map of Australia Decal - 15% OFF TIAV15